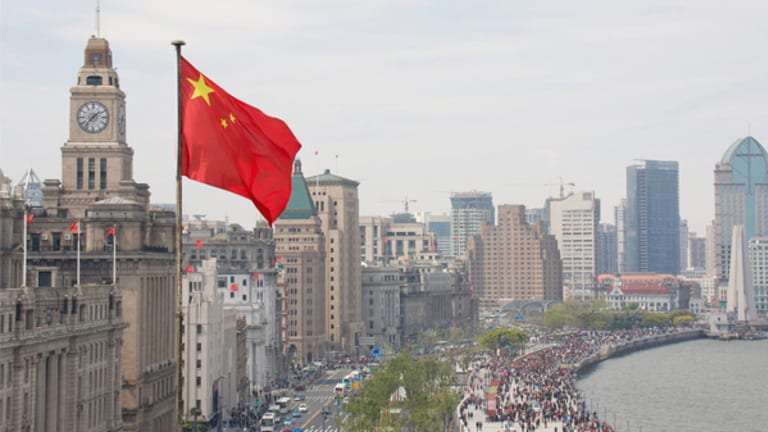 Moody's Sounds Warning Bell on Chinese Bank Contagion
The ratings agency says that the increasing use of wholesale funding by smaller lenders poses a systemic risk.
Ratings agency Moody's  warned on Monday that small and medium-sized Chinese banks could pose a systemic risk to the world's second-largest economy given their increasing reliance on wholesale funding.
The agency is sanguine about the so-called big four banks in China -  Industrial & Commercial Bank of China,China Construction Bank, Bank of China (BACHY)  and Agricultural Bank of China (ACGBY) - saying that they are mostly net lenders on interbank funding markets. 
But it highlighted that asset growth among smaller institutions has not been matched by deposit growth, leading them to conclude that these banks are making increasing use of wholesale markets in order to fund loans to customers.
Excessive use wholesale funding in the banking sector has come back to bite lenders worldwide before. In the U.K. mortgage lender Northern Rock became the first major British victim of the credit crisis in 2007  after leaning too heavily on interbank lending as loans soured.
"With an increasingly larger number of banks now more actively engaged in the inter bank financial product business, the banks are becoming more sensitive to the risk of potential counterparty failure" the Moody's report said.
Moody's also warned of a possible domino effect in the event that a bank defaults or a Chinese institution experiences a sudden need for funding, given the high level of liquidity that is currently tied up in short term money market deposits.
Concerns about the Chinese financial system have been widespread for some time.
Some of the conversation has focused on the potential impact that the People's Bank of China's multiple interest rate cuts could have on a housing market that had been overheating for years up until recently.
But other observers have also pointed toward the shadow banking sector and the nation's network of state-owned-enterprises as key sources of risk.
In a 2015 report, McKinsey said that China's total debt quadrupled between 2007 and the middle of 2014, rising from $7 trillion to $28 trillion, an amount that was equivalent to 282% of GDP.
Perhaps of more concern, the debt of Chinese financial institutions was equivalent to 65% of GDP at the time, almost twice the 36% of GDP recorded for U.S. institutions.
Furthermore, non-financial corporations had debt equivalent to 125% of GDP, bringing total corporate debt close to 200% of GDP at a time when economic growth is slowing.
McKinsey also found that demand from the nation's network of often-criticized state owned enterprises accounted for 20% of all loans made in China. It also states that one fifth of new loans made to SOEs were for the purpose of repaying old debts as they fall due and that 40% of debt interest payments were funded by land sales, according to a 2014 audit by Chinese authorities.
However, other observers have dismissed the possibility of a widespread financial crisis in China.
"In the West, the speculation is always about the Lehman moment in China. That is a Western fantasy." said Horst Loechel, a Frankfurt School of Management professor writing in a July publication for the Wharton School, University of Pennsylvania.
Of the big four lenders, ICBC stock closed up 0.5% on Monday, at  Rmb4.51. It is down 1.5% so far this year. 
Bank of China stock was up 0.6% on Monday, to Rmb3.45, but is down 14.1% year to date.
Both banks reported first-half profit above expectations after markets closed on Tuesday.
China Construction Bank stock was up 0.6% on Monday, to Rmb5.27, but is down 8.8% in the  year to date.
Agricultural Bank of China stock finished the day 0.9% higher on Monday, to Rmb3.21. It is down 0.6% so far this year.