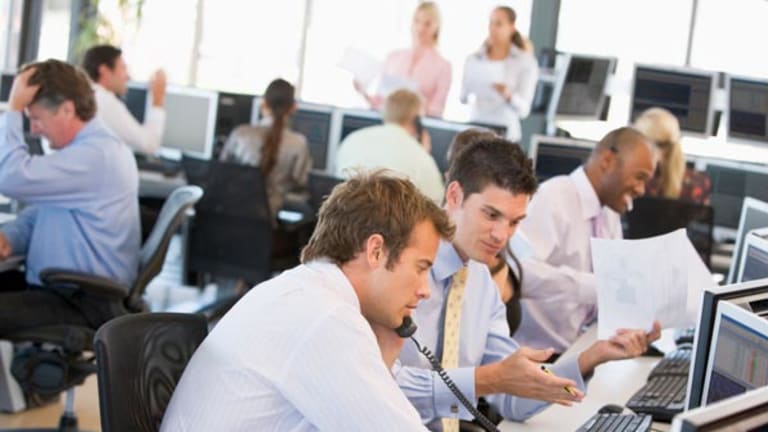 Monday's Market: Stocks Shake Off Jitters to Close Higher
The Dow and S&P 500 each tack on about 1% after an early session selloff.
Updated from 4:13 p.m. EDT
Stocks shook off early morning weakness and floated higher on thin volume Monday, as bargain-hunters were able to overcome worries about military action in Iraq and the Sept. 11 anniversary.
The
Dow Jones Industrial Average, which had been down more than 100 points earlier, rose 92.2, or 1.1%, to 8519.4, adding to Friday's 1.7% gain. The
Nasdaq jumped 9.3 points, or 0.7%, to 1304.6, extending Friday's 3.5% gain. The
S&P 500
rose 9, or 1%, to 903.
Despite the gains, the mini-rally from the morning lows had no obvious catalyst, and few analysts found reason to put much faith in the trend.
"Volume
was extremely light. And with economic news putting a little bit more straw on the negative side of the economic equation, it just highlights the fact that fundamentals are eroding at a real gradual pace," said David Briggs, head of stock trading at Federated Investors. "This could push the earnings recovery back another quarter, the same thing we've been hearing for two years now. There's just no reason to get into this market right now."
A report Monday showed July inventory levels were higher than expected. According to the Commerce Department, wholesale inventories grew 0.6%, the highest level since November 2000, topping analysts' estimates of a 0.2% gain. June inventory levels were revised upward to show growth of 0.4%, up from 0.3% growth. The same report showed July wholesale sales grew 0.6%, topping the 0.4% growth estimate from Thomson Financial/First Call. June's sales growth was revised to 0.7% growth, up from 0.6% growth.
This week promises to be one of reflection as Wall Street remembers the Sept. 11 attacks. Analysts predict subdued trading at least through Wednesday, when the exchanges will open 90 minutes late after ceremonies in Lower Manhattan and elsewhere. The prospect of terrorism could also influence trading.
"I've talked to a lot of people around Wall Street, trying to get a feel for things, and most people think it's almost too crass to think about making money right now," said Briggs. "There are a lot of reasons not to do anything, evidenced in the light volume. People want to put this week behind them and get to next week."
At session's end,
NYSE
volume was a paltry 1.12 billion shares, a far cry from the 2 billion share levels reached in the spring, while Nasdaq volume was 1.08 billion shares. The rally also didn't have the weight of the entire market behind it. Earlier in the day, decliners led advancers by a 2-to-1 margin on the Big Board, but advancers pulled ahead and finished up 9-to-7. The Nasdaq's underlying trend was down, however, and decliners topped advancers by a slight margin.
Also weighing on shares early was Washington's increasing belligerence toward Iraq. Over the weekend Bush administration officials reiterated claims that Saddam Hussein is seeking to acquire weapons of mass destruction.
"There shouldn't be any doubt in anybody's mind that this president is absolutely bound and determined to deal with this threat, and to do whatever is necessary to make certain that we do so," said Vice President Dick Cheney.
"The message Bush is sending is very clear. Whether we invade this week or next month, he wants to do it and he wants to do it fast," said Art Hogan, chief market analyst at Jefferies and Co. "But geopolitical hot spots don't help the market. Even if it has to happen and it happens quickly, that's an uncertainty and markets don't like that."
Financial services companies were responsible for early losses on the Dow, but a dramatic reversal pushed the late day rally.
Once down as much as 2.5%,
Citigroup
(C) - Get Citigroup Inc. Report
closed up 2.6% to $31.07 as the market digested its latest management shakeup. The financial services giant on Sunday reassigned the head of its investment bank, Michael Carpenter, replacing him with Chuck Prince following a string of revelations about the behavior at Salomon Smith Barney in the late 1990s. Carpenter will head up Citi's proprietary investment portfolio. Citigroup is also forming a business practices committee to suggest improvements to some of its policies.
J.P. Morgan Chase
(JPM) - Get JPMorgan Chase & Co. (JPM) Report
was not as lucky.While it came off its lows it still finished down 1.3% to $23.59, after Merrill Lynch downgraded the company to neutral from buy. Merrill cited rising credit costs due to the acceleration of problems in the telecommunications space and lowered earnings estimates for 2002 and 2003.
Like Citigroup,
American Express
(AXP) - Get American Express Company Report
reversed deeper losses, but finished down 0.5% to $34.86. Before the open, Deutsche Bank dropped the company to hold from buy, telling investors that its stock was overvalued compared to historical trends. Deutsche Bank reduced earnings expectations due to the weak travel market, lowering 2002 fiscal estimates to $1.98 from $2.01 and 2003 estimates to $2.28 from $2.35.
AOL Time Warner
(AOL)
lost ground early after saying ad sales at its America Online unit were trending below plan. The company expects to make up the revenue shortfall elsewhere and shares shook off weakness to gain 1.5% to $13.33.
With economic fears and Iraq weighing on the markets, the late-day rally also drew its strength from homebuilders and other defensive stocks. Seven of the top 15 largest point gainers on the NYSE were homebuilding stocks.
Beazer Homes
(BZH) - Get Beazer Homes USA, Inc. Report
topped the list with gain of $5.40, or 8.2%, to $71.57, followed by
Meritage
(MTH) - Get Meritage Homes Corporation Report
, which gained $3.60, or 9.3%, to $41.66.
Lennar
(LEN) - Get Lennar Corporation Class A Report
,
KB Home
and
Hovnanian
(HOV) - Get Hovnanian Enterprises, Inc. Class A Report
were also higher.
Defense stocks rose on Washington's saber-rattling.
Raytheon
(RTN) - Get Raytheon Company Report
gained 1.9% to $37.01;
Lockheed Martin
(LMT) - Get Lockheed Martin Corporation (LMT) Report
rose 2.9% to $66.52; and
Alliant Techsystems
(ATK)
rose 3.4% to $71.19.
Commodities, notably precious metals, were all the rage this session. Tops in the market was the Philadelphia Stock Exchange Gold & Silver Index, up 4%, following the price of December gold futures on the commodities market, which gained $1.30 to $322.80.
The afternoon rally was broad enough to include technology issues, which shook off early morning weakness and traded higher on light volume.
Earlier in the day, personal computer and semiconductor manufacturers slid about 2% when industry tracker International Data Corporation said global PC sales would remain weak. IDC reduced its forecasts for 2002 and 2003 because of weakening demand from both consumers and businesses. Nonetheless, the
Philadelphia Computer Box Maker Index
gained 0.9%, while the Philadelphia Semiconductor Index rallied from its lows, ending off 0.2%.
Morgan Stanley's upgrade of
Nokia
(NOK) - Get Nokia Oyj Sponsored ADR Report
helped push wireless names higher, with the Philadelphia Stock Exchange Wireless Telecom Sector gaining 0.7%. One day before Nokia was set to give its mid-quarter update, Morgan upped the company to overweight from equal weight, telling investors that its new breed of phones with cameras included could drive a stronger replacement market. Nokia gained 1.7% to $14.18 on the day.
Investors weren't as positive about
good news from rival
Nextel
(NXTL)
, which said that third-quarter results would meet or surpass previous expectations of 2 million net subscriber additions. The stock, which has tripled since July 1, succumbed to profit taking and dropped 1% to $7.89.
European markets closed lower, with London's FTSE 100 down 1.1% to 4062 and Germany's Xetra DAX losing 1.9% to 3417. In Asia, Japan's Nikkei gained 1.9% to 9306 while Hong Kong's Hang Seng was unchanged at 9724.
Some of the weakness in Europe was ascribable to comments by the head of the ECB suggesting the central bank was done cutting interest rates for the foreseeable future. Bonds were higher when the trading session began in New York, but the 10-year Treasury fell 12/32, yielding 4.06%, sliding as stocks rallied stateside.