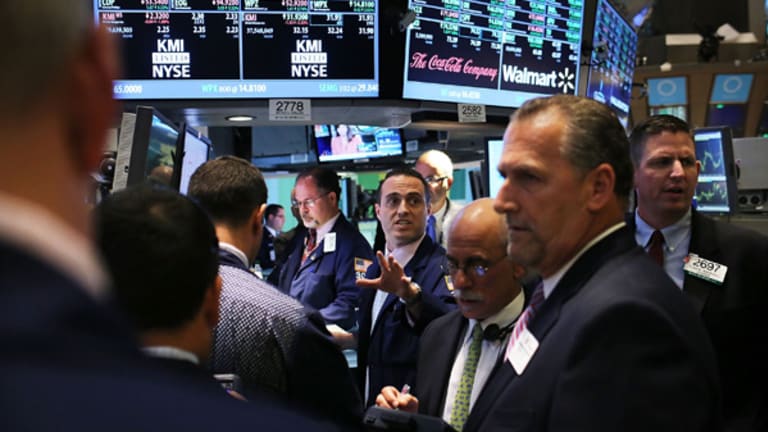 The bell, uh, rang. Stop trading.
Today was *not* a dramatic day, filled with wild moves and dramatic upswings. No, today was mostly spirit-dampening ennui as markets decided between Fed-happy bulls and earnings-wary bears.
Both the
Nasdaq Composite Index and
Dow Jones Industrial Average were negative headed into the last couple hours of trading, before reversing direction and pulling toward the break-even point. They never made the green. The Dow slid 9 to 10,578. The Comp dipped 12 to 2758.
Dell
(DELL) - Get Dell Technologies Inc Class C Report
was the big news today, having warned that its fourth-quarter earnings will come in between 18 and 19 cents a share, lower than the 25 cents expected by the folks at
First Call/Thomson Financial
, which tracks analyst estimates for companies. Dell's warning was really no different than the ones issued by anyone else in tech. It cited the worldwide slowing in spending as a major factor behind the miss.
American Express
(AXP) - Get American Express Company Report
also made forward-looking statement when it reported earnings late in the afternoon, putting up fourth-quarter numbers that matched expectations. It posted earnings of 50 cents a share, but cautioned that 2001 earnings would be at the low end of its current growth range of 12% to 15% due to a weak financial market.
Caution was the watchword today. And both the Comp and Dow took baby steps all day long, making gentle moves not too far from the session open. Dell suffered, but not overly so, since it was battered along with the rest of tech. It ended off 0.5% to $25.50. American Express was spared no such fate. It fell 7.5% to $45, the biggest Dow loser.
Within the Dow, Dell's influence hurt
IBM
(IBM) - Get International Business Machines (IBM) Report
,
Microsoft
(MSFT) - Get Microsoft Corporation (MSFT) Report
and
Hewlett-Packard
(HWP)
the most. Fitting, since all those guys would face a similar fate if worldwide information technology dries up and will only feel the affects of a Fed cut in the back half of this year.
So, where's the money?
It headed back into manufacturing, retail and other nuts-and-bolts, bricks-and-mortar style areas of the economy. Despite the fact that it warned after the bell on Friday,
Home Depot
(HD) - Get Home Depot, Inc. (HD) Report
was one of the Dow's biggest leaders. It was up 6.7% to $43.75. It seems that traders have a rather short memory. Headed into the weekend, the Depot said it would miss both analyst estimates and last year's quarter because of cheaper-than-expected building materials and a shortfall in lumber.
Goldman Sachs
helped provide the boost, adding a handful of the biggest names in retail to its "U.S. recommended for purchase list," which, as the name suggests, is comprised of companies Goldie recommends for purchase. Those retailers added include the ubiquitous
Gap
(GPS) - Get Gap, Inc. (GPS) Report
, wannabe hipster
Target
(TGT) - Get Target Corporation Report
and king of old school
Sears
(S) - Get SENTINELONE, INC. Report
.
Wal-Mart
(WMT) - Get Walmart Inc. Report
traded higher along with Home Depot and the rest of the
S&P Retail Index
, which rose 4.3%. Meanwhile, manufacturers
3M
and
International Paper
(IP) - Get International Paper Company (IP) Report
tracked higher.
Overall, investors stayed out of technology, making a notable exception for the biotechnology stocks in the
American Stock Exchange Biotechnology Index
, which rose 5.3%.
Amgen
(AMGN) - Get Amgen Inc. Report
was the major reason behind the surge, gaining 12.7% to $67.63 after it won a big patent infringement suit against puny
Transkaryotic Therapies
(TKTX)
. And if you mess with the bull, what do you get? A new 52-week low. Transkaryotic dropped 32% to $23.13.
But other than that bright spot, boxmakers, telecommunications, large-cap tech and networkers were all lower. Perhaps the only real saving grace was that many tech sectors were only making 2% moves to the downside. Despite the negative bent to the trading, the reaction has been relatively mild and gradual, inching lower as the session putters along. The news still isn't good and the economy is clearly slowing, but at the same time, people were keeping the panic under control, focusing on profit taking in the run-up after the last Fed cut and hoping that the next one will be as good.
What's the Deal?
How are markets able to recover from bad news like Dell's, when just a month ago this kind of thing would have sent stocks tumbling?
In December and November, the
Federal Reserve was nowhere in sight, while the President-elect had yet to be decided, energy prices were skyrocketing and nearly everyone preannounced. Now, markets have seen that the Fed is willing to take action to fix the economy, have gotten used to the earnings warnings and energy problems and
George W. Bush
is in the Oval Office.
The Fed's the thing. Indices can shrug off a bad warning knowing that the Fed looks likely to act aggressively to get the economy back on track.
Data out this morning, along with the whispering from Wall Street's analyst community, has fueled speculation that the Fed will cut interest rates by a half point when it meets at the end of this month. U.S. leading economic indicators, released by the
Conference Board
this morning, fell 0.6% in December to 108.3, vs. forecasts for a 0.3% drop.
The focus is on the future, not the present. And the major issue is what earnings will look like in the second half of next year. Already, 2001 growth expectations for the
Nasdaq 100
have stumbled to 7.5% from 15.1% in a month, mostly due to declines in expectations about chip giant
Intel
(INTC) - Get Intel Corporation (INTC) Report
, according to Joseph Kalinowski, equity strategist at earnings tracker
I/B/E/S
. Growth expectations for the Standard & Poor's tech sector have similarly moved lower, falling to 5.5% from 13.6% a month ago.
As hopes of another big Fed cut continue to grow, investors have been able to shake off some bad news. Last week,
Sun Microsystems
(SUNW) - Get Sunworks, Inc. Report
announced a lower growth outlook, while just this morning, Dell warned about its fourth quarter. Yet, since the Fed slashed rates early in the month, most tech names have done quite nicely.
"Market sentiment appears to be improving," said Lynn Reaser, chief economist and senior market strategist for
Banc of America Securities
. "Investors are beginning to respond less adversely to negative news and more positively to good news."
Reaser said the Fed will most likely cut the rate by 25 or 50 basis points, with the large cut coming if the next few major economic data releases, most notably with Thursday's announcement of the fourth-quarter employment cost index and December existing home sales and Friday's release of durable goods orders for the last month of 2000, come in with bad numbers.
She also said that with Bush in office, more Americans will reexamine the way they've invested -- choosing stock-based funds over money market funds, while seeking out a more-diverse portfolio than the shallow, silicon-based models from yesterday. Given recent movements, with money churning in and out of tech and back and forth from defensive stocks, it seems that investors are seeking out such a varied portfolio.
Merrill Lynch
chief economist Bruce Steinberg agrees with Reaser, telling investors in a note this morning that the American economy was sluggish, but was not dead. He outright rejected the notion that the economy was plunging into a recession, allowing that although certain sectors have been hit rather hard, many are showing signs of resistance and even life.
Back up the truck. Steinberg thinks the Fed's gonna make the big move.
"We believe the mix of data is soft enough to justify another 50-basis-point cut by the Fed on January 31," he wrote.
Market Internals
Internals were fairly positive overall, but volume has been slipping, another indication that the market is waiting for something to happen.
New York Stock Exchange: 1,610 advancers, 1,241 decliners, 1.131 billion shares. 83 new 52-week highs, 3 new lows.
Nasdaq Stock Market: 1,992 advancers, 1,813 decliners, 1.984 billion shares. 74 new highs, 15 new lows.
Back to top
Most Active Stocks
NYSE Most Actives
Nasdaq Most Actives
Back to top
Sector Watch
With Home Depot talking about cheaper-than-expected building materials costs and slowing spending in the home-building area, some other related sectors were getting hit. Steel companies were down lower, with industry heavy
Nucor
(NUE) - Get Nucor Corporation Report
, dropping 2.5%.
In the past three weeks, steelmakers have come under a great deal of pressure as high inventories and slowing demand have virtually assured that steel will have a tough time going forward.
Back to top
Bonds/Economy
Treasuries traded lower, though the market's weakness is much more so among longer maturing securities. Traders have been shifting investments toward shorter-term notes in the hope of a half-percentage point cut in interest rates. Analysts are also awaiting Chairman Alan Greenspan's address to the
Senate Finance Committee
later this week in which he is very likely to hint of the
Federal Reserve's current strategy and elaborate on critical economic issues. Some more data released this morning confirms the slowdown in the economy.
The benchmark 10-year
Treasury notelately was down 14/32 to 103 28/32, raising its yield to 5.229%.
In economic news, the
index of leading economic indicators
(
definition |
chart |
) fell 0.6% in December, compared to a 0.4% decrease in November. Analysts attributed the continued drop to a rise in company layoffs, declining consumer confidence and reduced working hours in the manufacturing sector.
Back to top
International
European markets bounced back after falling earlier on Dell's warning.
London's
FTSE
jumped 22.7 to 6232. Across the channel, Paris'
CAC-40
gained 37 to 5882.8. Frankfurt's still-rallying
Xetra Dax
rose 23.5 higher to 6675.
The dollar was trading at $0.9392 euro. The euro has been slowly gaining in the past few months as the U.S. dollar weakens in the face of a slowing domestic economy. Fund managers are now forecasting that Europe's economies will grow faster than the U.S. this year, according to a recent
Merrill Lynch
report.
Asian markets rose overnight.
Tokyo's key
Nikkei 225
index rose for a seventh straight day Monday. It has been rebounding after hitting a 27-month low on Jan. 11. The index closed up 43.30, or 0.31%, to 14,032.42.
Hong Kong's key
Hang Seng
index closed over 16,000 for the first time since early October. The benchmark index closed up 1.04%, or 165.72 points, to 16,099.27.
The greenback was lately trading at 116.29 yen.
For more on world stock markets, check out
TheStreet.com's
global indices information.
Back to top