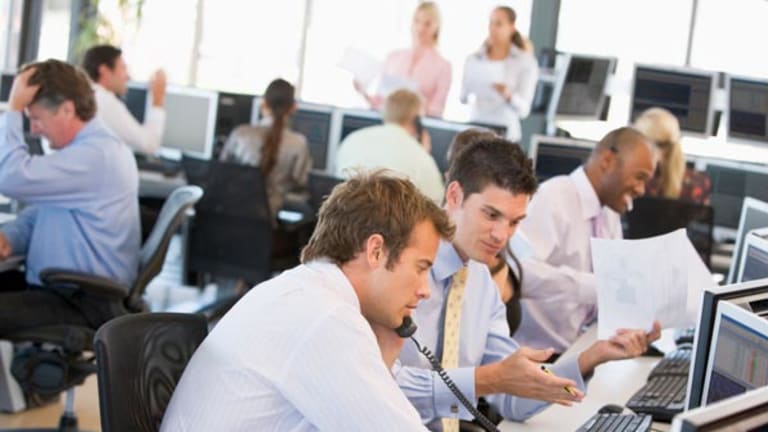 Monday's Market: Nasdaq Closes Above 3000; Dow Posts Staid Gains
As the nation awaits a U.S. Supreme Court decision in the election, investors poured money into tech, and, Grinch-like, swept the rug from under the retailers.
Breathless intrigue. Gripping suspense. And high-stakes drama.
No, not the plotline to the forthcoming flick
Dude, Where's My Car?
. We're talking
Dude, Who's My President-Elect?
Florida's
Supreme Court
spent Friday afternoon riling up George W. Bush's camp by ruling the recount would continue. And when it did, some had the Bush lead down to a slim 150-and-change margin on over 6 million votes cast. This came as a slap to Bush, whose been posing victoriously for the past week or so, working on his transition. Al Gore's camp, which has spent much of the last month bickering and whining in courtrooms, was understandably elated at the news.
That is, until the
United States Supreme Court
intervened, halting the recount until it heard the appeal from the Bush camp. And starting today, at 11 a.m. ET, the high court heard 45-minutes' worth of argument from each side. Pundits and other media charlatans have the court deadlocked over the matter. And as usual, markets just keep on trading, hoping that somehow, some way, this messy election will be cleanly decided.
Usually, markets don't like uncertainty. But today, both the Comp and the
Dow Jones Industrial Average closed higher.
What's the deal with that?
Alan Greenspan's love letter to investors shored up this market. On Dec. 5, the
Federal Reserve Chairman
made comments that indicated he was aware that the American economy was indeed slowing and made small noises that the
Federal Open Market Committee
would consider changing its bias to neutral in its Dec. 19 meeting. That means an end to the six straight rate hikes, taking the pressure off interest rates and keeping the foot off the economic brake for a while.
And in the wake of this new happiness, analysts have made bullish comments, inspiring investors to come out of hiding and join the buyers.
Merrill Lynch's
Christine Callies, formerly of
Credit Suisse First Boston
, and
UBS Warburg's
Ed Kerschner both released notes this morning, telling investors that the time was now. Simply put, both said the
S&P 500 was at its most attractive level in two years.
There you go. Right there. The S&P 500 made some gains today, despite slipping from session highs in the final hour of trading. It outpaced the more staid
Dow Jones Industrial Average, which felt the pressure from the grudge match showdown between
J.P. Morgan
(JPM) - Get Free Report
and the retailers. Much like the benchmark S&P, the Dow also crumbled in late-day trading.
And with the Nasdaq much higher, a lot of the money buying tech had to come from somewhere. Like
ExxonMobil
(XOM) - Get Free Report
, slumping after Iraq agreed to sell more oil in the open market, thereby increasing the once-tight, and therefore more profitable, supply side of the oil equation.
Coca-Cola
(KO) - Get Free Report
also suffered after
Coca-Cola Enterprises
(CCE)
, the world's largest Coke bottler, warned about future profits on Friday.
Morgan, already rising in the wake of Greenspan's apparent anti-hike stance, has been strong all day after some nice analyst comments, while fears of a Grinch-worthy Christmas dropped
Home Depot
(HD) - Get Free Report
and
Wal-Mart
(WMT) - Get Free Report
.
Today,
Goldman Sachs
released a note on
Lehman Brothers
undefined
and
Morgan Stanley Dean Witter
undefined
, insinuating that the pair were undervalued and had taken a disproportionate share of the beat down. Yet another reason to rally.
Since the election, the brokers have been a wild bunch. A heavy post-election slump saw the index fall throughout the month of November as money poured out of the market. But this December, the story has been a far different one. Investors are sweeping into the sector as the interest-rate picture has improved, driving the index up about 19% since its close on Nov. 30.
But the retailers, which have tracked higher in December for the last two years, were lower as fears abound that this Christmas could be a coal-filled one. Many are pointing to the bulging sales racks and seeing red, since the price slashes, great for mall crawlers, are terrible for the bottom line. The usual profit margins are trimmed and the companies don't make as much money, even as sales appear to increase.
And after
Lowe's
(LOW) - Get Free Report
and
Land's End
(LE) - Get Free Report
both said that weaker-than-expected sales would be forthcoming, investors bailed out of retail.
Credit Suisse First Boston
analyst Richard Baum also slashed his ratings on a bunch of retailers. Yikes.
Intel
(INTC) - Get Free Report
and
Microsoft
(MSFT) - Get Free Report
were also much higher as buyers return to technology's chalk outline, and lift the battered sector. But the rising tide didn't lift all ships. In fact, it only served to highlight the 12.5% stumble in
Sun Microsystems
(SUNW) - Get Free Report
, which was the most actively-traded issue on the Nasdaq.
Semiconductors were especially good, with the
Philadelphia Stock Exchange Semiconductor Index
gaining 7%. Biotechs, disk drive peripherals, large-cap tech and even dot-coms were also much higher.
Market Internals
Look, this ain't exactly record-breaking volume here. It's moderate, though, with winners topping losers. That's far better than the anemic-volume and loser-dominated markets of the past month.
New York Stock Exchange: 1671 advancers, 1180 decliners, 1.2 billion shares. 223 new 52-week highs, 49 new lows.
Nasdaq Stock Market: 2312 advancers, 1674 decliners, 2.4 billion shares. 93 new highs, 161 new lows.
Back to top
Most Active Stocks
NYSE Most Actives
Lucent (LU) - Get Free Report: 33.1 million shares. Nortel (NT) : 23.7 million shares. Motorola (MOT) : 21.8 million shares.
Nasdaq Most Actives
Back to top
Sector Watch
Bankers, recovering in the wake of that disastrous
Bank of America
(BAC) - Get Free Report
warning and amid fears that the entire industry is teetering on a mountain of poor-quality debt, have also bounced back, rallying for the third-straight day. The
American Stock Exchange Securities Broker/Dealer Index
, which tracks the sector, rose 4.1%.
It's getting cold out. Real cold. And that means that natural gas prices are gonna go up and that means more profits for the companies that provide natural gas or aid in the exploration of its. At last check, natural gas futures on the New York Mercantile Exchange were up 9.7%, to 9.41, yet another day of gains. As a result, a direct result, the
American Stock Exchange Natural Gas Index
was up 2.8%.
Meanwhile the drillers in the
Philadelphia Stock Exchange Oil Service Index
were up 5% as an indirect result of the higher gas prices. You see, natural gas is a byproduct of drilling for crude and as the drillers look for oil, they sometimes strike gas, also a valuable commodity.
Safe-play chemical and gold stocks were lower.
Back to top
Bonds/Economy
Treasuries are giving back the gains they made late in the day on Friday, reflecting the shift that occurred over the weekend in the presidential contest.
The benchmark 10-year
Treasury note lately was down 15/32 at 102 28/32, lifting its yield to 5.362%.
Treasuries rallied on Friday afternoon after the Florida Supreme Court ordered recounts in Florida, a development with the potential to benefit Democratic candidate
Al Gore
. The bond rally was based on the prospect of continued stock market declines while the outcome of the election remains in doubt, and on the belief that Gore would do more than Republican candidate
George W. Bush
to reduce the supply of Treasury securities by using federal government surpluses to pay down the national debt.
The Treasury market is giving back those gains after the U.S. Supreme Court Saturday ordered the recounts halted, a development that favors Bush.
A rally in the stock market is also sapping demand for bonds. No major economic news is slated before Wednesday, which brings the November
retail sales
(
definition |
chart |
source
) report.
Back to top
International
European markets were bouncing today on strength in telecom, tech and financials.
London's
FTSE
closed up 88.9 to 6780.15. Across the channel, Paris'
CAC-40
charged ahead to end up 138.56 to 6077.88, while Germany's
Xetra Dax
gained 93.04 to 6784.29.
The euro was slipping this morning after hitting an 11-week high last week. It was lately trading down to $0.8789. It has been gaining in the past few weeks as the U.S. dollar weakens in the face of a slowing domestic economy.
Asian markets galloped ahead overnight following the Nasdaq's rally on Friday. In Japan, the
Nikkei 225
closed up 319.19 to 15015.70.
Hong Kong's
Hang Seng
closed up 219.21 to 15,408.54.
The greenback was lower to 111.80 yen.
Back to top