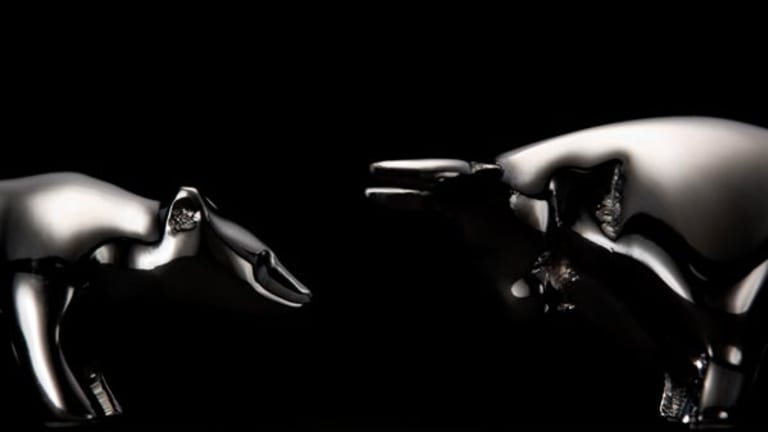 Monday's Market: Dow Soars to 200-Point Gain; Nasdaq Also Rallies Smartly
Bargain hunting and rumors that the Fed might cut rates before its next meeting sent stocks on a steady afternoon ascent.
Talk that the
Federal Reserve might cut interest rates before its Mar. 20 meeting and speculation that the market has found a near-term bottom gave the major averages what they needed to finish at their highs of the day, as they closed above the flatline together for the first time since Feb. 15.
After trading lower this morning on all-too-familiar market themes -- a fresh batch of profit warnings and continued evidence of an economic slowdown -- the
Dow Jones Industrial Average and
Nasdaq Composite Index sprang back on hopes of an intermeeting rate cut. The Dow ended up 200.63 to 10, 642.53, while the Comp finished higher by 46 to 2308.5
Late in the day,
Bear Stearns
economist and former Fed governor Wayne Angell upped his odds to 80% from 60% that the central bank would ratchet down the
fed funds rate before its scheduled meeting in March -- a wager that encouraged buyers to step off the sidelines, as volume topped 1 billion shares on the Dow and soared to nearly 2 billion shares on the Nasdaq.
Separately this afternoon, the Federal Reserve announced that
Alan Greenspan, who will appear before the
U.S. House Financial Services Committee
on Wednesday, will offer a revision of the testimony he gave on Feb. 13 to a Senate panel. In his last speech, Greenspan said that economic growth had picked up in January but that "downside risks predominate" for the economy.
Back on Jan. 3, the Federal Reserve shocked the market with a 50 basis-point rate cut before its regularly scheduled meeting later that month, sending the Dow and Nasdaq skyrocketing more than 300 points each that day. But when the Fed followed up with a further 50 basis-point reduction on Jan. 31, the market's reaction was muted. Having finished the month of January up more than 12%, the Nasdaq has reversed those gains in February.
Indeed, today's market rebound comes just days after the Nasdaq sank to lows last seen more than two years ago. Late in the day, gains in Internet, networking, and software sectors were offset by losses in semiconductor and computer hardware groups. Over on the Dow, interest-rate-sensitive groups -- including financial and cyclical issues -- popped as rate-cut rumors gained traction. Retail, drug and transport stocks, strong all day, stayed that way headed into the close.
Over the past few weeks, nary a day has gone by without a major profit warning. Today was no exception.
Texas Instruments
(TXN)
cut its fiscal first-quarter revenue outlook this morning, saying that the U.S. economic slowdown was hurting demand. The maker of computer chips for cellular phones said that it expected revenue to fall about 20% from the $3.03 billion it posted in its fiscal fourth quarter.
Despite the news, TI finished down just 3.3% to $29.15 in recent trading, as the communications chip group has been badly beaten up in recent days. Back on Friday,
Motorola
(MOT)
warned that sales of mobile phones would drop below 500 million this year, down from its previous forecasts of 525 million to 575 million phones; this roiled the tech sector Friday. And today Motorola was still paying for its bad news: It ended off 2.2% to $15.89.
For the most part, today's market rally lacked conviction. Apart from optimism about a rate cut, stocks moved higher because they've been beaten down so far. Earlier this afternoon,
Lehman Brothers'
top strategist, Jeffrey Applegate, stated that the market hasn't found a bottom yet.
In a research report today, Applegate reduced his 2001
S&P 500 aggregate earnings-per-share growth forecast to $54. That's a decline of 4% from $58.50, which would have been an increase of 4% (in other words, he's now forecasting a slight decline in EPS growth). Applegate cut the aggregate 2002 earnings forecast for the S&P 500 components to $61 from $66. The revised figure would represent an increase of 13% from 2001. Applegate is one of the most bullish analysts on technology.
Chip stocks ended off their lows for the day, but still finished in negative territory. Earlier today,
Lehman Brothers
cut its fiscal 2001 earnings estimate on memory chipmaker
Micron Technology
(MU)
to 35 cents per share from $1.25 per share and its 2001 estimates on
Cypress Semiconductor
(CY)
to $1.80 from $2.20, citing a decline in pricing and profit margins.
Micron Technology dropped 6% to $35, though Cypress Semiconductor actually gained 1.2% to $22.05. The
Philadelphia Stock Exchange Semiconductor Index
ended down 1.4%.
On a positive note, wireless communications giant
Qualcomm
(QCOM)
confirmed this morning that fiscal second-quarter demand for its Code Division Multiple Access (CDMA) circuits is in line with previous forecasts, after the company saw its stock price plunge 19% on Friday amid profit worries. Qualcomm closed up 2.5% to $63.06.
In the large-cap tech club,
Microsoft
(MSFT)
closed up 4.6% to $59.56, after an article in
Barron's
forecast stock gains for the software giant in 2001. Today, an appeals court heard oral arguments from the company about its court-ordered breakup. In the minus column,
Cisco
(CSCO)
was off 3% to $26.06, while
Intel
(INTC)
was down 1.3% to $29.50.
Within the broader market, the Dow's stellar rise got no help from
Procter & Gamble
(PG)
. This morning, the consumer products manufacturer said that its earnings in the second-half of 2001 would be lower than expected, as sales overseas would be impacted by the devaluation of the Turkish lira. P&G finished behind 5.2% to $71.11; it clipped 26 points off the blue-chip index.
Home-improvement shops finished the day in tip-top shape, after
Lowe's
(LOW)
raised it earnings target for 2001 and said that it plans to open more than 100 stores during the year. Lowe's tacked on 7.9% to $58.91 in recent trading, while its rival,
Home Depot
(HD)
, added 9.3% to $43.75, contributing 24 points to the Dow. The
S&P Retail Index
was ahead 3.6%.
In economic news, this morning's
existing home sales report showed that home sales for January dropped 6.6%, to 4.65 million units. Economists had expected sales of 4.98 million.
Market Internals
Back to top
Most Active Stocks
Back to top
Sector Watch
Financial stocks surged in afternoon trading, amid optimism about an interest rate cut. The
American Stock Exchange Securities Broker/Dealer Index
ended up 3.8%, with components
E*Trade
(ET)
, up 14.1%, and
Legg Mason
(LM)
, ahead 2.7%. Meanwhile, the
Philadelphia Stock Exchange/KBW Bank Index
closed higher 2.9%, with members
Citigroup
(C)
, ahead 4.4% and
Bank of America
(BAC)
, higher 3.7%.
Hammered on profit concerns last week, mobile-phone makers were back in black today. Shares of
Nokia
(NOK)
finished up 6.6% to $22.75, despite having been downgraded by the likes of
Goldman Sachs
,
Lehman Brothers,
and
Merrill Lynch
last week. Nokia was also the most active stock on the
New York Stock Exchange. Competitor
Ericsson
undefined
added 3% to $8.15. The
Dow Jones Telecommunications Index
ended up 3.6%.
Airline stocks lifted after the U.S. Supreme Court upheld a ruling that a pilots union and two of its officers must pay $45.5 million to
AMR's
(AMR)
American Airlines unit for refusing to cease an illegal sickout in 1999. AMR advanced 4.3% and the
American Stock Exchange Airline Index
boosted 1.9%.
Oil service stocks traded higher this afternoon. The
Philadelphia Stock Exchange Oil Service Index
was up 3.3%, with component
Schlumberger
(SLB)
ahead 7.7% to $64.65. Last week,
Merrill Lynch
upgraded the stock to intermediate-term buy from accumulate, saying that it expects oil service stocks to perform well in 2001.
Back to top
Bonds/Economy
Treasury prices were up across the yield curve today, representing further expectations for more interest-rate cuts from the
Federal Reserve. There's very little news otherwise, as the market gears up for several pieces of important economic data due later this week.
In recent weeks Treasuries have been firming in response to weakness to stocks, as investors move their money from riskier assets like stocks to safer assets, like Treasury securities. Today, stocks are stronger, so that trade isn't in place today.
Lately, the 10-year Treasury note was up 11/32 to 99 18/32, yielding 5.056%.
Today's only economic release was the January
existing home sales data, which showed a 6.6% decrease on a seasonally adjusted annual basis. The pace of existing home sales fell to 4.65 million in January from a revised 4.98 million rate in December.
Tomorrow the market will get two important pieces of data, the January
durable goods orders and the
Consumer Confidence Index, published by the
Conference Board
. Thursday brings the release of the
National Association of Purchasing Management's
purchasing managers index for February.
Back to top
International
European markets ended the day mixed. Telecom and tech stocks were rebounding from last week's losses, but financials were dragging on London's
FTSE
. After hitting a 16-month low Friday, the FTSE finished off 27 to 5916.7. Across the channel, markets fared better, with Paris'
CAC-40
ending up 92.3 to 5415.1 and Frankfurt's
Xetra Dax
-- still trading -- up 106.9 to 6182.3.
The euro was lately trading at $0.9392.
Asian markets slugged lower overnight. Weakness in telecom heavyweight China Mobile weighed on Hong Kong's
Hang Seng
index, which fell 50.33 points to 15,230. In Tokyo, weakness in tech stocks was partly countered by strength in bank shares, but the
Nikkei 225
still finished lower, off 44.86 points to 13,201.14.
The dollar was trading at 114.95 yen.
Back to top