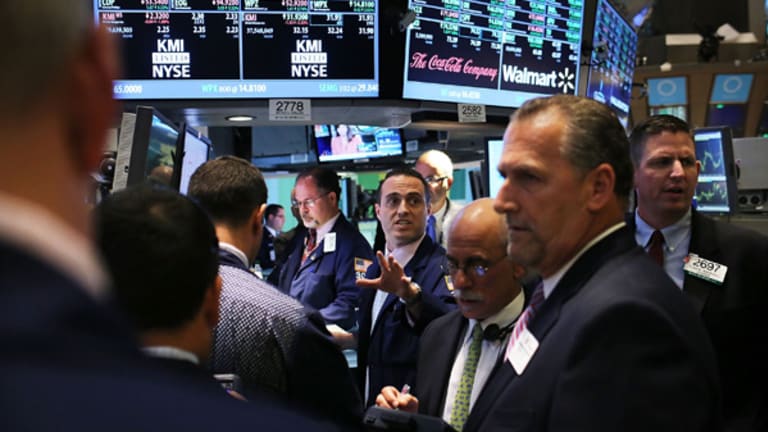 Monday's Market: Bulls Win the Day as Dow Climbs Over 180 Points
Still, with no end to earnings worries in sight, some think the blue-chip index has further to fall; the Nasdaq had a more troubled day.
Still, with no end to earnings worries in sight, some think the blue-chip index has further to fall; the Nasdaq had a more troubled day.
Working its way back into Wall Street's good graces, the
Dow Jones Industrial Average rallied for the second trading day in a row, closing up 183 points, or 1.9%, to 9688, as investors scooped up blue-chip stocks that looked cheap.
After finishing higher for the first time since January last week, the
Nasdaq Composite Index closed down 10 points to 1681, pressured by a profit warning from chipmaker
PMC Sierra
(PMCS)
and negative reports on
Cisco
(CSCO) - Get Report
.
Leading the Dow's gains this afternoon,
United Technologies
added 7.1% to $71.76,
3M
(MMM) - Get Report
gained 2.2% to $104.03,
Boeing
(BA) - Get Report
increased 4.6% to $55.44, and
Merck
(MRK) - Get Report
rose 3.6% to $71.48.
Despite today's advances on the industrials, there is a lack of conviction among traders that the Dow is out of the woods. "It doesn't feel like it's going to hold," said Todd Clark, head of listed trading at
W.R. Hambrecht.
"People are ready to jump on the bandwagon, but it feels premature."
Last Thursday, the blue-chip index plunged more than 300 points but bounced back to finish down less than 100 points that day and rallied again on Friday. On the heels of those gains, some Wall Street experts are ready to call a bottom, but others think the Dow has further to fall. The latter camp sees no catalyst for the recent rallies, as the earnings outlook is still hazy and the economic picture hasn't shown any clear signs of improvement.
"Until earnings turn around, the market is not going to be in trending mode," said Peter Coolidge, managing director of
Brean Murray Foster Securities
. "Earnings are the key, and right now, they are a big question mark out there." Coolidge, for his part, thinks that today's rally is just a technical bounce and that it will take more to convince people the market has turned.
Market bulls, however, point out that good news may be right around the corner, namely comments from
Federal Reserve Chairman
Alan Greenspan, passage of Bush's tax-cut proposal or visibility from bellwether companies, which could set a fire under the stock market.
Many sectors of the market rose this afternoon. Retail, drug, Internet, networking, cyclical, and financial stocks were all up. But, noticeably, PC manufacturers and semiconductor stocks were moving down. The
Philadelphia Stock Exchange Semiconductor Index
, which managed to shrug off bad news last week to take the Nasdaq higher, finished lower by 3.7%.
Earlier today, chipmaker
PMC-Sierra
(PMCS)
said first-quarter revenue and earnings would fall short of targets. It also announced plans to cut 230 jobs. Shares of PMC fell 5.4% to $32.26.
Elsewhere in the semiconductor group,
LSI Logic
(LSI) - Get Report
fell 12.8% to $18.04, after it announced plans to buy digital video and audio chipmaker
C-Cube Microsystems
(CUBE) - Get Report
for $878 million in stock. C-Cube rocketed 59.7% to $13.75 on the announcement.
Cisco
(CSCO) - Get Report
dropped 5% to $17.88, after CEO John Chambers told Britain's
Financial Times
that the economic outlook had deteriorated significantly since the networker said in January that it expected the slump to stretch over two quarters or more. Both
UBS Warburg
and
ABN Amro
cut their earnings outlooks on Cisco today.
Pharmaceutical giant
Johnson & Johnson
(JNJ) - Get Report
was off 3.2% to $85.38 after it was reported the pharmaceutical company is in talks to acquire drugmaker
Alza
(AZA)
, up 29% to $38.75, in a
$12 billion stock deal.
Market Internals
Back to top
Most Active Stocks
Back to top
International
London's
FTSE 100
rallied for a second straight day, rebounding from the 29-month low it hit Thursday. It finished up 174 points, or 3.2%, to 5576. Across the channel, the Paris
CAC 40
gained 174, or 3.5%, to 5125 and Frankfurt's
Xetra Dax
ended up 182, or 3.3%, to 5727.
The euro was lately trading at $0.8936.
Asian markets also rallied overnight. Hong Kong finally turned its luck around, rebounding after several days of severe losses. After hitting a 17-month low Friday, the key
Hang Seng
index closed up 2.9%, or 367.1 points, to 12,950.5. Tokyo's
Nikkei 225
rose 647.8 points, or 4.9%, to 13,862.3.
The dollar was trading at 123.2 yen.
Back to top