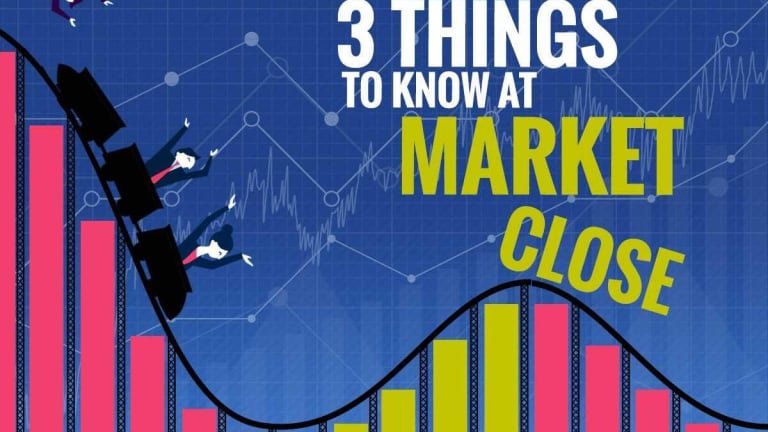 Monday Madness: Johnson & Johnson Is Still Making Headlines
Johnson & Johnson, Goldman Sachs and Jack in the Box are some of the top stories on TheStreet.
Happy Monday. 
Just remember--the holidays are just around the corner and maybe, just maybe, we'll get lucky and the market will have that Santa Claus Rally that investors are dreaming about.
Until then, let's just take in deep breaths and try to relax. 
Stocks declined sharply on Monday, Dec. 17, with investors cautious over the health of the world economy and remaining focused on two key policy events this week. 
The Dow Jones Industrial Average fell more than 507 points, or 2.1%, to 23,592, at one point falling over 600 points before a modest rebound. The S&P 500 declined 2%, and the Nasdaq slid 2.2%.
With U.S. stocks having their weakest performance in December in 16 years, the Federal Reserve's decision on interest rates Wednesday will be paramount in defining both the final trading days of the year and the broader market tone heading into 2019. Most Fed-watchers expect the central bank to raise rates for the fourth time this year on Wednesday but also will be looking for clues on tightening into next year.
Johnson & Johnson's Still Front Page News
Johnson & Johnson (JNJ) - Get Report is Real Money's stock of the day as investors look for clues on how to play the stock after a steep sell-off in the wake of reports that the company knowingly sold contaminated baby powder.
TheStreet's founder and Action Alerts PLUS portfolio manager Jim Cramer that current volatility could lead to a buying opportunity for investors.
Cramer said that he believes that the company is a buying opportunity. Cramer said that consumers "will get settlements eventually," but that he doesn't "think that it's equal to the now $50 billion that J&J's stock has gone down. I think you buy the stock tomorrow," TheStreet's founder told Katherine Ross.
The comments come afters shares of Johnson & Johnson closed down 2.9% to $129.14 as investors digested reports that the company knew for decades that its iconic baby powder sometimes contained asbestos and failed to alert authorities.
 "Johnson & Johnson's baby powder is safe and asbestos-free," the company said WHEN? "Studies of more than 100,000 men and women show that talc does not cause cancer or asbestos-related disease," the statement added. "Thousands of independent tests by regulators and the world's leading labs prove our baby powder has never contained asbestos."
Reuters released a report on Friday, Dec. 14 that dove into the company's use of talc in Johnson & Johnson's famous baby powder. According to the report, the talc contained asbestos. 
Last week, the company lost almost $40 billion in market value following a Reuters report Friday that Johnson & Johnson knew both its raw talc and finished powder tested positive for traces of asbestos, a carcinogen, citing documents linked to a court case in WHEN.
Jack in the Box Is Looking to Sell
TheStreet's Jacob Sonenshine reported on Jack in the Box (JACK) - Get Report .
The company said it was aiming to bring immediate value to shareholders through a sale to another company, or through increasing its leverage, which seemed to indicate a potential debt capital raise.
"Potential alternatives could include, among other things, a sale of the Company or executing on the Company's previously announced plans to increase its leverage," Jack in the Box said in a press release. The release added the company already has spoken with potential buyers, but if plans for a sale fail it will seek to change its capital structure. 
"That capital structure could include, among other things, a securitization or bond issuance," the company said.
Goldman Sachs in the Doghouse
Goldman Sachs (GS) - Get Report  shares declined after officials in Malaysia filed criminal charges against the bank and two of its former employees as part of an investigation into a multi billion dollar corruption scandal linked to a sovereign wealth fund.
Malaysia's Attorney General, Tommy Thomas, said he would press for fines that were "well in excess" of the $600 million in fees received by Goldman Sachs, as well as the $2.7 billion that was allegedly misappropriated by 1Malaysia Development Bhd, or 1MDB, the sovereign wealth fund at the heart of the scandal. Two former Goldman Sachs employees, as well as two others connected to 1MDB, will face the criminal charges.
"The charges arise from the commission and abetment of false or misleading statements by all the accused in order to dishonestly misappropriate $2.7 billion from the proceeds of three bonds issued by the subsidiaries of 1MDB, which were arranged and underwritten by Goldman Sachs," Thomas said in a statement from the Attorney's office. "If no criminal proceedings are instituted against the accused, their undermining of our financial system and market integrity will go unpunished."
Goldman's alleged role in the 1MDB scandal has also led the U.S. Attorney's Office in Brooklyn to file criminal charges against two Goldman bankers and could result in "significant fines, penalties and other sanctions", according to an SEC filing made by the firm.
Goldman closed down 2.8% to $168.01.
Alright, until next time...