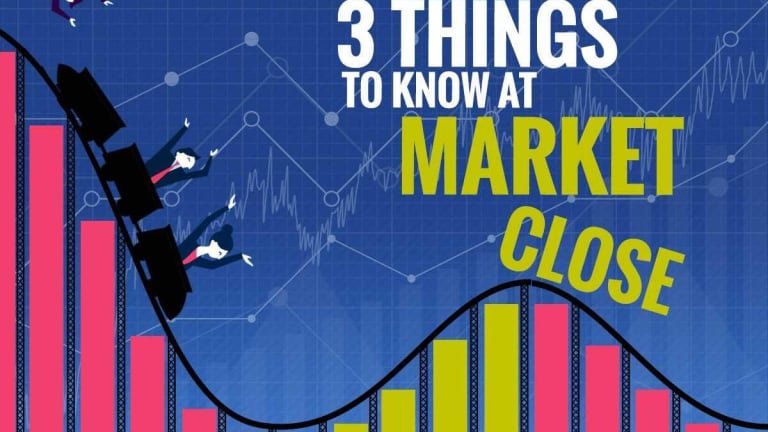 Monday Madness: Apple's Looking Pretty Bruised
Apple legal issues, Verizon labor cutbacks and Facebook buybacks are just some of the top stories on TheStreet. Here's what you're missing.
Is it Friday yet?
This market reminds me more and more of a haunted house--just when you think you've seen the scariest monsters, something else jumps out to spook you. 
But, by the end of trading, it did feel like everyone got out with minor heart palpitations.
Guess we'll just have to see what trading looks like tomorrow, but first let's look back at today. 
Stocks were higher across the board on Monday, Dec. 10, as investors overcame concerns over the fate of U.S.-China trade talks, and U.K. Prime Minister Theresa May delayed a parliamentary vote on Brexit. Strength in the tech sector led to a rally for the Dow and S&P
The Dow Jones Industrial Average rose 0.14%, or 34 points to 24,323 -- at its low for the session the Dow slumped 507 points. The S&P 500 rose 0.18%, and the Nasdaq rose 0.74%.
Apple's Fighting More Than Qualcomm
Apple is Real Money's stock of the day. 
Kevin Curran, reporter for our premium site Real Money, breaks down what investors need to know about Apple's (AAPL) - Get Report most recent legal battles outside of the one it's waging against Qualcomm (QCOM) - Get Report .
Curran wrote that the bad news from Beijing is distracting investors from litigation issues Apple is facing on U.S. soil.
Apple v. Pepper began with a filing by Robert Pepper and three other iPhone users in 2011. The users were disgruntled about Apple's terms of service and essential monopoly on apps, which they contended had driven app prices higher.
The litigation, which has been progressing slowly over recent years, threatens to create competition and constrain services revenue that recently reached $10 billion in the company's fiscal fourth quarter.
Apple's services segment, which includes App Store, Apple Pay, iCloud, and Apple Music, has become a serious thesis for investment in Apple amidst its challenges, especially as revenue has reached record levels.
What the current Apple v. Pepper case being heard in front of the Supreme Court at present would mean is a breakdown of the company's stranglehold on the app market and an almost certain deterioration of the company's exorbitant app distribution pricing model.
The company has also set even higher targets for 2020, putting more pressure on Apple's non-hardware offerings' performance.
"This is exactly why I am in the name. Subscription services," long-time NYSE trader and Real Money contributor Stephen Guilfoyle wrote in his column on Monday morning, summing up the sentiment.
Facebook Gets  Some Good News
TheStreet's Tony Owusu looks at why the social media company saw positive trading on Monday, closing up about 3.2% to $141.85 a share.
Facebook (FB) - Get Report  says it is getting serious about combating its more than 20% year-to-date stock slide, and announced over the weekend that it will buy back an additional $9 billion of its own shares.
The new buyback is in addition to a share buyback plan of up to $15 billion that the company announced last year.
Additionally, Deutsche Bank named Facebook the top pick among large internet stocks, calling the company's valuation "extremely attractive."
"We continue to view Facebook as the best risk/reward in large cap internet given the potential for core Facebook engagement to stabilize, for monetization in the Stories format to drive a potential re-acceleration in growth in mid-2019, for the negative news cycle to abate and given the extremely attractive current valuation," Deutsche Bank's Lloyd Walmsley said in a note.
This might just be the first step in the path of recovery for Facebook's stock.
Verizon to Buy Out 7% of Global Workforce to Boost 5G Era
TheStreet contributor Rob Lenihan wrote about the news on Verizon's newest buyout plan.
Verizon (VZ) - Get Report announced that over 10,400 employees agreed to accept a buyout plan so that the company can reorganize and prep for the release of its 5G service.
Earlier this month, Verizon and Samsung Electronics Co. announced plans to release a 5G smartphone in the first half of 2019. Verizon said it launched the world's first commercial 5G service in October when 5G Home went live in Houston, Indianapolis, Los Angeles and Sacramento.
"These changes are well-planned and anticipated, and they will be seamless to our customers," Verizon CEO Hans Vestberg said in a statement. "This is a moment in time, given our financial and operational strength, to begin to better serve customers with more agility, speed and flexibility."
Verizon said it had 152,300 employees at the end of third quarter. Verizon first announced the buyout plan in September. The company previously announced a goal to save $10 billion in cash by 2021.
That's a wrap for today. Just remember--we're one step closer to Friday.
Facebook and Apple are holdings in Jim Cramer's Action Alerts Plus portfolio.