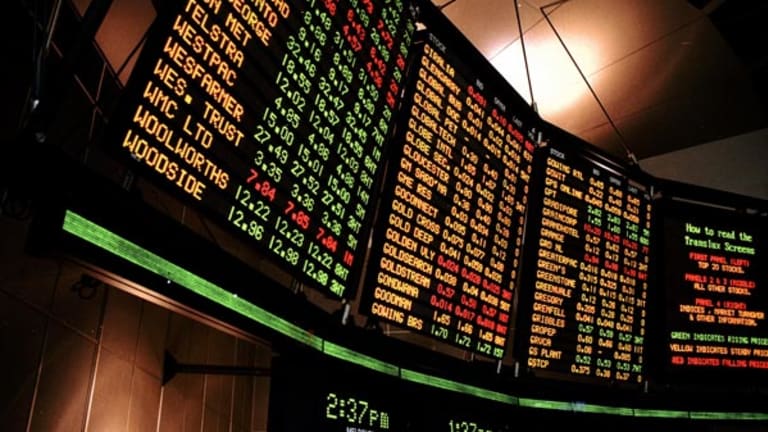 Mobile Migration Has Big Implications
If Brazil's Vivo, India's Reliance and China Unicom go for GSM, the shakeout will be huge for global telecom.
This column was originally published on RealMoney on July 5 at 2:38 p.m. EDT. It's being republished as a bonus for TheStreet.com readers.
Brazil's
Vivo
(VIV) - Get Free Report
, India's
Reliance
, and
China Unicom
(CHU) - Get Free Report
have been reported to be considering launching GSM network expansions to substitute for their current CDMA operations.
This potential new wave of GSM (global system for mobile communications) infrastructure expansion is a substantial surprise. Just a few months ago, Vivo, Reliance and Unicom were largely expected to stick with relatively aggressive CDMA (code division multiple access) expansion plans.
Brazil, India and China are the core mobile telecom growth markets, and if the leading CDMA operator in every one of these markets switches to a GSM growth track, the implications for both infrastructure and handset markets are profound.
If these operators move from the contemplation to the operational phase, their actions could spur a dramatic shake-up of the global wireless market and potentially give major long-term benefits to
Ericsson
undefined
and
Texas Instruments
(TXN) - Get Free Report
most notably.
Potential losers in this mobile migration include
Qualcomm
(QCOM) - Get Free Report
,
Verizon
(VZ) - Get Free Report
and
Sprint
(S) - Get Free Report
.
GSM Surprise
Brazil's Vivo, which has 30 million subscribers, was reported last week to have opened GSM network order negotiations with Ericsson,
Siemens
(SI) - Get Free Report
,
Nokia
(NOK) - Get Free Report
,
Alcatel
undefined
and
Huawei
.
Reliance and Unicom are both already dual-standard operators -- but they are now apparently considering jacking up their GSM coverage decisively while de-emphasizing future CDMA buildup. Reliance has 20 million subscribers, China Unicom more than 110 million.
The first phase of the GSM network rollout likely would cost $2 billion to $3 billion. India's Reliance is seen planning a GSM expansion of 10 million to 12 million phone lines -- major orders likely coming from Ericsson, Nokia and
Motorola
(MOT)
.
The nearly simultaneous nature of these moves is now a topic of intense speculation in the telecom world. Why is the speculation about the GSM switches of these three operators heating up in June 2006?
Part of the reason probably has to do with CDMA licensing terms with
Qualcomm
(QCOM) - Get Free Report
. On Monday, yet another CDMA legal wrangle emerged as
Texas Instruments
(TXN) - Get Free Report
and
Broadcom
undefined
issued a complaint about Qualcomm to South Korea's Fair Trade Commission. In June, several legal maneuvers involving the Nokia-Qualcomm fight rocked the telecom sector.
Operators such as Unicom and Reliance may well be trying to force Qualcomm into lowering license fees by leaking information about their GSM expansion plans to the local press in China and India, respectively. But it seems that Vivo of Brazil already has moved beyond the tactical phase -- the move to GSM seemed to have been confirmed last Friday by a
Portugal Telecom
(PT) - Get Free Report
executive, according to Portuguese news sources.
It's possible that the buzz about moves to GSM from various CDMA operators began as a negotiating ploy but may now be morphing into a stampede into GSM as Vivo locks in its plans. If Reliance of India flips decisively over the coming weeks, the pressure on China Unicom to move into GSM is going to be formidable. At the moment, the GSM subscriber base is about to top 2 billion, while the CDMA base has yet to crack 400 million.
Growth Implications
For the phone market, the issue of future growth tracks may seem subtle, but it has pretty big implications. Two years ago, CDMA phones were projected to grab perhaps 20% of the global phone market by 2008. At the beginning of 2006, that figure seemed to sink closer to 18%. If several major CDMA operators flip decisively, the number actually may move close to 16%.
This is a big deal. It would imply that the dollar value of the CDMA phone market may never grow again. This segment would become a shrinking market defined by a couple of major operators in the U.S. and South Korea (most notably
Verizon
(VZ) - Get Free Report
and
Sprint
(S) - Get Free Report
). Making money and maintaining margins in a shrinking market is very, very tough.
Was this why Nokia dissolved its joint venture with Sanyo and opted to pull out of CDMA phone design and manufacturing? More importantly, was this why the Lucent-Alcatel merger and the Nokia-Siemens network merger arrived so rapidly earlier this year?
Without major expansion deals from Vivo, Unicom and Reliance, the CDMA network market may shrink faster than anyone projected between 2006 and 2009, leaving Nortel, Lucent and Motorola mobile network divisions battling desperately over Sprint and Verizon.
The CDMA-driven handset programs of
Samsung
and
LG
would hit a brick wall in 2007, as their Brazil/India/China plans have to be revamped. On the other hand, Texas Instruments would have a new pool of consumers in key developing markets for its GSM-GPRS chipsets.
What will happen to the handset depth of Verizon and Sprint by 2008? Would Motorola, Samsung and LG continue creating a wide range of CDMA phones even as the market shrinks in value? The margin challenge is going to be stiff; in the GSM market, there is a 2 billion subscriber pool that is slowly being migrated to GSM-W-CDMA dual-mode phones. The dollar value of this GSM-W-CDMA tech track can continue growing as long as subscription growth in developing markets remains robust and upgrade sales from GSM to GSM-W-CDMA phones in the West stay firm.
Qualcomm has a unique advantage in the license fee streams that will flow in from both W-CDMA (wide-band CDMA) and CDMA tracks alike. But all in all, Texas Instruments may be gaining a long-term edge over Qualcomm in the chipset market as its position in India, China and Latin America improves.
P.S. from TheStreet.com Editor-in-Chief, Dave Morrow:
It's always been my opinion that it pays to have more -- not fewer -- expert market views and analyses when you're making investing or trading decisions. That's why I recommend you take advantage of our
to TheStreet.com's
RealMoney
premium Web site, where you'll get in-depth commentary
and
money-making strategies from over 50 Wall Street pros, including Jim Cramer. Take my advice --
Tero Kuittinen is a senior product specialist for Nordic Partners, Inc., a pan-Nordic brokerage firm. Although Kuittinen is an employee of Nordic Partners, Inc., the statements above are being made in Kuittinen's personal capacity and are in no way are the statements of Nordic Partners, Inc., nor attributable to the company. Under no circumstances does the information in this column represent a recommendation to buy or sell stocks. Kuittinen appreciates your feedback;
to send an email.