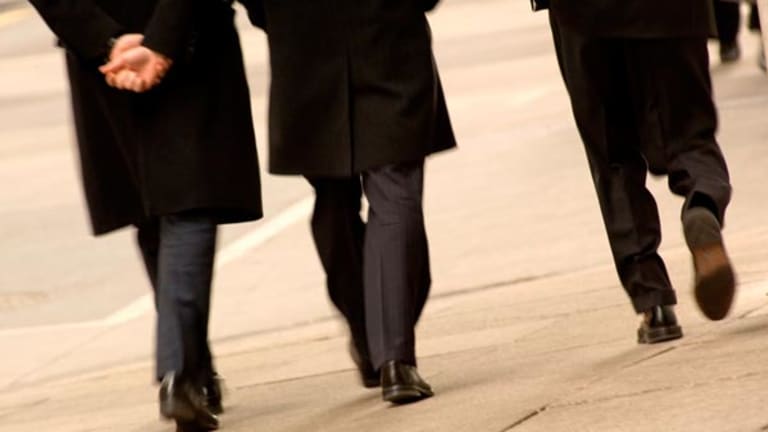 Mixed Ending for Stocks
The Nasdaq finishes with a loss. The Dow closes higher, but below its best level of the day.
Updated from 4:07 p.m. EDT
Stocks had a mixed session Wednesday, with blue-chips posting modest gains, while tech shares fell following
Cisco's
(CSCO) - Get Cisco Systems Inc. Report
lackluster outlook.
The
Dow Jones Industrial Average
ended up 25 points, or 0.3%, at 9062. The
Nasdaq
lost 21 points, or 1.2%, to 1653, and the
S&P 500
gained almost 2 points, or 0.2%, to 967.
"It was an interesting session, and although we still expect softness until the end of the month, we are seeing this as a buying opportunity," said Ozan Akcin, chief market strategist at Puglisi & Co.
Treasury bond prices reversed Tuesday's trend and advanced as investors bought up $18 billion in five-year notes sold by the government Wednesday. The 10-year note added 28/32 and its yield fell to 4.28%.
The government is set to continue raising money Thursday, selling another batch of five-year and 10-year notes. On Tuesday, yields spiked after the government sold $24 billion of three-year notes and an economic report showed further improvement in the services sector.
Akcin believes the concern about high interest rates has been "a bit overplayed. People are still in the middle of switching between bonds and equities, and that is the basic dynamic that's at play here. No one wants to be caught for the next 10 years in low-yielding investments if we get strong economic growth."
After the close Tuesday, Cisco posted fiscal fourth-quarter earnings that were in-line with analysts' estimates, but that disappointed investors. The company also projected 3% sequential revenue growth for the first quarter, typically Cisco's weakest. That estimate was also in-line with Wall Street expectations, but Cisco's shares lost $1.21, or 6.4%, to $17.65.
Advancers and decliners were roughly even at the
New York Stock Exchange
, where 1.4 billion shares were traded. At the Nasdaq, losers outpaced gainers 3-to-2, with 1.8 billion shares trading hands.
Second-quarter profits for S&P 500 companies have exceeded analysts' estimates so far, with earnings growth averaging 9.3%, well above the 5.3% analysts were expecting at the start of the reporting season.
The strength in the Dow came mainly from
American Express
(AXP) - Get American Express Company Report
,
GM
(GM) - Get General Motors Company Report
and
Home Depot
(HD) - Get Home Depot Inc. (The) Report
.
Analysts were active Wednesday, with Lehman Brothers upgrading GM and
Ford
(F) - Get Ford Motor Company Report
to equal weight from underweight, citing guaranteed dividends based on stronger-than-expected profits and cash flow.
Ford shares rose 13 cents, or 1.2%, to $10.65, while GM shares gained 36 cents, or 1%, to $36.56.
Meanwhile, UBS analysts said the selloff in Home Depot may be overdone and that the retailer is less affected by higher interest rates than competitors such as
Lowe's
(LOW) - Get Lowe's Companies Inc. Report
. Home Depot climbed 96 cents, or 3.2%, to $31.32.
Lehman Brothers
undefined
rose $1.85, or 3%, to $62.65 after Merrill Lynch upgraded the stock to buy from neutral on expectations of a pickup in orders and gains from an improvement in the stock market.
In other corporate news,
Verizon
(VZ) - Get Verizon Communications Inc. Report
said it had outlined a "framework" for addressing major labor issues, coming closer to resolving a dispute that threatened to potentially disrupt its operations. Shares rose $1, or 2.9%, to $36.05.
Research In Motion
(RIMM)
fell after a court determined the maker of BlackBerry pagers had infringed a Virginia company's patents and must halt sales of certain devices, pending an appeal. Shares finished down 63 cents, or 2.5%, at $24.49.
Overseas markets were lower across the board. London's FTSE 100 was down 1.2% at 4070, and Germany's Xetra DAX dropped 1.8% to 3376. In Asia, Japan's Nikkei closed 0.6% lower at 9324, while Hong Kong's Hang Seng lost 1.9% to 9987.
On Tuesday, the Dow lost almost 150 points, or 1.6%, to 9036. The Nasdaq shed 40 points, or 2.4%, to 1673, and the S&P 500 fell 17 points, or 1.8%, to 965.