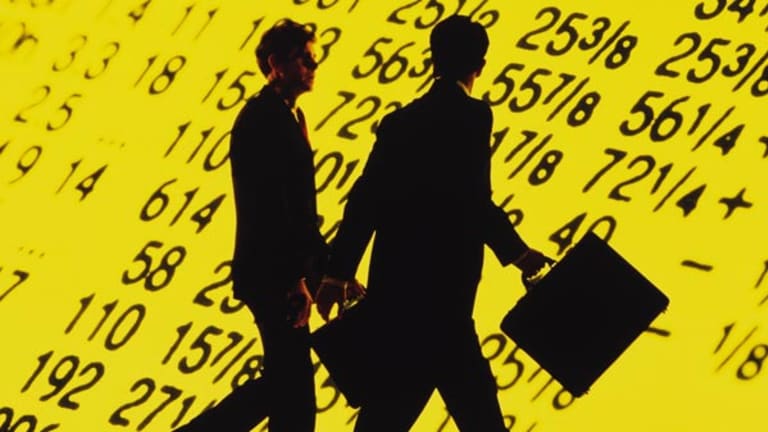 Mixed Decision for Stocks
More good earnings fail to provide much of a lift, as the Dow's winning streak ends at two.
Updated from 4:04 p.m. EST
Stocks closed narrowly mixed Thursday, as higher oil prices and an earnings disappointment at
Dow
-component
Caterpillar
(CAT)
helped stall a two-day rally.
The
Dow Jones Industrial Average
closed down 31.19 points, or 0.3%, at 10,467.40, having come close to the break-even level in the late morning. The
rose 0.48 points, or 0.04%, to 1174.55, while the
Nasdaq
added 1.06 points, or 0.05%, to 2047.15. The 10-year Treasury note was down 8/32 in price to yield 4.23%, while the dollar was higher against the yen and euro.
Volume on the
New York Stock Exchange
was 1.60 billion shares, with advancers beating decliners by a ratio of 9-to-7. Volume on the Nasdaq was 2.10 billion shares, with decliners narrowly outpacing advancers 15-to-14.
Oil prices rose as cold weather continued to be a factor in the Northeast. In Nymex floor trading, the benchmark March crude futures contract closed up 6 cents to $48.84 a barrel, having floated above the $49 level for most of the trading session.
The Dow was eaten up by Caterpillar, which reported fourth-quarter net income of $551 million, or $1.55 a share, on revenue of $8.57 billion, a 34% increase from last year. The Thomson First Call consensus called for earnings of $1.63 a share on revenue of $7.59 billion. Shares fell $4.60, or 5%, to $86.52.
Most other earnings reports were stronger, including
Nokia's
(NOK)
, which despite reporting a 17% decline in fourth-quarter earnings still posted a profit that far surpassed analyst expectations.
The Finnish cell-phone giant earned $1.3 billion, or about 30 cents a share, on a 3.1% jump in revenue to $11.8 billion. Analysts were forecasting earnings of 23 cents a share on revenue of $10.7 billion. For the current quarter, Nokia forecast earnings of 17 cents to 21 cents a share on revenue of $9.14 billion to $9.5 billion, compared with estimates of 18 cents a share on revenue of $8.7 billion. The stock rose 89 cents, or 6.2%, to $15.22.
"Earnings haven't been the problem," said Joe Liro, equity strategist with Stone & McCarthy Research Associates. "The earnings news has been as expected or even a little better. The two biggest problems here are uncertainty with respect to the election in Iraq, and, I think, money flows have been much below a typical January. People have been on the defensive regarding the OPEC. It's been very disappointing."
Both of those events take place on Jan. 30. Worries about violence around the Iraqi elections are a major concern, while speculation about whether the cartel will again cut production has also been a factor in the direction of oil prices.
Also reporting big earnings upside was
Textron
(TXT)
, which said fourth-quarter profit rose 20% from a year ago to $125 million, or 89 cents a share. Earnings from continuing operations of $1.10 a share were 5 cents above estimates. Shares added $1.08, or 1.5%, to $71.16.
Verizon
(VZ)
doubled fourth-quarter earnings from a year ago, earning $3 billion, or $1.08 a share. Excluding items, such as gains from the sale of assets, earnings were 64 cents a share, in line with the Thomson First Call projection. Revenue increased to $18.3 billion from $17.2 billion a year ago, also matching analysts' estimates. Verizon lost 65 cents, or 1.8%, to $35.87.
Dow Chemical
(DOW)
said fourth-quarter earnings rose 10% from a year ago to $1.03 billion, or $1.06 a share, on a 31% jump in sales to $10.9 billion. Adjusted earnings of 85 cents a share were 15 cents ahead of estimates. Dow Chemical dipped 18 cents, or 0.4%, to $48.56.
Shares of
Starbucks
(SBUX)
traded lower Thursday morning even after the coffee chain said fourth-quarter earnings jumped 31% from a year ago and beat estimates. The company raised its fiscal 2005 earnings estimate to $1.15 to $1.17 a share, up from its previous range of $1.12 to $1.15 a share. The stock dropped $2.31, or 4.2%, to $53.03.
Lockheed Martin
(LMT)
had fourth-quarter earnings of $372 million, or 83 cents a share, up from $344 million, or 77 cents a share, a year ago. Although the company's earnings beat the Thomson First Call projection of 75 cents a share, the company warned that 2005 earnings would fall short of expectations. While the company expects 2005 earnings of $3.05 to $3.30 a share, the Thomson First Call estimate is higher, at $3.32. Lockheed Martin gained $1.17, or 2.1%, to $56.40.
JetBlue
(JBLU)
reported fourth-quarter net earnings of $2.4 million, or 2 cents a share, an 88% decline from last year's $19.5 million, or 17 cents a share. The company still beat the Thomson First Call estimate, which had called for a loss of 4 cents a share. Revenue increased to $334 million, a 27% increase year over year. Shares rose 1 cent, or 0.05%, to $19.94.
Colgate-Palmolive
(CL)
gained Thursday after the company reported fourth-quarter earnings in line with analysts' expectations of $333.7 million, or 59 cents a share, excluding $48 million in restructuring charges. Sales rose to $2.8 billion from $2.6 billion in the same period a year earlier. J.P. Morgan upped its rating to overweight as well. Shares added $2.81, or 5.6%, to $52.69.
The New York Times
reported Thursday that
SBC
undefined
is in talks to buy
AT&T
(T)
, citing executives close to the talks. The report indicated things are in a delicate stage on the way to a possible deal that could cost SBC more than $16 billion. SBC finished down 91 cents, or 3.7%, to $23.67, while AT&T rose $1.15, or 6.2%, to $19.60.
In broker action, Bear Stearns raised its rating for
Citigroup
(C)
to outperform from underperform, believing the company can achieve positive operating leverage in 2005 through investment spending. Citigroup closed up 8 cents, or 0.1%, to $48.56.
Smith Barney cut its rating for
VeriSign
(VRSN)
to hold from buy after the company posted fourth-quarter results. While VeriSign beat the Thomson First Call earnings estimate of 20 cents a share by one penny, the brokerage said there is limited upside to the company's 2005 earnings. VeriSign fell $3.82, or 13%, to $25.46.
In economic news, the government said that durable goods orders for December increased 0.6%, as expected, after a revised 1.8% increase the previous month. Excluding autos, orders jumped 2.1%. Also, the Labor Department released initial jobless claims for the week ended Jan. 21, which increased by 7,000 to 325,000 claims, below the consensus of 333,000. The four-week moving average increased by 1,000 to 341,750.
"The economic data is not a page-turner, and I don't know if it will have a meaningful impact," said Larry Wachtel, senior market analyst with Wachovia Securities. "We've had a lot of good numbers in January that haven't done anything. As we approach the weekend, the
Federal Reserve
meeting, the Iraqi election, and the OPEC meeting will gather more attention. There are still overhanging clouds that can impede excitement."
Tomorrow will wrap up the big earnings week with
ChevronTexaco
(CVX)
,
Halliburton
(HAL)
and
McDonald's
(MCD)
reporting fourth-quarter results. The Commerce Department will also release an advanced report on GDP growth in the fourth quarter, which is expected to show the economy expanding at a rate of 3.5%, down from the third quarter's 4% jump.
Overseas, stocks ended higher, with London's FTSE 100 up 0.1% to 4853 and Germany's Xetra DAX rising 0.05% to 4216. In Asia, Japan's Nikkei rose 0.9% overnight to 11,377, while Hong Kong's Hang Seng gained 0.3% to 13,624.