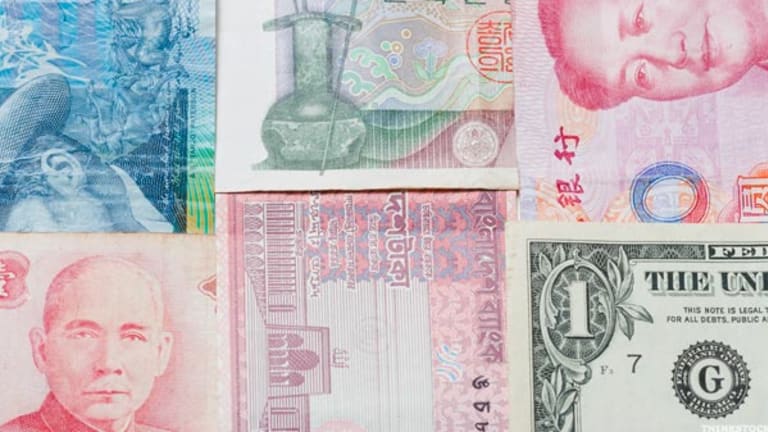 Mixed Day in Asia
Japan's Nikkei hit an 18-month low intraday, but it overcame losses and finished up 28 points.
HONG KONG -- Asian markets continued to trade in uncertain territory on Tuesday, as major indices reversed early trading patterns in the afternoon session to end mixed.
After beginning the day in the green, China's Shanghai Composite Index shed 7 points, or 0.1%, to 5386, while the Hang Seng followed, losing 67 points, or 0.25%, to end at 27,112. India also fell slightly from a strong start in the morning, dipping 29 points, or 0.14%, to 20,783, giving away an all-time high reached Monday.
Japan's Nikkei hit an 18-month low intraday, but it overcame losses and finished up 28 points, or 0.2%, at 14,528, halting a two-session, 5.3% selloff. The yen eased slightly against the dollar to 109.64 from 109.44 previously.
"There are two opposing forces tugging at the market right now: the Chinese market and what's happening in the U.S.," says Pauline Dan, who runs $2.5 billion at MFC Global Investment Management in Hong Kong. "It's a very stock-specific market, and there is increasing volatility because of these two forces."
Volume on the Hang Seng was up slightly, at HK$114.9 billion, or $14.6 billion. Leading the end-of-day declines were property stocks, which succumbed to profit-taking after heavy speculation locally that the
Federal Reserve
will cut interest rates by 50 basis points this month.
Conglomerates
Hutchison
(HUWHY)
and
Swire Pacific
(SWRAY)
fell the most, by 3.3% to HK$88.10 and by 3% to HK$108.40, respectively.
Cheung Kong
(CHEUY)
followed, slipping 3% to HK$142.6.
Hang Lung Properties
(HLPPY)
slid 2.8% to HK$33.20.
If, as many expect, a further rally in Hong Kong property stocks ensues this month, that may be good news for the
iShares Hong Kong
(EWH) - Get Report
, which is weighted more 30% across the sector.
Still, some dealers pointed out that the recent rise in property stocks over the last few sessions is similar to that seen in November, ahead of the last 25 basis-point interest rate cut in the U.S. When that cut materialized at the beginning of December, these companies were among the Hang Seng's biggest decliners in the end-of-year selloff.
Commodity stocks also fell broadly, despite a post-market uplift in Asian trading in the prices of oil and gold. After falling sharply overnight, crude oil rose 76 cents in Asia to $95.85 a barrel, while gold reached a record $875.80 an ounce before settling around $873.
PetroChina
(PTR) - Get Report
ended unchanged at HK$13.86, but gold miners fell.
Zhaojin Mining
(ZHAOF)
slipped 1% to HK$37.50, and
Zijin Mining
(ZIJMF)
lost 2% to HK$12.78.
Sino Gold
( SIOGF) was down 0.1% at HK$50.90.
Hong Kong telecoms were some of the region's strongest performers in the morning, but ended sluggish. While
China Mobile
(CHL) - Get Report
and
China Unicom
(CHU) - Get Report
gave up around 0.25%,
China Netcom
(CN) - Get Report
gained 0.4% to HK$23.80.
China Telecom
(CHA) - Get Report
jumped 2%.
"Telecoms are a very good speculative play, depending on whenever we hear news on the 3G launch in China," says Andy Lam, associate director at Harris Fraser in Hong Kong.
Lam points out that investors will be better off buying China Telecom than China Mobile, however, since the former will benefit more from 3G licenses as it is currently reliant on revenue from fixed-line operations for its earnings growth.
In China, trading was mainly dominated by declines in real estate developers, such as
Beijing North Star
(BEIJF)
, which fell 3.8% to 15.62 yuan, and
Shimao Property
(SIOPF)
, off 5.6% to 1.33 yuan, after Beijing announced it would penalize companies who "hoarded" land to drive up prices.
Airlines also fared badly, as shares in
China Eastern Airlines
(CEA) - Get Report
were suspended pending a vote over the $920 million sale of 24% of the carrier to
Singapore Airlines
(SINGF)
. After market hours, it was announced that the proposal was overwhelmingly rejected.
Air China
(AIRYY)
and
Cathay Pacific
(CPCAY)
are now expected to make significant offers for China Eastern. Shares in Air China declined 3% to HK10.20, while Cathay Pacific gained 1.3% to HK$20.25.
"There is a lot of room for growth in the airline sector, but the valuations are not cheap at this level, and cash flow for the major listed airlines is not attractive either," says Manulife's Dan.
In Japan, headline stocks and financials gave the indices some reprise from the recent bloodbath, after investors turned their attention to bargain-hunting.
Sony
(SNE) - Get Report
jumped 3.4% to 6,030 yen after
Warner Brothers
announced it would begin using the company's Blu-ray technology.
Kobe Steel
(KBSTY)
also gained, by 2.31% to 354 yen.
Mizuho Financial
(MFG) - Get Report
rose 5.2% to 529,000 yen, as one of the region's best blue-chip performers, while
Mitsubishi UFJ
(MTU)
jumped 3.1% to 1,020 yen and
Sumitomo Mitsui Financial
( SMFJY) added 0.5% to 596 yen.
In other Asian trading, the South Korean Kospi fell 5 points, or 0.3%, to 1826, but the Taiwanese Taiex tracked Monday's slight gains in the
Dow Jones Industrial Average
, to end 80 points, or 1% higher, at 7962, lifted by yield stocks such as
Taiwan Semiconductor Manufacturing
(TSM) - Get Report
. After steep declines Monday, Taiwan Semiconductor held up, ahead 0.4% to NT$56.
Daniel M. Harrison is a business journalist specialising in European and emerging markets, in particular Asia. He has an MBA from BI, Norway and a blog at
. He lives in New York.