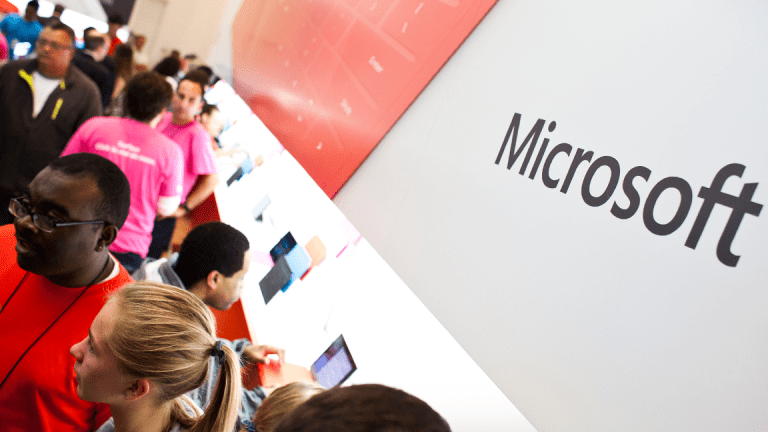 Microsoft Hits Record High as Cloud Sales Drive Q4 Earnings Blowout
Microsoft shares opened at a record high Friday after the group topped second quarter earnings estimates on the surging strength of its cloud computing business.
Ride the Cloud.
Microsoft Inc. (MSFT) - Get Microsoft Corporation (MSFT) Report shares opened at a record high Friday after the group topped fourth quarter earnings estimates on the surging strength of its cloud computing business.
Microsoft posted a Street-beating bottom line of $8.87 billion in the three months ending in June, the company said following the close of trading Tuesday, with overall revenues rising 17.5% to $30.09 billion. Those gains were powered by a staggering 93% increase in sales for its flagship Azure clouding computing business, and solid growth for its productivity and business processes unit, which includes its Office 365 suite, where sales rose 13.1% to $9.67 billion.
"Our commercial cloud business surpassed more than $23 billion in revenue for the year with gross margin expanding to 57%," CEO Satya Nadella told investors on a conference call late Tuesday. "The strength of our results reflects accelerating innovation and the trust customers are placing in us to power their digital transformation."
 "I shared our vision for the intelligent cloud and intelligent edge a little over a year ago, a vision that is now quickly becoming reality and impacting every customer in every industry," Nadella added. "Everything we have accomplished this year has been about accelerating our lead in this new era and the tremendous opportunity ahead."
Action Alerts Plus holding Microsoft shares were marked 3.4% higher at the opening bell, leading gainers on the Dow Jones Industrial Average and changing hands at $108.00 each, a move that extends the stocks's year-to-date advance to 25% and value the Redmond, Wa.-based group at just over $830 billion. 
Cloud computing revenues are becoming one of the most important components for tech sector earnings as companies around the word cut costs by moving their information to remote "cloud-based" servers.
Germany's SAP SE   (AP) - Get Ampco-Pittsburgh Corporation Report boosted its full-year and near-term cloud computing sales forecasts as Europe's biggest tech company looks to ride a solid second quarter into a full-blown drive deeper into a $15 billion market dominated by Action Alerts PLUS holding Amazon Inc. (AMZN) - Get Amazon.com, Inc. Report and Microsoft.
SAP said its second quarter cloud-related sales rose to just over €1.22 billion ($1.42 billion) in the three months ending in June, a 40% increase from the same period last year that topped analysts' forecasts. Although software licensing and support revenue is still the largest portion of SAP's sales, at €3.73 billion, that portion of the business only grew 3% from last year, SAP said.
Still, the solid cloud sales momentum allowed the Waldorf, Germany based group to lift its segment sales growth forecast for the full year to a range of 34% to 38%, ultimately leading to cloud subscription and services revenue of between €8.2 billion and €8.7 billion by 2020.
Microsoft's 16% cloud computing market share, however, pales in comparison to the 32% position held by Amazon's
Amazon Web Services, the industry titan. AWS, which contributes a bit more than 10% of Amazon's global bottom line, saw sales rise 49% from the same period last year to $5.44 billion in the three months ending in March, the company reported earlier this year.
International Business Machines (IBM) - Get International Business Machines (IBM) Report said it was able to surpass sales growth estimates thanks to a shift towards higher-margin products and business segments it has dubbed "strategic imperatives" under the leadership of CEO Ginni Rometty and which now comprise around half of Big Blue's quarterly sales. Cloud computing sales, she said, rose 20% from the same quarter last year.
Rometty said Cloud revenue has risen to $18.5 billion over the past four quarters, a figure that represents just under half of its "strategic imperatives" and a quarter of the group's overall top line, a drive that Rometty said reflects "our success in helping enterprise clients with their journey to the cloud and we're becoming the destination for mission-critical workloads in hybrid environments."