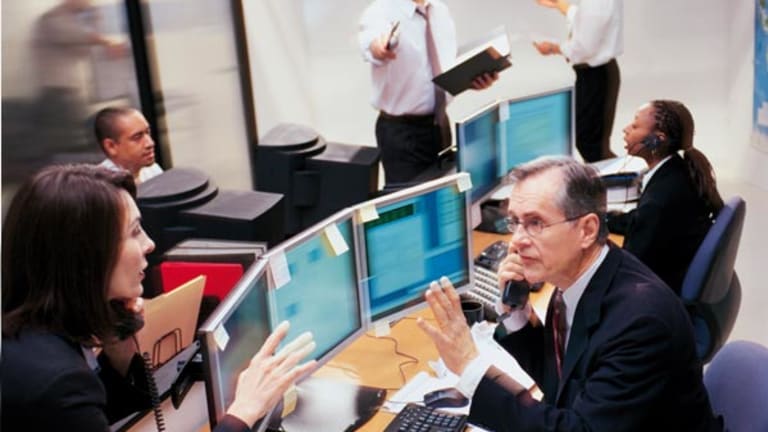 Microsoft May Get Back in the Driver's Seat
Its new high-definition offering is a notable development.
This column was originally published on RealMoney on Nov. 7 at 1:45 p.m. EST. It's being republished as a bonus for TheStreet.com readers.
Everybody's
talking about the possible deal between YouTube and
Verizon
(VZ) - Get Verizon Communications Inc. Report
, and it's certainly a significant one. I'll write more about it in my next post.
However, just as important -- at least in terms of monetizing video content and disrupting age-old media business models in the intermediate term -- is the news that
Microsoft
(MSFT) - Get Microsoft Corporation (MSFT) Report
will start offering on-demand movies and TV shows in
high definition
to be downloaded
over any broadband Internet connection
that I can then watch immediately on my TV, using a remote.
To be sure, there won't be enough content immediately available for this offering to become a force before year-end. But the news is a blow to
Apple's
(AAPL) - Get Apple Inc. (AAPL) Report
much-ballyhooed, but not-yet-released, iTV platform, which won't offer even DVD quality, much less HD. Apple's iTV will probably eventually offer such quality, but I'm not sure that Apple is putting much emphasis on video quality in the near term, as evidenced by its current offerings, which aren't even standard TV quality.
Video quality is a relative thing, and on our phones or PCs, it's not necessarily an important differentiator. But in our living rooms, it certainly is, especially for affluent youth who will be the early adopters. And it's exactly those early adopters who establish the marketplace and create positive feedback cycles for technology platforms.
That means suddenly Microsoft, with its Zune video and music player, its Xbox 360 HD downloads and its new Vista OS with video and voice-networking capabilities, just might find itself back in the driver's seat.
You see, Microsoft already has the Xbox 360 in some 4 million homes, and 60% of those homes subscribe to Xbox Live. (Just for some perspective, consider that
TiVo
(TIVO) - Get TiVo Corp. Report
has so far sold only about 1.5 million non-DirecTV TiVos.)
Sony
(SNE) - Get SONY GROUP CORPORATION SPONSORED ADR Report
will eventually offer some similar capabilities, and, of course, Apple's aforementioned iTV platform will also enter the living room.
All I'll need to access content to watch on my TV or my handheld (iPod or Zune) is a broadband Internet connection. How long before we start seeing people start to cancel their cable subscriptions? It's coming sooner than you think. And in five or 10 years, we'll be talking about how most youths don't bother subscribing to cable, just as we talk today about how most don't bother getting a voice landline.
Have I mentioned that I think the cable companies' core business is about to enter a secular decline? They are.
At the time of publication, the firm in which Willard is a partner was net long Microsoft, Apple and Google, although positions can change at any time and without notice.
Cody Willard is the manager of a hedge fund and a contributor to the
Financial Times
and
VON Magazine
. He is also a regular guest on CNBC's
Kudlow & Company
and an adjunct professor at Seton Hall.
He earned a bachelor's degree in economics at the University of New Mexico. Willard appreciates your feedback --
to send him an email.