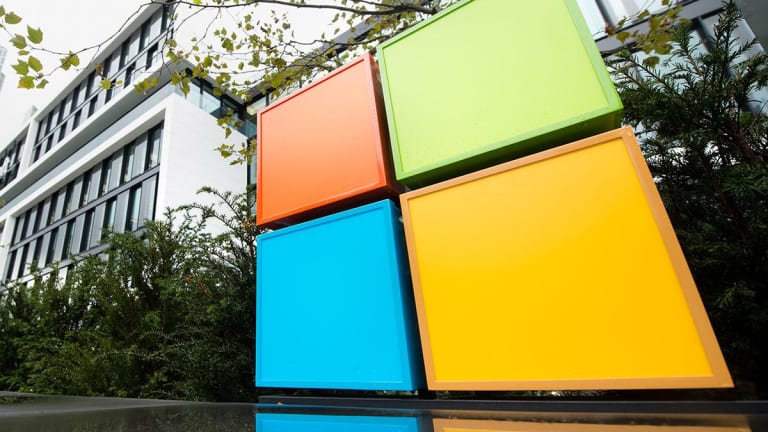 Microsoft, Amazon, Apple Are Top Holdings of U.S. Hedge Funds
The top holdings of U.S. hedge funds in the third quarter reach across many sectors.
Microsoft Corp. (MSFT) - Get Report , Amazon.com Inc. (AMZN) - Get Report  and Apple Inc. (AAPL) - Get Report  were some of the most-held names by U.S. hedge funds in the third quarter, according to a list compiled by WalletHub.
1. Microsoft Corp.
Microsoft has risen 26.95% year to date. It's the company's cloud business that continues to have the brightest outlook, David Miller, chief investment officer of Catalyst Funds told TheStreet. The cloud business hasn't yet "commoditized," he said, meaning that Microsoft can still charge higher and higher prices for its cloud services, as one of the top two leaders in the space -- the other leader being Amazon.
2. Amazon.com Inc.
The stock has gained 43% this year. It was up 74% for the year by the end of August, but the harsh selloff in texch stocks, which began in October, trimmed its gains. Naturally, Amazon will get sold off when the other "FAANG" stocks get sold, but many analysts and money managers remind that each FAANG company is different. Amazon, for example, has a completely different business then, say, Netflix Inc. (NFLX) - Get Report . 
3. Apple Inc. 
Apple was up 37% for the year on Oct. 3, but then tech stocks sold off amid fears of slowing global economic growth. It's also become clear that demand for the iPhone has been slowing. Apple is now up 0.87% year to date, and trading at a forward 12 months price-to-earnings ratio of 11.62. 
4. UnitedHealth Group Inc. (UNH) - Get Report
The health insurer has risen 23.50% this year. UnitedHealth Group Inc.'s Optum reached an agreement earlier this yeat to buy DaVita Inc. (DVA) - Get Report  for $4.9 billion.
5. Alphabet Inc. (GOOGL) - Get Report
Alphabet, parent company of Google, has gained 2.37% year to date. Along with Amazon and Apple, it's part of the FAANG group that crushed the market in the first half of 2018, only to plummet in the second half as investors began moving from growth stocks to value. "Our preference going into the new year is more value-oriented, as opposed to growth," Amanda Agati, co-chief investment strategist for PNC Financial Services, told TheStreet. 
The third quarter was when the harsh selling of tech stocks began, and WalletHub's data showed that the hedge funds surveyed in the report didn't meaningfully change their positions in Amazon, Apple, Microsoft, or Google. It's possible those funds did change their positions in those stocks by the fourth quarter. 
6. JPMorgan Chase & Co. (JPM) - Get Report
JPM has declined 5.75% this year, as part of a large-cap bank group that has fallen flat on its face in 2018, as the flattening yield curve not only puts a dent in banks' loan portfolios but also signals hard economic times ahead. As JPM has fallen hard in the third quarter, hedge fund investors have gone into the stock, the data show.. Bank stocks won't get going until the yield curve steepens out, JJ Kinahan, chief market strategist at TD Ameritrade told TheStreet. 
These stocks round out the top 10: Facebook Inc. (FB) - Get Report , Visa Inc. (V) - Get Report , Wells Fargo & Co. (WFC) - Get Report   and Bank of America Corp. (BAC) - Get Report .
Berkshire Hathaway, which WalletHub seems to classify as a hedge fund, has Apple, Bank of America, and Wells Fargo as its three top holdings, respectively. David Tepper's Apaloosa Management has Facebook as its second biggest holding. Julian Robertson's Tiger Management is aggressive on tech. His top three holdings are Microsoft, Adobe and Alphabet, in that order. 
UNH, MSFT, AMZN, AAPL, JPM, FB are holdings in Jim Cramer's Action Alerts PLUS member club. Want to be alerted before Jim Cramer buys or sells the stocks? Learn more now.