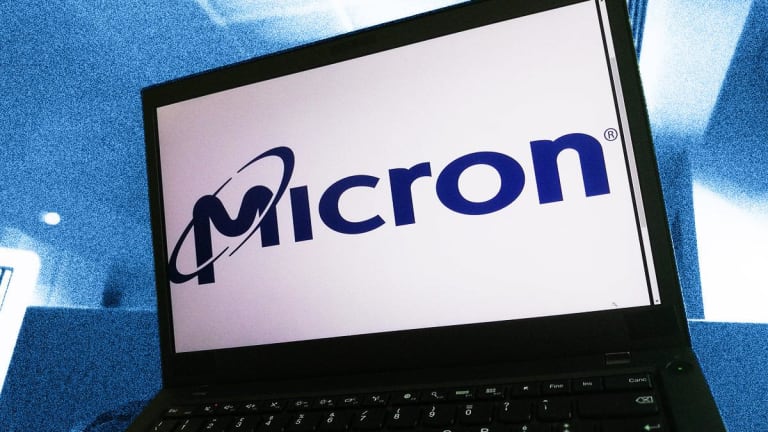 Investors Like Micron Earnings, but Analysts Are Less Impressed
One of the biggest pessimists on the stock, CitiGroup, downgraded Micron from neutral to a sell.
Investors may have been cheering Micron's latest earnings report, but Wall Street analysts were decidedly less enthusiastic. 
Micron shares were up almost 10% to $43.94 in morning trading on Thursday after the memory chipmaker reported earnings per share of $1.71 per share on revenue of $5.84 billion, ahead of consensus estimates of $1.67 per share and revenue of $5.82 billion. But management guided for revenue of $4.8 billion for the third quarter, missing expectations of $5.29 billion, and EPS guidance was for 85 cents, versus analysts expectations of $1.33. 
Significantly, Micron said 2019 capital expenditures will be in a range between $9 billion and $9.5 billion, down from the initially expected $10.5 billion, an important step as a supply glut has rocked memory chip pricing of late. 
While analysts are encouraged by Micron's recognition of the supply and demand imbalance, they're also not completely convinced the issue will fully abate soon. 
Goldman Sachs 
"Positively, Micron is taking incremental steps to reduce its supply growth by reducing wafer starts," said Goldman Sachs analyst Mark Delaney in a note out Thursday morning, referring to an early phase of the manufacturing process. "While we are somewhat more positive in aggregate as a result of the incremental supply side response from Micron, we continue to see several fundamental risks for the near to intermediate term." Not only has Micron's inventory hit a record high, but "competitors have also increased inventory, and we believe that this could continue to weigh on industry pricing in 2HCY19," Delaney said.
Delaney lowered his EPS estimate for 2019 to $6.20 from $6.27. 
CitiGroup
"The company believes that the memory market will improve in C2H19 but based on our checks and our supply/demand model we believe memory ASPs [average selling prices] could bottom in 2H19, not 1H19," wrote CitiGroup analyst Christopher Danely in a note out Thursday morning. Danely lowered his 2019 revenue and EPS estimates to $22.5 billion and $5.89 respectively, from $24.6 billion and $6.87, and downgraded Micron from neutral to sell, lowering his price target to $30 from $35. 
Susquehanna Financial 
"MU is idling DRAM capacity by 5% in an effort to manage inventories -- which we believe is a step in the right direction and consistent with our prescription for the memory industry," wrote Susquehanna Financial analyst Mehdi Hosseini in a note out Thursday morning. "However, we believe more idling may be necessary." 
Micron mentioned that while it's working to reduce inventory, the May quarter will still see high inventory levels, leading Hosseini to join his Wall Street peers in their caution on the stock. 
Cowen
Cowen analyst Karl Ackerman is fairly positive on Micron compared to other analysts, with a $46 price target, roughly 5.6% above the stock's current level. But Ackerman noted that in a Thursday note that while Micron's chips saw an all-time high in days in inventory of 137 in its latest quarter (the three-year average is 98), "if we peel back the onion, however, the amount of finished goods inventory is at the lowest level over the last 5-year period: FebQ stood at only 23 days vs. 27 days a year ago." 
While he agrees inventory levels will pressure pricing in the first half of 2019, Delaney argues that Micron has "more opportunity to repurpose bits this cycle than the last downturn in '15" because of all the unfinished products. "That should enable more sustainable margins and free cash flow," Delaney wrote, supporting his valuation. 
How Much Money Will I Need to Retire?
Want to learn about retirement planning from some of the nation's top experts? Join TheStreet's Robert "Mr. Retirement" Powell live in New York on April 6 for our Retirement Strategies Symposium. For a limited time, tickets are available for $99 for this full-day event. Check out the agenda, learn about the speakers and sign up here.