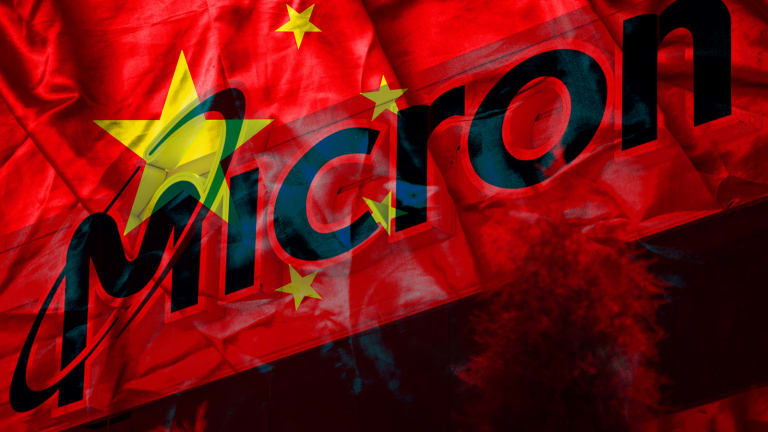 Micron Becomes Entangled in Potential U.S.-China Trade War -- ICYMI
Here's what you need to know now for Thursday, July 5.
U.S. equities rose on Thursday, July 5, even though talk of tariffs dominated the day. President Donald Trump is preparing to impose tariffs on $34 billion of Chinese goods a minute after midnighton Friday. China has vowed to respond with retaliatory tariffs on U.S. goods. TheStreet's founder Jim Cramer said the Chinese are initially going to retaliate against the farmers, but the "real issue is hostility."
Micron Technology Inc. (MU)  has become entangled in the potential trade war between China and the U.S., after a court in the Chinese city of Fuzhou issued a preliminary injunction prohibiting the company from selling a range of flash memory products, including solid-state hard drives, in China. Still, Micron's stock finished higher after saying that the products account for only about 1% of its annualized revenue and reiterated its fourth-quarter revenue guidance of $8 billion to $8.4 billion.
Meanwhile, Boeing Co. (BA)  and Brazilian aerospace company Embraer SA (ERJ)  agreed to establish a strategic partnership, allowing Boeing to control Embraer's commercial business. Under the terms of the agreement, the two companies will form a joint venture, consisting of Embraer's commercial airplane and services business and Boeing's commercial development, production, marketing and lifecycle services operations. Boeing will hold an 80% ownership stake in the joint venture, and Embraer will own the remaining 20%. The transaction values Embraer's commercial airplane operations at $4.75 billion, meaning Boeing's 80% stake is worth approximately $3.8 billion.
This is an excerpt from "In Case You Missed It," a daily newsletter brought to you by TheStreet. Sign up here.