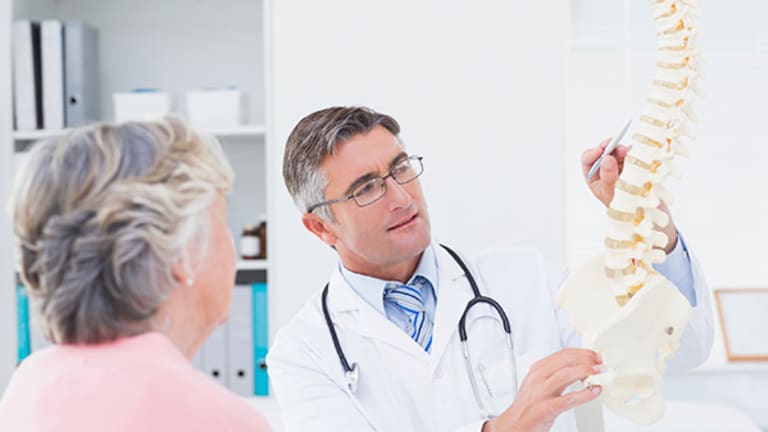 Zimmer's LDR Deal Could Force Others to Grow a Dealmaking Spine
The $1 billion transaction could inspire other medical device companies and private equity firms to bend over backwards for spinal device assets.
Globus Medical (GMED) - Get Globus Medical Inc Class A Report , K2M Group Holdings (KTWO) , NuVasive (NUVA) - Get NuVasive, Inc. Report , Orthofix International (OFIX) - Get Orthofix Medical, Inc. Report , Xtant Medical Holdings (XTNT) - Get Xtant Medical Holdings, Inc. Report and Alphatec (ATEC) - Get Alphatec Holdings, Inc. Report are among spine companies that investors should keep tabs as prospective targets or buyers following Zimmer Biomet Holdings' (ZBH) - Get Zimmer Biomet Holdings, Inc. Report recent $1 billion deal for LDR Holding (LDRH) , according to health care industry sources.
The Zimmer-LDR transaction, announced earlier this month, reaffirms that there continues to be an appetite for innovation in the spinal devices market despite risks the space has seen over the past several years, including regulatory challenges when it comes to the approval of new devices, high procedural costs and pricing pressures. 
"It means there's clear interest in the space," one source said, requesting anonymity. "Some of the guys similar to LDR from a size and scale perspective become almost easier acquisition targets."
Kohlberg & Co.'s recent play in the sector may also be indicative of more private equity interest in the space. Kohlberg purchased a majority stake in Amendia, which makes medical devices used in spinal surgical procedures, in May. Financial terms of the deal weren't disclosed, but as The Deal previously reported, the transaction was said to fetch a valuation of about $170 million. 
"I think the PE guys, when they see some of the multiples being paid for these businesses, it may spur them into action," the source said. "It affirms the view that the spine market is an enormous market opportunity."
Even Zimmer's seemingly hefty premium for LDR--64% more than the closing price of the target's shares one day prior to the announced deal on June 7--hasn't satisfied some investors.
LDR shares finished slightly above the $37 per share price over the past five consecutive trading days. Just Wednesday, 1.5%-shareholder Empirical Capital Management, in a letter to the board of the San Diego-based company, urged it to either solicit a superior transaction at no less than $42 a share or remain an independent company.
Despite analysts' belief that the transaction followed a competitive process of some sort, Empirical managing partner Cristan Blackman complained in the letter that the agreement lacked any sign of such an auction, such as a go-shop provision or a no-solicitation covenant. 
Representatives of Zimmer and LDR couldn't be reached Tuesday. The Deal previously reported, however, that while a competitive bid for the spine disorder technology company is not anticipated, fear of Zimmer becoming an substantially greater competitive threat with LDR under its wing could motivate other buyers.  
While the Zimmer-LDR deal in one sense opens the doors for further M&A among spinal device companies, it's important to note that LDR was a particularly unique technology play, noted Brean Capital's Jason Wittes.
"It's safe to say there's going to be more of a consolidation period," Wittes said. "LDR was the most obvious takeout."
LDR is viewed as a highly attractive asset largely because of its Mobi-C CDR device, which is the first and only FDA-approved product that treats both one- and two-level damaged cervical discs. 
With LDR no longer on the market--assuming successful completion of the pending deal--K2M, whose current market cap is approaching $640 million, would make a logical bolt-on acquisition for a large medical device company.
Globus, with a market cap sitting at about $2.2 billion, and NuVasive, with a market cap of about $2.9 billion, represent the next sizable players that could emerge as takeout candidates, according to Wittes, Leerink Partners' Rich Newitter, and the anonymous source.
Both Globus and NuVasive could also participate in consolidation. 
Other companies that operation in the spine fixation space and are among possible targets include Lewisville, Texas-based Orthofix, with a market cap approaching $800 million, as well as the much smaller Belgrade, Mont.-based Xtant Medical, with a market cap of just $25 million, and Carlsbad, Calif.-based Alphatec, with a market cap of about $27 million, Newitter added.
NuVasive, in particular, is viewed of as being in a separate category as it works to gain share in the new and growing non-fusion spine market, and is likely more of a buyer than a seller for now, sources said.
CEO Greg Lucier, having taken the reigns of NuVasive in May 2015, has been outspoken about his intentions to bulk up through M&A.
The San Diego-based company earlier this month announced its third deal of the year, agreeing to pay $98 million for patient monitoring company Biotronic NeuroNetwork. In an even larger move, NuVasive in January said it would pay up to $410 million for Ellipse Technologies, a maker of noninvasive magnetically adjustable implant systems. 
Because NuVasive and the slightly smaller Globus are pretty sizable companies, they have larger sales force teams in place that make a buyout more complex to execute, said Brean's Wittes.
Meanwhile, Xtant CEO Dan Goldberger said that the company hasn't received any formal or informal interest at this time.
"We're not specifically for sale, but as a small public company, things happen," he said by phone Wednesday.
Xtant, created via Bacterin's purchase of X-spine Systems for $60 million last July, will continue to look for ways both organically and via potential acquisition opportunities, he said.
 At less than half the size of each, LDR is just in the process of building a sales force, which made a deal a more doable, he explained.
Welsh, Carson, Anderson & Stowe, which took K2M public in May 2014, controls an approximately 33% stake in the spinal device maker. Having first invested in K2M in July 2010, the firm could be growing closer to desiring an exit in full. 
Its unlikely that two of the medium-sized players, Glubus and K2, will combine, since the current competitive landscape would create immediate cannibalization, noted one industry banker. 
Besides Zimmer, NuVasive and Globus, large medical device companies including Johnson & Johnson (JNJ) - Get Johnson & Johnson Report , Medtronic (MDT) - Get Medtronic Plc Report , Stryker (SYK) - Get Stryker Corporation Report and Smith & Nephew (SNN) - Get Smith & Nephew Plc Report can all be thrown in the mix as potential buyers of spine companies, sources said.
Orthofix officials declined comment. Representatives of K2M, Nuvasive, Globus and Alphatec did not return calls and emails on Wednesday seeking comment. 
This article originally appeared in The Deal, a sister publication of TheStreet.com focused on deals and dealmakers, on June 22. For more information about The Deal click here.