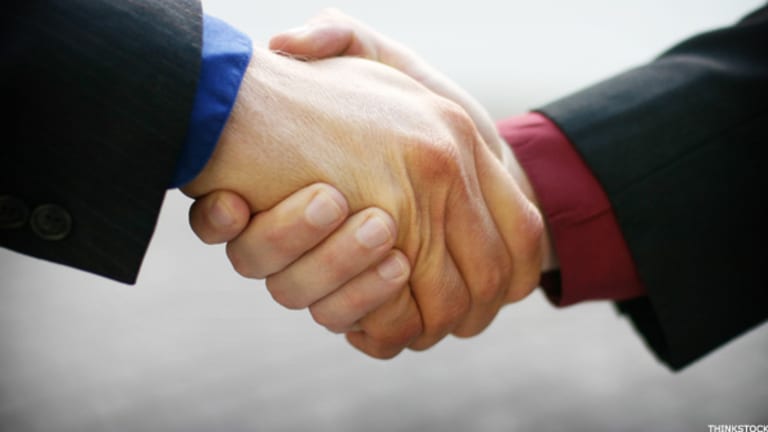 Yahoo's New CEO is a Dinosaur Killer (Clarification)
Evolution-less Yahoo! won't go the way the dinosaurs, even if suffers a social media extinction.
This article has been updated to remove references to ad distribution partnerships with specific media.
NEW YORK (
) --
Yahoo!'s
(YHOO)
new CEO Scott Thompson -- the former head of
eBay's
(EBAY) - Get Free Report
PayPal unit -- will need to catch up on his paleontology.
That's because his primary job at Yahoo! will be to prevent the Web pioneer from going the way of the dinosaurs. And the question he will need to answer is whether Yahoo! is imperiled by an asteroidlike competitive attack from social networks like
Facebook
and
Twitter
or is it just suffering from an evolution problem that can be solved?
As Thompson steps in as CEO, he will focus on the company's Web ad sales and potential asset disposals. "Scott's primary focus will be on the core business...
He will work closely with the Board as we continue the strategic review process to identify the best approaches for the Company and its shareholders. As part of this process, Yahoo! is considering a wide range of opportunities for the Company's business, as well as specific investments or dispositions of assets," said chairman Roy Bostock in a press release.
When rumors of a
deal to spin Yahoo!'s Asian assets
intensified in December, the near-zero valuation that reported bidders gave Yahoo!'s core business, which contains a Web search partnership and a Web display ads powerhouse, signals that the company isn't going away soon. Instead, Yahoo! is valued as if it's crawling toward irrelevance, as social ways of engaging with the Web cut at once-dominant portals.
Yahoo! followers shouldn't be shocked by a slow decline. The company failed to sell itself in 2008 to
Microsoft
(MSFT) - Get Free Report
for $31 a share and sales have slowed nearly 30% after it ceded its search operations without an effective replacement. In recent deal reports, a spin of stakes in
Alibaba
and
Yahoo! Japan
valued at $14 a share, Yahoo!'s core business is getting
, when subtracting its $2.1 billion in cash and short-term investments.
However, that reported valuation signals that Yahoo!'s new head has time to revive sales, especially if social networks turn out to be Yahoo! collaborators instead of competitors.
Yahoo!'s core is given little worth because investors expect declines as Facebook,
Google
(GOOG) - Get Free Report
,
LinkedIn
(LNKD)
and Twitter win the Web ad dollar market, which may eat at earnings over time, says Martin Pyykkonen of Wedge Partners. It's Yahoo!'s cash that may be worth $0, while the core is worth $2 billion, he says.
Yahoo!'s business also isn't in the immediate peril that press may indicate. In 2010, the company earned $6.3 billion in sales and $1.2 billion in profit, and it's on track to crack a billion in 2011 earnings. Analysts expect that Yahoo!'s falling revenue will stabilize in 2012, according to estimates compiled by
Bloomberg
. Forecasts are for Yahoo! to have $4.6 billion in sales and a $1.13 billion profit in 2012.
Meanwhile, Yahoo!'s portal including email and an array of Web sites including its Yahoo! Finance, News and Sports sites draw in roughly 800 million monthly visitors, some of the most traffic on the Web. Thompson can leverage solid assets as CEO -- "Scott brings to Yahoo! a proven record of building on a solid foundation of existing assets and resources to reignite innovation and drive growth, precisely the formula we need at Yahoo!," said Bostock.
The company holds one of the highest market shares in display ad dollars according to
eMarketer
and a November report from
comScore
shows that while Yahoo!'s perceived social network competitors are gaining a Web ads lead, they are losing in dollars -- only earning 15% of U.S. display ad sales.
The Wall Street Journal
dived into the
ad dollars shortfall of social networks in November
. For more on Yahoo!, see
Daniel Loeb's Third Point portfolio
.
The future problem for Yahoo! -- as the
comScore
numbers show -- is that social networks are taking an ever-increasing share of consumer's Web use and corresponding ad dollars. "It comes as no surprise to see such a favorable shift for advertising on social networks,"
comScore
states. That potential antiquation of Yahoo!'s business is leading to calls for its demise. But how quickly will ad dollars follow traffic?
"It's a slow erosion of market share but I do think
Yahoo! has some time," says Herman Leung an analyst with Susquehanna International Group, who points to Yahoo!'s still strong cash flow and revenue. "There is a value proposition, otherwise they would not generate the revenue and profit that they have," adds Leung. However, he like many others believes the company will lose out to social network competition in the long run.
The question of the day for Yahoo! is whether social networks will be a competitive threat to its formidable Web properties, or if they will bolster their presence?
After being nominated as CEO, Scott Thompson indicated that the Yahoo! will redouble its Web ads focus. "I will also be working directly with our region leaders and sales teams globally to get a clearer understanding of the needs of our advertisers and publishers. Clearly, speed is important but we will attack both the opportunity ahead and the competitive challenges with an appropriate balance of urgency and thoughtfulness," said Thompson.
Yahoo! and Facebook didn't return requests for comment made prior to Thompson's CEO nomination.
It's almost breaking news to report that 2010 was Yahoo!'s second best ever year, in terms of profits. That's because the numbers are weighed down by a cloudy strategic direction.
For the first time ever -- Yahoo! generated the bulk of its sales from non-search businesses in 2011. As that balance occurred, Yahoo!'s market share in display ad sales, its big hope after ceding search, declined as social media ascended.
Facebook is capitalizing the most on social media growth and it overtook Yahoo! in display ad dollars in 2011, according to
eMarketer
data. Since October 2009, Facebook's monthly unique visitors have also increased 83%, while Web traffic to Yahoo! has grown only 15%, according to
comScore
data. "The importance of Facebook cannot be overstated," the firm writes in a November report.
Data points to greater engagement by the Web consumers who favor social networks over the portal businesses of Yahoo!, MSN and AOL, according to
comScore
. Meanwhile, display ad growth rates of 25% nearly doubled the pace of search, according to 2010 data released by
comScore
; however the numbers were bolstered by social networks. Social Network ad revenue has grown at a compounded annual rate of 85%, according to
comScore
data compiled by
Bloomberg
.
It's that growing engagement and traffic on social networks, which may be the target of corporate Web ad spending in coming years. With its present cash and sales, can Yahoo! tap into a Web growing audience on social networks?
Analysts are skeptical. "Even if the company delivers stronger results over the next year or so, we doubt that improved financial results are either predictable or defensible," writes Rick Summer of Morningstar in a December research note.
While, Yahoo!'s business model in display ads is different from social networks, it's not immune. Currently, Yahoo! generates display ad dollars in two ways. It, like Google, offers algorithm-based packages that efficiently distribute ad campaigns to users who are reading, searching and clicking on content all over the Web. For that distribution, Yahoo! takes a cut of ad sales that may land on Web sites that generate original content.
Within Web ads, Yahoo! has a second business -- receiving the ad dollar that it distributes on its own properties and content. Yahoo! potentially keeps the entire ad dollar it distributes if the ad lands its portals or content coming from Yahoo! News -- so called premium content. With Yahoo!'s Web ubiquity, it's no surprise that the company earns significant display ad dollars. It's hoping to grow sales with increased content and video, as well as ad publishing relationships.
But there's a new bet on how ad dollars will circulate through the Web, which Yahoo! recently anted into.
Instead of algorithms dishing out ads to static sites and content on the Web, companies like Facebook are offering their platforms as a way of targeting ads to consumers based on Web usage habits and connections. "The challenge to Yahoo! isn't that Facebook is doing their business and competing against them, it's that they are an ad platform that is attracting dollars that might have gone to them," says Pyykkonen of Wedge Partners.
The McKinsey Global Institute estimated in a 2011 study that Facebook users make 30 billion monthly content posts and more than 2 billion daily engagements. As the world's largest social network, Facebook may be primed to reap the biggest reward of the "likes" and "comments" within its network that companies may latch onto during ad campaigns.
Google and Yahoo! are recognizing that challenge. By buying YouTube for $1.65 billion in 2006, Google's made a bet on social networks -- and corresponding revenue streams. Yahoo!'s also recently jumped into the social network game ... sort of.
In November, Yahoo! inked a partnership where its sites and content can connect with Facebook's network.
The deal lets people discover Yahoo! stories and sites via Facebook and a scrolling tab that shows what friends are reading online. The goal is to use Facebook connections to lure users to Yahoo! content, increasing its Web presence and ad dollars.
"Hundreds of millions of people worldwide come to Yahoo! each month, now with Facebook we are adding your friends to the mix," exclaims Yahoo! on a Web promotion, which is easily found on YouTube.
The news activity partnership was extended in December, with more Yahoo! content reaching Facebook's users. Yahoo! said 12 million Facebook users had opted into the feature, leading to a 300% spike in traffic between the sites as of a Dec. 20 press release.
"Yahoo! has experienced decreasing engagement, driven primarily by eroding engagement in the Homepage and Mail, which account for approximately 65% of impressions and display revenues, wrote Carlos Kirjner of Sanford C. Bernstein in a December note. Krijner advocates for partnerships with Facebook, in addition to a bolstered suite of original content and video to support highly popular sites like Yahoo! Finance.
The question is whether added content and new social network partnerships will help Yahoo! win back ad share and position itself for future Web growth. "The benefits are probably bigger for Facebook than they are for Yahoo," says Leung of Susquehanna Investment Group about the recent partnership between the two Web giants.
While adding social features will help Yahoo!, Leung estimates that the relationship for ad dollars is likely to be 80% competitive and only 20% symbiotic - with Facebook winning out on the former. It's because, while the partnership expands Yahoo!'s reach to Facebook's network, it takes more Web users away from Yahoo!'s portals without solving their relevancy problem. It won't stop people from spending Web usage on social networks, with ad dollars likely close behind.
It is still unclear how big Yahoo!'s push on Facebook will get, what revenue will materialize from the partnership, or if it's a harbinger of a broader social networking strategy to come.
As Yahoo! begins to evolve with a Web that's increasingly being ordered by social networks, its survival is a matter of whether that ecosystem is rife with competition or symbiosis. If Yahoo!'s social network partners like Facebook turn out to be competitors, then in the game of evolution, Yahoo! may not be fit to survive in the long term.
-- Written by Antoine Gara in New York