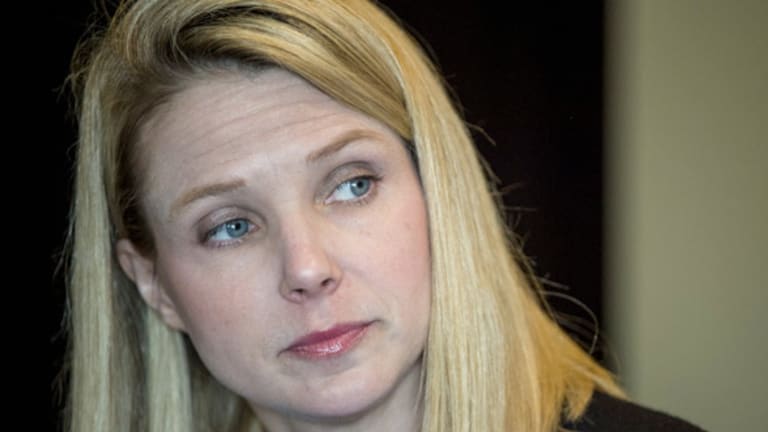 Yahoo! Spins, Streamlines -- and Sinks
Marissa Mayer's efforts to revitalize Yahoo! receive a cold reception on Wall Street.
The latest plans to revamp Yahoo! (YHOO) had a cold reception on Wednesday, Feb. 3.
Despite CEO Marissa Mayer's pledge that management will be "good stewards" of Yahoo!'s value, shares of the Internet group plummeted $1.46, or 5%, to $27.60 on Wednesday morning; they closed at $27.68.
Alongside a restructuring that will streamline Yahoo!'s businesses, Mayer outlined plans to shop patents, real estate and other non-essential assets that could fetch more than $1 billion. During the late-Tuesday earnings call, the Yahoo! CEO also said that the company would weigh "other qualified strategic proposals," opening the door to a broader sale.
As Yahoo! hit a 52-week low of $26.57 on Wednesday, the question of just how much the businesses are worth becomes increasingly vital.
Mayer said Yahoo! will focus on its core search, email and digital content businesses, and plans to cut staff and otherwise streamline the businesses. On the Tuesday call, the Yahoo! CEO likened the operations to a "three-legged stool."
Wells Fargo Sercuties analyst Peter Stabler values Yahoo!'s core business at $2.2 billion, or three times projected 2017 earnings before interest, taxes, depreciation and amortization. Yahoo! also has $5.5 billion in net cash.
More generously, Ben Schachter of Macquarie Capital put the value of the core businesses of $3.7 billion, or five times projected 2016 Ebtida.
UBS analyst Eric Sheridan values the core business at $4.85 billion, which is a blend of 1.5 times 2017 sales, six times Ebitda and 12 times free cash flow.
The largest pieces of value at Yahoo! are its Asian holdings. Stabler valued a stake in Yahoo! Japan at $6.7 billion after taxes, and put the 15% position in Alibaba (BABA) - Get Alibaba Group Holding Ltd. Report at $21.6 billion after taxes.
Yahoo! already planned for a reverse-spinoff of its core businesses and a stake in Yahoo! Japan, so that investors could more directly benefit from the value of its stake in Alibaba.
Alongside the reverse-spin, Mayer and Yahoo! management will be aggressively streamlining operations to save $400 million a year and possibly weighing offers for its businesses.  
"The challenge for investors is having confidence in successfully completing any one path, when attention is being given to all three," BMO Capital Markets analyst Daniel Salmon wrote in a Wednesday note.
Merger rumors and reports will not make life any more pleasant for the staffers who survive the layoffs.  Salmon suggested that "stabilizing the employee base and raising morale -- which must underpin fundamental improvement -- [will be] very challenging when headlines about suitors for some of all of the businesses are expected to be swirling."
Yahoo! is attempting to shift from legacy banner ads to native ads, also known as sponsored content, and other more cutting-edge approaches. Mayer compared the revenue streams, declining legacy sales and growing new lines of business to the shifting of tectonic plates in the Earth.
"As an analogy, it could be described as a tectonic shift or the plates shift beneath your feet in terms of revenue composition, but you stay at roughly the same elevation in terms of total revenue," she said.
As the restructuring continues, and the tectonic plates supporting Yahoo!'s business shift, investors and staffers will be wary of tremors.