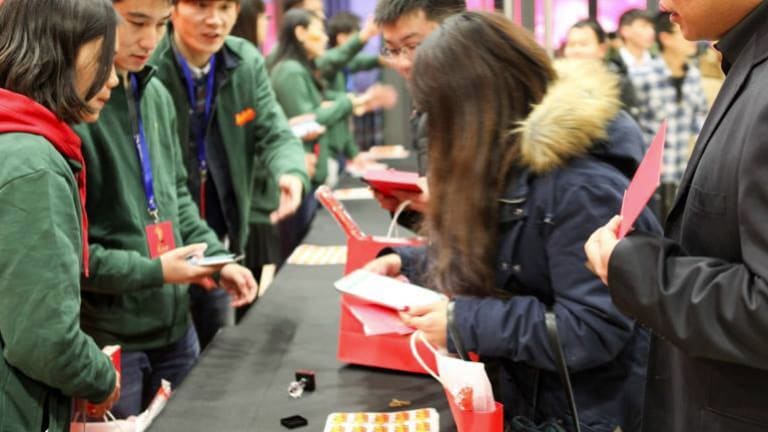 Xiaomi Becomes Highest Valued Tech Start-Up With $1.1 Billion Raise
The Chinese mobile device maker's valuation now stands at a whopping $45 billion, outpacing taxi-hailing app maker Uber.
Chinese smartphone and mobile device maker Xiaomi Inc., has raised $1.1 billion in new funding from venture capital investors, for a valuation of $45 billion, co-founder and vice president Bin Lin said in a Facebook posting on Monday, Dec. 24.
Investors mentioned in the posting are an all-Asian cast of venture capital firms, All-Stars Investment Ltd., DST Investment Management Ltd., Singapore sovereign wealth fund GIC Private. Ltd., Hopu Investment Management Co. and Yunfeng Capital, as well as un-named "others."
"This is an affirmation of Xiaomi's stellar results in four years, and heralds a new phase for the company," Bin said in his posting.
The valuation would put the company ahead of taxi-hailing app maker Uber Inc.'s recent $40 billion and reportedly makes the four-year old Beijing company the highest valued technology start-up at the moment.
The company's last fund-raising in August 2013, generated a valuation of $10 billion.
Xiaomi which competes head-on with China's Lenovo Group Ltd. in the domestic market, is also making inroads elsewhere in Asia with its low-cost Android products. It also plans to launch a new flagship device in January 2015, and has recently been investing in content through deals with Chinese online video providers.
This month it also invested in Burlingame, Calif.-based fitness and sleep-monitor start-up Misfit Wearables, as part of a $40 million funding round.
A line on its website sets out its current ambition: "With more than 18 million handsets sold in China in 2013 and products launched in Taiwan, Hong Kong, Singapore, Malaysia, Philippines, India and Indonesia, we are ready to go global," it says. In previous tweets and postings the company has said it plans to sell 100 million handsets in 10 countries next year, and has said it has sold more than 1 million devices in India since its launch in that country five months ago, despite a court ruling restricting sales with certain chip-makers' technology.
The Wall Street Journal recently reported that Xiaomi generated $4.4 billion in sales and $566 million in net profit last year, and with a target of close to $1 billion in profit this year.
Read more: Big Tech Comeback