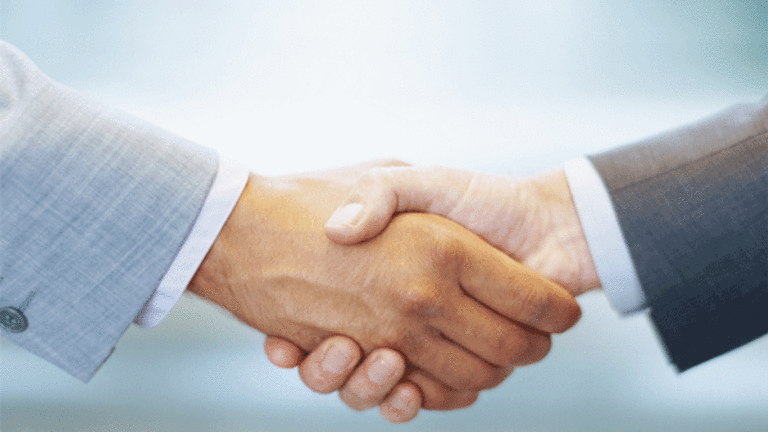 Wright Medical, Tornier to Combine in $3.3 Billion Deal
Another transaction occurs in the rapidly consolidating orthopedics sector.
In yet another combination in the consolidating orthopedics space, Wright Medical Group Inc. (WMGI) - Get Wright Medical Group NV Report and Tornier NV (TRNX) - Get Taronis Technologies, Inc. Report announced Monday after the market close, that the two companies would combine in an all-stock transaction valued at $3.3 billion.
As a result of the merger, each outstanding share of Wright common stock will be exchanged for 1.0309 ordinary shares of Tornier stock. Once the merger is completed — the companies expect the deal to close in the first half of 2015 — Wright shareholders will own 52% of the shares of the combined companies and Tornier's will own approximately 48%.
Wright closed up down 0.69% at $31.64 per share Monday and was up 6.16% in after hours trading; Tornier closed up 1.95% at $24.05 — it was up 28.9% after hours.
According to the two companies, the merger was facilitated in order to leverage the strengths of both the extremities and biologics businesses. The company will begin business under the name Wright Medical Group NV and will be led by Wright's current CEO Robert Palmisano.
Memphis, Tenn.-based Wright had been considered a target by industry bankers, especially since it sold off its hip and knee implant OrthoRecon business in 2013. That line went to China's MicroPort Medical BV for $290 million.
Up until that sale, Wright was viewed by industry analysts as struggling to keep up in the hip and knee business which as a crowded market with a lot of big players. That sale helped it to become a more attractive takeover target.
Speaking on a conference call about the combination, Palmisano said that the two companies are complementary, as Wright has traditionally relied on its lower extremities offerings while Tornier has relied on upper extremities. He noted that by leveraging sales of the product portfolios the company expects to see revenues growing in the mid-teens and adjusted Ebitda reaching 20% in the next three to four years, in addition to $40 to $45 million in cost synergies that are expected to be realized by the third year.
Wright currently has a market cap of $1.61 billion and Tornier has a market cap of $1.15 billion. Upon completion of the merger the company will be incorporated in the Netherlands — where Tornier has been incorporated and headquartered.
The deal is one of a number of big orthopedics deals this year, which include Medtronic's (MDT) - Get Medtronic Plc Report acquisition of Covidien (COV) for $42.9 billion and Zimmer's (ZMH) acquisition of Biomet Inc. for $13.4 billion
The biologics sector has also been active recently, with Zimmer purchasing Etex Holdings earlier this month in order to strengthen its biologics platform. A couple of weeks later, Bioventus LLC acquired Advanced Biologics LLC's bone allograft line after several years of following the company's progress.
Along with the announcement of the deal, Wright noted today that it received an Approvable Letter from the Food and Drug Administration for the Premarket Approval Application for Augment Bone Graft. Wright gained the Augment line when it acquired BioMimetic Therapeutics Inc. for $190 million in 2013. The line will be used as an alternative to autograft for ankle and/or hindfoot fusion indications, according to the company.
Wright retained JP Morgan Securities LLC and Perella Weinberg Partners LP as financial advisers and Ropes & Gray LLP as its legal counsel. Tornier retained a team at Willkie Farr & Gallagher LLP including Steven Gartner, Adam Turteltaub, Christopher Peters and Mark Holdsworth and Oppenheimer Wolff & Donnelly LLP as its legal advisers. It retained Bank of America Merrill Lynch as its financial adviser.