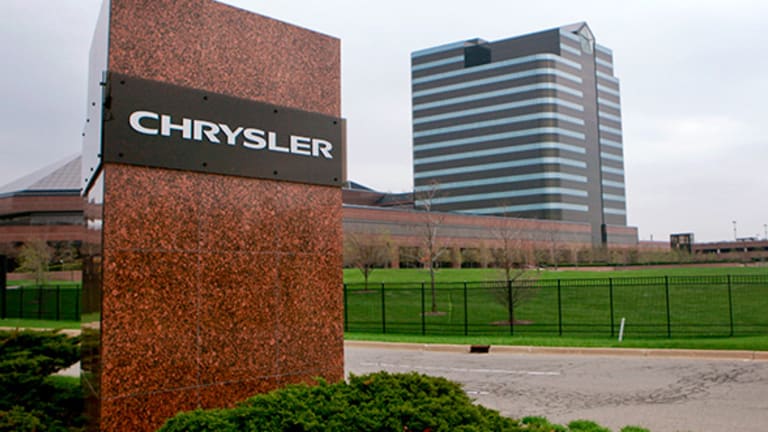 With Sale Talk Sputtering, Fiat Chrysler's Best Path Could Be a Breakup
Fiat CEO Sergio Marchionne's deal talk has fallen on deaf ears. A better option might be unlocking the value of assets like Jeep and Ram and then partnering with tech.
Fiat Chrysler (FCAU) - Get Fiat Chrysler Automobiles N.V. Report CEO Sergio Marchionne has spent considerable time over the last few years talking about ways to use M&A to make his automaker bigger. His better plan might be to focus on how to shrink it.
Marchionne at the Detroit auto show this week revisited one of his favorite topics, the idea that General Motors (GM) - Get General Motors Company (GM) Report could acquire his company, arguing that President-elect Donald Trump might be more receptive to the idea of a deal than the outgoing administration was.
Alas for Marchionne -- even if his suggestion is true, the point is likely moot unless he can make Trump president of GM, as company officials there have shown little interest in doing a deal.
The argument for consolidation has merit, with Marchionne estimating that Fiat Chrysler and other automakers waste upwards of €2 billion per week in redundant research and development and other expenses that could be trimmed via mergers. But Fiat Chrysler, at just a fraction of the size of many of its rivals, and burdened by a significant debt load, simply needs M&A more than its would-be partners do, and so far those other companies have deemed the potential headaches not worth the reward.
Fiat's status quo could become even more untenable should allegations unveiled Thursday that the company violated EPA emission standards are proven true. The company has denied the charges, but Fiat would be ill-prepared to spend anything near the $20 billion rival Volkswagen (VLKAY) has been forced to spend on its emission issues.
It's possible some other partner could emerge -- Germany's Volkswagen is often mentioned, as are various potential Chinese buyers -- but after years of merger talk falling on deaf ears it is clear Marchionne needs a plan B. The CEO has already shown a willingness to use spinoffs in the years since orchestrating the 2009 merger of Fiat and Chrysler, splitting out Ferrari (RACE) - Get Ferrari NV Report as an independent last year, and might want to consider further splits as an alternative to finding a buyer for the whole company.
In a note published this week, Morgan Stanley analyst Adam Jonas suggests the remaining parts could be worth more than the Milan and New York-traded company's current €15.4 billion valuation. His model suggests Chrysler's iconic Jeep brand is worth €20.3 billion, or 135% of the company's current market cap, and the Ram line of trucks and pickups is worth about €10 billion.
Under the right circumstances, those businesses might be large enough to be out on their own. Even if not, a U.S. or foreign buyer would likely be much more attracted to buying one or both of those popular U.S. brands than they would be in acquiring Fiat Chrysler as a whole.
Other assets with standalone value include Italian luxury vehicle maker Maserati, which Jonas values at €3.2 billion, and a similarly valued collection of parts and components manufacturers.
What would remain, a collection of assets including small-car assembly and Chrysler's minivan, would not have much value compared to the other assets. But Jonas suggests that free from debt, thanks to the divestitures, the remaining Fiat Chrysler could transform itself into something of a contract manufacturer for a range of tech companies that are developing self-driving technologies but to date have shied away from setting up their own auto assembly line.
That's a role other automakers are attempting to avoid, with Ford Motor's (F) - Get Ford Motor Company Report Mark Fields last year saying "we don't want to become like a handset manufacturer. We do not want to be like Nokia (NOK) - Get Nokia Oyj Sponsored ADR Report was." But Fiat Chrysler has shown no such reluctance, and is currently working with Alphabet's (GOOGL) - Get Alphabet Inc. Class A Report Waymo auto unit to produce 100 autonomous Chrysler Pacifica minivans this year.
Apple (AAPL) - Get Apple Inc. (AAPL) Report and Uber could also soon be in the market for automotive frames to attach their software to. Uber vice president Sherif Marakby during the Detroit show this week said his company would work with OEMs instead of building cars, and given the high equipment and other startup costs associated with auto manufacturing and the benefits of scale, it is logical that many other upstarts will look for established producers as well.
Marchionne has hinted at the potential for a spinoff of the parts business but said in Detroit this week that a separation of Maserati is not in the works. Even without massive overhaul, Jonas is positive on Fiat Chrysler, predicting the CEO's campaign to bring down debt will be a success and noting the company's high exposure to Brazil and its large U.S. manufacturing footprint that could work to its advantage during a Trump presidency.
But Marchionne, who is scheduled to retire as CEO in 2019, has always seemed keenly aware of his legacy and seems unlikely to want to depart if the long-term future of his Fiat Chrysler creation is still in doubt. Absent a change of heart inside General Motors or at some other auto giant, a breakup might be the best path forward.