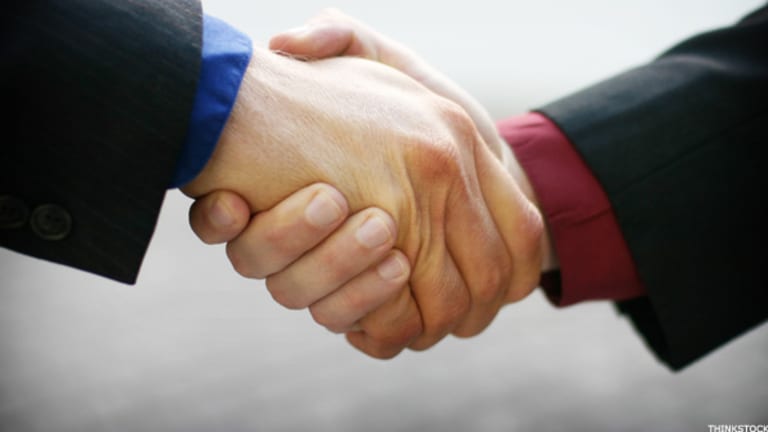 With Meredith Deal in Danger, Media General Turns Toward Nexstar
Shareholder opposition to the Meredith combination grows louder, leading to suggestions that the merger is doomed.
NEW YORK (The Deal) -- Media General's (MEG) board of directors is taking a hard look at a $4.1 billion unsolicited offer it has received from Nexstar Broadcasting Group (NXST) - Get Nexstar Media Group, Inc. Class A Report amid reports that its acquisition of Meredith (MDP) - Get Meredith Corporation Report has foundered on shareholder opposition.
On Tuesday, the New York Post reported that the $2.4 billion Media General-Meredith deal will collapse after Oppenheimer, holder of a 7% Media General stake, had come out against the combination. While the companies have not confirmed that the merger is dead, the shareholder vote is certainly close.
Last week, activist investor Starboard Value LP threatened a proxy fight against Media General, calling the Meredith purchase "value destructive." Starboard holds a 4.5% stake in Media General.
Elsewhere, Neuberger Berman Group LLC, a 6% holder, has also come out in favor of the Nexstar offer. In addition, an analyst for Roystone Capital Management, a 3% holder, said on a call late last month that it is "supportive" of Nexstar and Media General "engaging in a dialogue." Penn Capital, which owns about 2%, is supportive of the Nexstar deal, according to a spokesman. That means, together with Starboard's 4.5% stake, roughly 16% of shares back a Nexstar deal.
On the other side, a Media General spokesman said New York event-driven fund Standard General LP, which holds approximately 14.8% of Media General's shares, has agreed to support the deal with Meredith.
Activist Mario Gabelli owns an 8% Media General stake and people familiar with the activist investor say at the moment his bias is to tilt in favor of the Meredith deal because he believes Meredith's management is a "big plus." However, he added that Gabelli believes they could "synergistically" reverse the transaction, making Meredith the acquirer. Nevertheless, he said that if it came to a Starboard Value proxy fight Gabelli would have to re-evaluate and consider whether to support the campaign of Starboard Value's Jeff Smith, who manages the fund.
Nexstar's offer for Media General is valued at $14.50 a share. The target's stock was up more than 2.5% in early trading Wednesday to about $14.28. Meredith shares gained just over 1.25% Wednesday morning to trade at around $44.26, well below the $51.53 Media General is offering. Nexstar shares were up more than 2% Wednesday morning to $49.65.
Media General is beefing up its adviser ranks, hiring Goldman, Sachs & Co. and Weil, Gotshal & Manges LLP on Tuesday to help its board evaluate Nexstar's proposal. The firms will join RBC Capital Markets and Fried, Frank, Harris, Shriver & Jacobson LLP, which have already been serving Media General as financial and legal advisers.