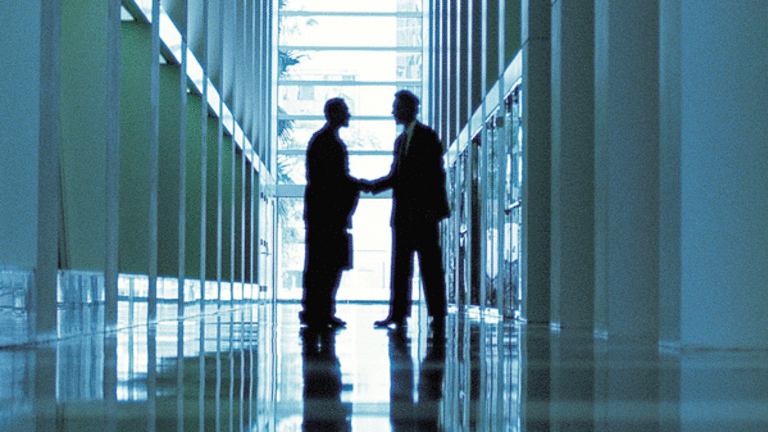 With Heavy Lifting Done, Morgans Hotel Could Be Primed for Sale
One analyst increased his buyout target to $14 for the hotel operator and believes the opportunity exists for a sale since the company now has positive cash flow.
NEW YORK (The Deal) -- Many followers of New York hotel operator Morgans Hotel Group (MHGC) have believed for quite some time that it's ripe for a sale. One analyst thinks the moment has finally come.
Jason Kalisman, Morgans' interim CEO, "wanted to first line up the balance sheet and cut costs before he would do anything else and he executed that plan," said Kim Opiatowski, an analyst at APB Financial Group, in a phone interview. "Now we are at the point where all the heavy lifting is done [and] it's time to sell the properties and sell the company."
On Friday, Opiatowski increased her price target to $14 per share, or $481.6 million, from $12 per share.
Sources close to the situation have said Kalisman, whose hedge fund OTK Associates took over control of Morgans two years ago, wouldn't sell unless the company was able to fetch a valuation in the mid-teens, which is the price where OTK first acquired a stake. Kalisman declined comment on Friday.
"Morgans Hotel Group is a dramatically different company than it was a year ago," Opiatowski wrote in note issued Friday. "The company went from bleeding cash, ensnared in lawsuits, and expense-heavy to running like a skilled boutique hotel operator."
On March 13, Morgans reported full-year earnings results for 2014, notching a 5% increase in Ebitda to $55.1 million from $52.2 million the prior year. The highlight of the announcement, however, was that the company had $1.4 million in operating income in 2014, compared to negative $1.9 million in 2013.
"The biggest thing that changed is that the company is now cash flow positive," Opiatowski said. "It is a much-improved situation and there is a stable run rate."
During Kalisman's tenure Morgans has also refinanced about $450 million in loans associated with the Delano South Beach hotel in Miami and the Hudson facility in New York. In addition, the company has weathered two proxy contests against boards backed by minority investor Ron Burkle and his Los Angeles investment firm, Yucaipa Cos. LLC, as well as by hedge fund manager Sahm Adrangi of Kerrisdale Capital Management.
Morgans said on March 13 that it continues to work with Morgan Stanley on a strategic review, which has been ongoing since September.
"These improved operating results, along with two other developments, make us more confident that the company is moving towards a sale of the Delano, the Hudson, or the entire company," Opiatowski wrote in her note.
One of the two developments she is referring to is the March 15 announcement that Morgans had appointed Howard Lorber as president and CEO of Miami holding company Vector Group (VGR) and Kenneth E. Cruse, the former CEO of Aliso Viejo, Calif., REIT, Sunstone Hotel Investors (SHO) , to its board. The other development is the December sale of Morgans' 90% interest in restaurant operator Light Group to Hakkasan Holdings LLC for $36 million.
While a sale of the company looks likely to Opiatowski, one major roadblock for Morgans is Yucaipa, which lost control of the board to OTK in 2012 but continues to hold a sizable chunk of Morgans' warrants, which gives it consent rights over transactions.
During Morgans' proxy contest with Kerrisdale in May, Yucaipa came out publicly to support a sale to the company for more than $8 per share.
Opiatowski cautioned, however, that the buyout price for Morgans could fluctuate a few dollars in either direction, based on how the company handles the potential sale of the Hudson and the Delano hotels and and whether it retains the operating contracts for those properties.
Opiatowski's $14 price target implies a multiple of about 10 times earnings before interest, taxes, depreciation and amortization, although she said Morgans' peer group trades anywhere from 10 to 12 times Ebitda.
Another analyst, who asked to remain unnamed, said suitors for Morgans would include major hotel operators such as Hilton Worldwide Holdings (HLT) and Hyatt Hotels (H) , which don't have well-known luxury brands. Both companies did not respond to calls seeking comment.
Morgans' stock, which trades on the Nasdaq, closed at $7.72 on Friday, up 2.25%.
Read more from
: