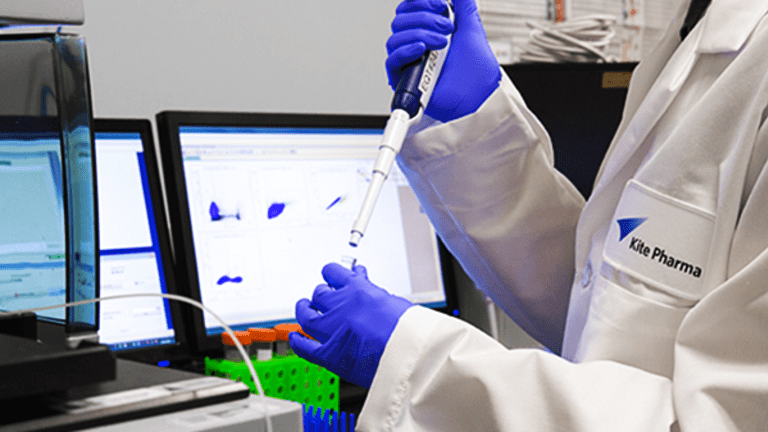 With Big Hopes for Cancer Drug, Kite Raising $350M
The pharma is gearing up to commericialize its lead drug, a treatment for lymphoma.
Shares of Kite Pharma (KITE) slumped Thursday morning when the company announced a public offering of more shares of its stock after announcing positive results for a study of its drug for treatment of aggressive non-Hodgkin lymphoma.
Kite's shares had fallen almost 5% shortly after market's open Thursday after they soared 12% Wednesday. Shares hovered around $75.82 after the opening bell Thursday.
Jefferies LLC is the sole underwriter on this offering, which will be made on NASDAQ. The company is offering up 4.75 million shares. The shares will be offered at $75 apiece, would indicate the company is aiming to raise around $356 million. The offering is scheduled to close March 7.
According to the terms of the offering, Jefferies is eligible to buy an additional 712,500 shares within the next 30 days.
According to Kite's prospectus, the company plans to use the proceeds from this offering to support commercialization of its axicabtagene ciloleucel, which is in phase three trials. This is the lymphoma drug that the company reported did well in studies on Feb. 28.
"These results with axicabtagene ciloleucel are exceptional and suggest that more than a third of patients with refractory aggressive non-Hodgkin lymphoma (NHL) could potentially be cured after a single infusion of axicabtagene ciloleucel," said Jeff Wiezorek, M.D., senior vice president of clinical development in a statement.
Axicabtagene ciloleuce is Kite's lead product candidate. Kite plans to submit a Biologics License Application in the first quarter of 2017 to the Food and Drug Administration for the accelerated approval of axicabtagene ciloleucel as a treatment for patients with relapsed or refractory aggressive NHL who are ineligible for autologous stem cell transplant.
Other clinical studies area being conducted on for axicabtagene ciloleucel for additional hematological indications.
The proceeds will also be used to research CAR- and TCR-based candidates, according to the prospectus. One of those, KITE-718, is a TCR-based therapy targeting an antigen for the treatment of several cancers including non-small cell lung cancer and bladder cancer. Kite also filed an investigational new drug application to initiate a phase one clinical trial of KITE-718 at the end of 2016 and plan to open the clinical trial for patient enrollment in the first half of this year.
Kite's net tangible book value as of December 31, 2016 was approximately $396.6 million, or $7.92 per share. The company's market cap as of Thursday was $3.72 billion.
"How should you play tech and other stocks in March?Here's what Jim Cramer and four of our top columnists recommend."