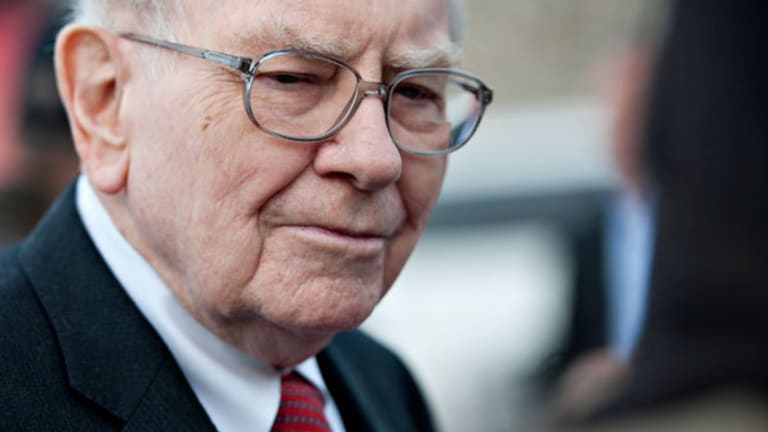 Will Warren Buffett's Berkshire Join Fannie, Freddie Privatization Effort?
Berkshire Hathaway has a history of involvement with the government-backed mortgage lenders and may be interested in following the lead of Fairholme Capital in trying to take them private.
NEW YORK (TheStreet) -- Warren Buffett of Berkshire Hathaway (BRK.A) - Get BRK.A Report has said that the government's conservatorship of Fannie Mae (FNMA) and Freddie Mac (FMCC) contained the terms he'd normally seek out when infusing capital into a struggling company. Now, five years after the U.S. Treasury's bailout of both government sponsored mortgage giants, one wonders whether the Oracle of Omaha might be enticed by Fannie and Freddie privatization bids.
Currently, Fairholme Capital Management is offering to infuse $52 billion in Fannie Mae and Freddie Mac, in an effort to bring private capital to both GSEs' traditional mortgage-backed securities insurance business. The deal would liquidate Fannie and Freddie at a profit to the U.S. Treasury, Fairholme said in a recent presentation, and put the private market behind new mortgages issued in 2014 and beyond.
Holders of Fannie and Freddie preferred stock would have their claims exchanged for new equity in the MBS insurance business and they would inject an additional $17.3 billion through a rights offering. Fairholme's proposal would also rely on the creation of two new state-regulated private insurers to recapitalize Fannie and Freddie and underwrite new business without a federal charter.
It is the latter that might intrigue Berkshire Hathaway, even if Buffett were reticent to invest directly in Fannie and Freddie's private recapitalization.
A source familiar with Fairholme's proposal said the fund reached out to a host of insurance companies when putting together its initial privatization plan.
Given Berkshire's history with GSEs and its exposure to the housing market, it wouldn't be a shock if the company were interested in participating in a private mortgage insurance regime to replace the federal government's backstop. However, the resolution of Fannie and Freddie already has competing House and Senate bills, in addition to common and preferred shareholders whom expect a payout for their holdings.
Fairholme also has relationships with other large U.S. insurers. The fund is a large shareholder in insurers AIG (AIG) - Get American International Group, Inc. Report and Leucadia National (LUK) . Fairholme even references its crisis-time investment in AIG in it GSE plan.
"[We] were one of the earliest investors to support AIG after the 2008 economic crisis, ultimately helping to validate the restructuring plan implemented by the United States Treasury," Fairholme said in its proposal.
Fairholme Capital Management, AIG and Leucadia National declined to comment. Berkshire Hathaway didn't return multiple emails seeking comment.
In the late 1980s, Buffett became a shareholder in Fannie Mae when then-CEO David Maxwell executed a turnaround of the company in the wake of the savings and loan crisis. Buffett, however, stopped buying Fannie's stock as the price rose and sold the stake, leaving profits on the table.
"I wish I could give you a halfway rational explanation for my amateurish behavior vis-a-vis Fannie Mae. But there isn't one. What I can give you is an estimate as of year-end 1991 of the approximate gain that Berkshire didn't make because of your Chairman's mistake: about $1.4 billion," Buffett said in his 1991 letter to shareholders.
Buffett, while disappointed he didn't acquire a larger stake, nevertheless was a large Freddie Mac shareholder at the time. By 1999, Freddie Mac was Berkshire's third-largest stock holding with a market value of nearly $3 billion. By 2000, Berkshire had sold nearly all of its shares.
In a September 2008, Buffett said in a CNBC interview he sold his Freddie shares when the firm began to use its federal support to buy up bonds outside of the company's mortgage market mandate. Buffett said it indicated Freddie's management was treating the company as the biggest hedge fund in the world.
The September CNBC interview, conducted on the day Treasury put Fannie and Freddie into conservatorship, is instructive of Buffett's thinking about the U.S. housing market and the role of GSEs.
Notably, Buffett said Treasury's investment was made on terms he'd usually seek when injecting last minute capital in a struggling financial institution.
"The common shareholders are going to get nothing until the Treasury gets paid back and even then, as I understand it, the Treasury is getting a warrant at a nominal sum for 79.9% of the resulting common. So assuming there is anything left for the common four or five years down the road, the Treasury will get 80% of it," Buffett said.
"I would have insisted on something like really an 80% interest in a nominal price to get in there in case the common did have value at some point and then I would have insisted on priorities over the common or preferred," he added.
Those comments indicate it is unlikely Buffett and Berkshire Hathaway stashed away any Fannie and Freddie preferred shares in 2008, in anticipation of a big option-like payout years down the line.
Investors who bought Fannie and Freddie preferred shares at bargain basement prices, however, appear to be the driving force behind privatization efforts.
Fairholme said in June it had invested $500 million Fannie and Freddie preferred shares, which continue to trade at a steep discount given that both companies remain in government hands with quarterly profits paid out to the U.S. Treasury. Other funds such as Claren Road Asset Management, Paulson & Co. and Perry Capital Management are reported to be preferred holders and seemingly would be relied on to support Fairholme's proposal.
Former Treasury Secretary Larry Summers recently toldBloomberg TV that a resolution of Fannie and Freddie by preferred holders was at the edge of ludicrous.
The government has also rejected Fairholme's initial Fannie and Freddie privatization plan.
Still, given that Fairholme's proposal appears to be a first step in trying to build a private market solution to resolve Fannie and Freddie, it will be interesting to see if Berkshire Hathaway or any other large insurer would be interested in contributing equity or stepping in as a replacement to the federal government's current backstop of the $10 trillion market.
--Written by Antoine Gara in New York