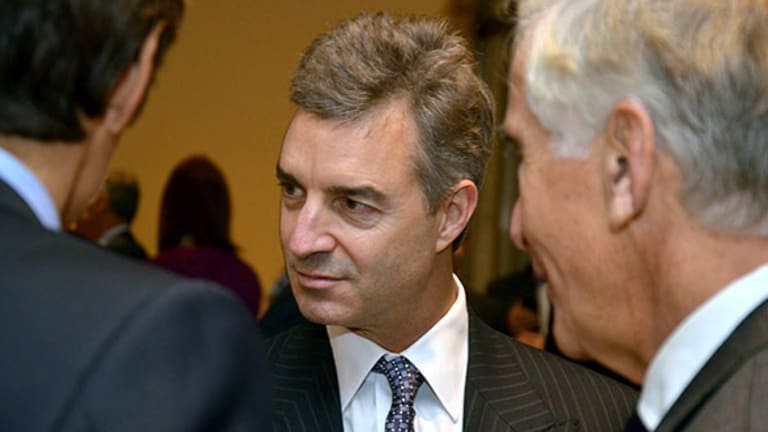 Will Splitting Up Danaher Do the Job?
Is Third Point's Dan Loeb along for the ride as he takes a large stake in Danaher or will he push for more buybacks and divestitures?
Danaher (DHR) - Get Free Report is in the process of splitting itself into two businesses -- but it may soon come under further breakup pressure.
That's because activist firm Third Point -- run by insurgent manager Dan Loeb -- revealed last week that it had quietly taken a $191 million stake last quarter in the $67 billion market-capitalization company.
Loeb is one of the most prolific activist investors in the U.S. and no stranger to launching proxy fights to drive share-price improvements. At Danaher, he may just be along for the ride. After the split is completed by year-end 2016, analysts predict further acquisitions by both units and share-price improvements.
Alternatively, Loeb could hike his stake and launch a campaign pushing for an alternative route that could include stock buybacks, a major dividend (Danaher currently offers $0.135 a share dividend) or an effort to try and further dismantle at least one of the post-spin companies.
Without any external pressure, analysts don't expect either company to contemplate any significant stock buybacks or capital distributions -- instead both will concentrate on their acquisition strategies. "Before buying back stock, I expect they will both focus on making acquisitions," said Brian Drab, analyst at William Blair & Co. "Danaher does M&A in my view better than any other industrial company. They make acquisitions and improve the margins of those units, and that is the primary use of their capital and it has been for decades."
Once the spinoff is complete, Danaher's life sciences operations will also contain diagnostic and dental segments, and those could be split further under pressure from an insurgent, analysts say.
To get a sense of their relative sizes, the first of the two split-up businesses, which will house the life sciences operations, had roughly $16.5 billion in revenue in 2014. The other business, which will include Danaher's industrial operations, reported roughly $6 billion in revenue over the same period.
Analysts don't believe either of the two units, even under pressure by an activist, would have any interest in breaking down further once the split off is completed. But Loeb could force a breakup.
"Does med-tech really need to be with the other pieces?" asked Brian Langenberg, analyst at Langenberg & Company, referring to the life sciences and diagnostic and dental operations. "No, but they won't feel the need to split it up."
As far as acquisitions go for Danaher, another activist may soon be successful at pushing a unit into Danaher's hands. In October, insurgent Tom Sandell settled with Viavi Solutions (VIAV) - Get Free Report in a deal that called for the company -- formerly known as JDS Uniphase -- to hire an investment bank and consulting group to help it with a strategic review. Sandell, according to sources, thinks Danaher could be interested in buying Viavi's test and measurements business. Analysts agree: "I would be surprised if [Danaher] didn't look at it," said Drab.
Richard Shannon, analyst at Craig-Hallum Capital Groupin Minneapolis, said he believed that the test and measurement unit could be a good fit for Danaher, despite there being some overlap between both companies' businesses in that area. It could fetch roughly two times the division's sales on an enterprise value basis, he said. "The test and measurement industry could use some consolidation," Shannon said.
Loeb and Sandell declined to comment and Danaher did not return requests for comment.
Separately, Shannon expects Viavi to spin off or sell its optical security products business, which makes pigments that are part of paper currency, to a strategic or private equity buyer. "I think it is a virtual certainty that they spin it off or sell it in the next two or three years," Shannon said. "Private equity would love that unit."
As far as Loeb's stake in Danaher, interested observers may want to take a look at activist fund manager Paul Singer's campaign launched on Monday at Alcoa (AA) - Get Free Report . The activist, who runs Elliott Management, praised Alcoa for its plan announced in September to split itself into two companies. However, Elliott also said it will seek out talks with Alcoa's board and management about additional "opportunities" to maximize shareholder value, including a possible sale of a power generation business.
Like Singer at Alcoa, Loeb may soon see additional post-split opportunities at Danaher.