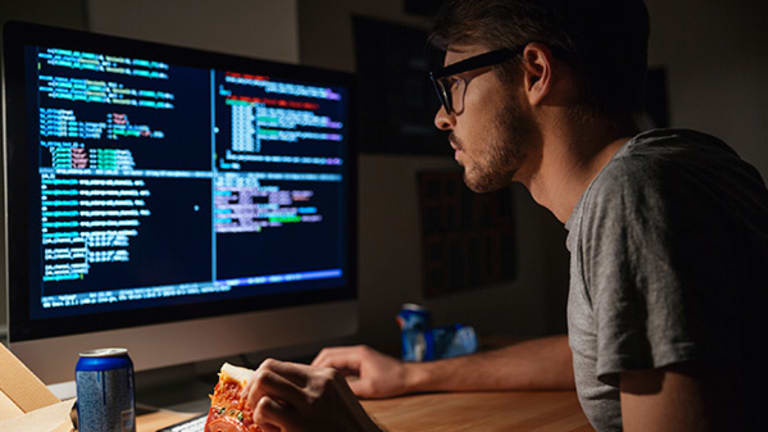 Will SAP Break Its M&A Silence?
Software industry watchers believe the company will be the next to make a move in the cloud sector as it tries to get 29% of its revenue in that space.
Software industry watchers believe the company will be the next to make a move in the cloud sector as it tries to get 29% of its revenue in that space.
On the heels of Microsoft's (MSFT) - Get Report buyout of LinkedIn (LNKD) , the market is now watching SAP SE (SAP) - Get Report to make the next move on the M&A front, and industry observers believe cloud software makers such as Workday (WDAY) - Get Report , Jive Software (JIVE) and Cornerstone OnDemand (CSOD) - Get Report could be in mix for the German company.
SAP is aiming to get 29% of its revenue from its cloud-based offerings by 2020----up from just 11% now----and software industry sources believe Workday, Jive Software or Cornerstone OnDemand could help it get there.
"SAP could be the next mover," said Wunderlich Securities Inc. analyst Ryan MacDonald. "SAP has been very quiet."
Redmond, Wash.-based Microsoft announced Monday that it has agreed to acquire career networking company LinkedIn for about $26.2 billion, or $196 per share, to further boost its productivity offerings surrounding Microsoft Office and cloud computing business Azure. The transaction is the latest in the cloud-based software sector, which has seen healthy levels of dealmaking this year.
Marketo (MKTO) has agreed to a buyout offer of $1.79 billion from Vista Equity Partners LLC, which also has a deal on the table with Cvent Inc. (CVT) for $1.65 billion.
Oracle (ORCL) - Get Report has been an active buyer in the sector, too, chasing after mid-sized vertical software targets. So far in 2016, the Redwood City, Calif.-based software company has already agreed to buy Opower Inc. (OPWR) for $532 million and Textura Corp. (TXTR) for $663 million.
But Oracle's rival, SAP, hasn't made any dealmaking noise of late.
The Walldorf, Germany-based company was one of the pioneers, along with Oracle, of "enterprise resource planning," or ERP, software, which allows businesses to better manage operations such as production, sales, delivery and HR functions. Traditionally, SAP generated revenue by licensing its software to customers, who would install and manage the platform from their own servers.
Then came the cloud, which allows users to access what they need, on-demand, through remote servers, typically using a subscription-based model. And with the cloud came new market entrants such as Salesforce.com Inc. (CRM) - Get Report , a cloud-only provider of ERP software, which began chipping away at the two incumbents' market share.
The result has been a string of acquisitions as SAP seeks to "adapt or die."
SAP purchased Success Factors, a maker of human resource enterprise software, for $3.4 billion in 2011, and shelled out $4.3 billion for Ariba, an e-commerce software maker, the following year. In 2014, SAP snapped up Concur Technologies, the market leader in cloud-based expense and travel management, for $8.3 billion and Fieldglass, a vendor management system used to manage independent contractors, for around $1 billion.
SAP has also introduced its own cloud-based product, S4, otherwise known as Hana, and is seeking to transition clients onto this new platform. That effort, however, hasn't met expectations yet; in April, the company missed sales estimates due to contract delays in the Americas.
As a result of these efforts, analysts at Jefferies in a recent note estimated that SAP will be able to generate 23% of its revenue organically with its cloud-based operations by 2020. That suggests SAP will be on the hunt for companies to help it reach its 29% target.
Likely suspects, several analysts said, are fast-growing, independent cloud software companies such as Pleasanton, Calif.-based Workday, whose officials declined comment. Workday, which makes cloud-based enterprise software for human resources, would be the ideal purchase, said one analyst who asked not to be named.
Workday "is growing so fast within the cloud space and will immediately help them get to that 29% goal----and possibly even beat it," the analyst said.
With a market capitalization of $15.9 billion, Workday "would be a bit of a stretch and SAP would need to leverage to buy, but it's within their means," the analyst added.
But SAP may not have a clear path to Workday, since Oracle is rumored to be interested in the cloud provider. 
Other independent cloud companies such as Palo Alto, Calif.-based Jive, which posted an 8% increase in first-quarter sales to $50.7 million, and Cornerstone OnDemand, which has a market capitalization of $2.3 billion, could also help SAP inch toward its goal, the analyst said.
Santa Monica, Calif.-based Cornerstone OnDemand, in particular, has increasingly become an appealing takeout candidate for large cloud software providers, including SAP.
"As we look forward, Cornerstone OnDemand becomes a more interesting acquisition candidate, especially because they're a leader in learning management," Wunderlich's MacDonald said, acknowledging that Oracle could take a look at the company, too.
Cornerstone OnDemand, which is currently trading at a range of about 4.5 times to 5 times forward revenue, could fetch around 7 times forward revenue in a sale given that's what LinkedIn has garnered, he added.
SunTrust Robinson Humphrey Inc. analyst John Rizzuto also noted that Cornerstone OnDemand would be a valuable asset.
But before SAP makes an acquisition, it needs to lay out a road map when it comes to the cloud and how it will use M&A to achieve its goal in the tech sector, Rizzuto said.
Shares of SAP closed Tuesday at $76.11, down 0.89%.
SAP officials didn't return calls seeking comment. Jive and Cornerstone executives couldn't be reached for comment.