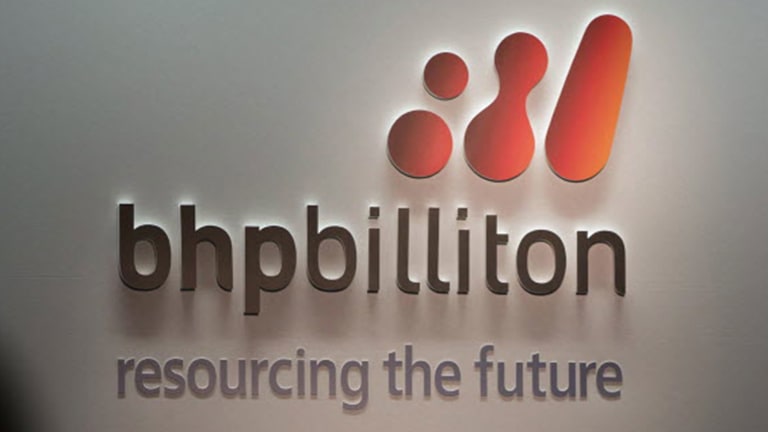 Will BHP Billiton's Major Mining Spinoff Be Predator or Prey?
BHP Billiton shareholders Wednesday backed a big spinoff, voting to create South32 -- a new global mining company that could be an instant acquisition target or start gobbling up rivals.
NEW YORK (The Deal) -- Shareholders of BHP Billiton (BHP) - Get Free Report on Wednesday backed one of the mining sector's biggest ever spinoffs when they voted to create South32 Ltd., establishing a new global mining company that could be as much prey as predator.
While final votes were yet to be tallied, proxy votes at twin meetings in Perth, Australia, and London approved the demerger with majorities of 97.2% and 98.1%, respectively.
The Perth-based company, which will house BHP's unwanted manganese, aluminum, nickel, coal and silver assets, might enter the mergers and acquisitions arena itself as soon as the end of the year, its CEO-elect Graham Kerr told reporters ahead of the vote's results.
"If we do go into the M&A space, it will be opportunistic and it will be only where we see value," said Kerr in Perth. "Companies that start on day one saying we have to go buy something, they end up paying too much at the wrong time and put themselves into trouble. We will be ready, but it is not the primary focus."
Kerr said South32 will initially focus on cost-cutting and extending the life of its existing operations, but noted that the company's low levels of debt gave it room to pursue deals at a time when many of its rivals were looking for ways to reduce their leverage. South32 will consider acquisitions in any commodities but gold, so long as a deal would add value, said Kerr.
The company will begin life with $675 million in net debt. That will be dwarfed by its expected market capitalization, though analysts have had a hard time agreeing on what that valuation will be. Morgan Stanley (MS) - Get Free Report has predicted that South32 will be worth as little as $7 billion, while Citigroup (C) - Get Free Report has set an estimated range of between $12 billion and $13.3 billion. South32's assets generated revenue of $8.3 billion and EBITDA of $446 million in 2014.
South32 could spend as much as $3 billion to bolster its operations, according to a Deutsche Bank (DB) - Get Free Report report last month. Deutsche identified the 40% that South32 doesn't already hold in South Africa's Samancor Manganese as a possible early target. The stake, owned by Anglo American, could be worth about $1.4 billion.
Others have chosen to focus on the possibility of an even bigger deal, one in which South32 is the target.
In that scenario, the company's meager debt, its position as the world's largest manganese ore producer, and the opportunities to reduce costs mean it will become a target soon after its scheduled May 18 listing in Australia, South Africa and the U.K.
No potential buyer has approached South32 about a deal, Kerr said on Wednesday.
A move for the company soon after its listing remains the most credible scenario. South32's relatively small size means many U.K. funds will be looking to offload shares handed to them by BHP, giving a buyer the opportunity to build a stake from which to launch a bid.
Mick Davis and his X2 Resources Partners fund, which is flush with $5.6 billion of newly raised equity, has likely already run the rule over the business. Davis, the former head of Xstrata, last year offered BHP about $10 billion for many of the assets being parceled off into South32, according to a Bloomberg report that cited unnamed sources. X2 could consider a new offer after South32 lists, so long as the company is valued at less than $12 billion, the sources claimed.
"X2 resources is reviewing a range of opportunities but will not comment on specific assets," said spokesman Michael Oke.
A bid by X2 could reignite hostilities between Davis and Glencore's Ivan Glasenberg -- who ousted Davis from his role as the head of Xstrata when Glencore bought the mining company in 2013.
Glencore has long trumpeted its preference for established mining operations and might see South32 as an easier alternative to reeling in a reluctant Rio Tinto Group (RIO) - Get Free Report. Glasenberg in September described South32 as a "good set of assets" and analysts, including Sanford C. Bernstein & Co.'s Paul Gait, have tipped him to make a run at the company.
South32, named after the line of latitude that links Perth and Johannesburg, will inherit 12 BHP businesses, leaving Australia's biggest mining company with 19 large-scale and long-life operations that are already the core of its business.
"The demerger enables us to focus on our petroleum, copper, iron ore, coal and potash assets, which together generated 96% of the group's underlying Ebitda in the 2014 financial year," BHP Chairman Jac Nasser told the shareholder meeting in Perth.
ADR shares in BHP were lower Wednesday in New York, down 1.5%, at $ 51.25 in late afternoon.