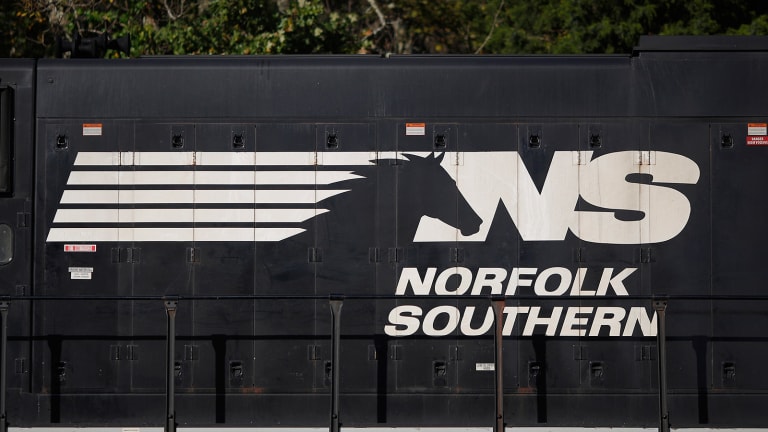 Will Antitrust Problems Endanger Canadian Pacific Bid for Norfolk Southern?
A proposal by Canadian Pacific management to put Norfolk Southern in a trust and assume full regulatory risk underscores the uphill battle it faces trying to consolidate the rails.
The CEO of Canadian Pacific Railway (CP) - Get Canadian Pacific Railway Limited Report has floated a creative way for holders of target Norfolk Southern (NSC) - Get Norfolk Southern Corporation Report to quickly cash in and avoid regulatory risk should they accept his $28.4 billion offer. But the plan is fraught with risk, and underscores the uphill battle Canadian Pacific faces as it attempts to consolidate the rail business.
CP chief Hunter Harrison in interviews over the past few days suggested that his company could create a voting trust or special holding company to house Norfolk Southern during what is expected to be a prolonged regulatory review of a deal, allowing the target's shareholders to get a quick payout and transferring the regulatory risk to the acquirer.
Norfolk Southern, which is reviewing CP's overture, has cited regulatory worries as a key factor in preventing railroad consolidation. Should the two sides agree to a deal the U.S. Surface Transportation Board would have one month to accept a merger application and up to 16 months to render a decision, with considerable input expected from shippers and railroad rivals.
Regulators and railroad customers have been adamantly opposed to further consolidation after a series of deals in the 1980s and 1990s reduced the number of large railroads and led to major service disruptions. Concerns about approvals caused Norfolk Southern rival CSX (CSX) - Get CSX Corporation Report to reject overtures by Canadian Pacific last year.
Under a trust or holding company arrangement Norfolk Southern would remain separate from Canadian Pacific during the review, but shareholders could receive payment in as little as 60 days. The CEO suggested that in the interim Norfolk Southern could be run by a CP exec, perhaps the 71-year-old Harrison himself, to lay the groundwork for integration, assuming approvals are eventually granted.
Using trusts and holding companies as a regulatory end-around has a mixed track record in the rail business.
Harrison knows that deal well, having served as CEO of Illinois Central at the time of the transaction. He stayed with the combination until 2009, first as chief operating officer and eventually acting as chief executive.
Another attempt to move quicker than regulators, an effort by the Atchison, Topeka and Santa Fe Railway to combine with Southern Pacific Transportation in 1983, was eventually rejected by authorities, forcing executives into a 90-day divestiture plan that eventually saw Southern Pacific sold to Rio Grande Industries.
The Santa Fe in 1995 merged with Burlington Northern Railroad, while Southern Pacific was acquired by Union Pacific (UNP) - Get Union Pacific Corporation Report a year later.
Analysts say there is reason to worry that the CP/Norfolk Southern deal would be rejected in a similar fashion, leaving CP scrambling to quickly divest of the Norfolk Southern assets, perhaps at a fire-sale price cheaper than the premium necessary to bring current investors to the table.
Many believe that a CP/Norfolk Southern combination would force rivals to the altar, with CSX potentially targeted by Union Pacific, Canadian National or Berkshire Hathaway (BRK.A) - Get Berkshire Hathaway Inc. Class A Report (BRK.B) - Get Berkshire Hathaway Inc. Class B Report -owned BNSF Railway. Should that scenario play out, regulators would be asked to sign off on effectively cutting the number of major North American railroads in half, making deal approval all the more difficult.
Cowen analyst Jason H. Seidl notes that while Harrison has a well-earned reputation for running a good railroad, he hasn't always had as much success when it comes to working with regulators. Canadian Pacific earlier this year refused to pay fines issued by Transport Canada after that regulatory body found the company failed to meet targets for moving Canadian grain to market.
"Harrison's expertise is in operating wildly successful rail operations, not necessarily predicting and dealing with governmental agencies," Seidl wrote in a research note. "If CP elects to structure its bid for NSC in such a way whereby it transfers all of the regulatory risk away from NSC shareholders and to CP shareholders, we would not be surprised to see shares of the Canadian-based carrier come under some pressure."
A trust structure would also likely provide a boost to Norfolk Southern shares, Seidl noted, as arb investors would be forced to quickly recalculate their positions to account for a faster payout and less uncertainty.
Ultimately the trust idea can be viewed as a sign that Harrison recognizes that the same regulatory worries that derailed his early attempt to combine with CSX might also stand in the way this time around. Execs rarely take on extra risk unless they feel they have to.