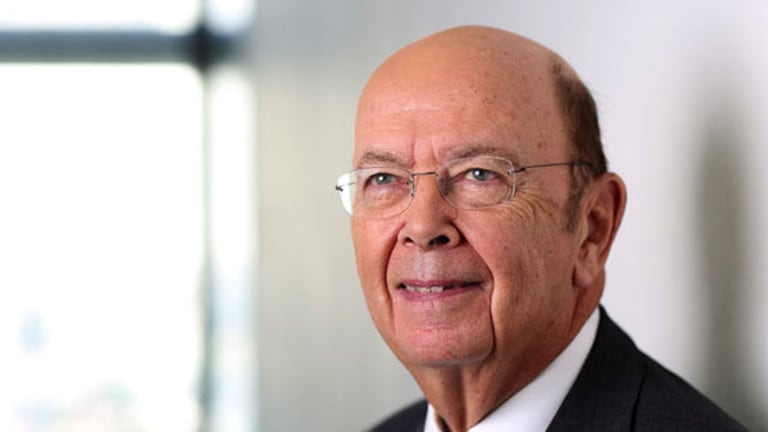 Why Wilbur Ross Is as Much a Job Killer as Job Saver
The man nominated by Donald Trump to be Secretary of Commerce is known as a 'vulture' investor who has capitalized on struggling industries.
President-Elect Donald Trump tapped billionaire "vulture" investor Wilbur Ross to serve as his Secretary of Commerce late last month, touting the "King of Bankruptcy's" dealmaking acumen.
"Wilbur Ross is a champion of American manufacturing and knows how to help companies succeed. Most importantly, he is one of the greatest negotiators I have ever met, and that comes from me, the author of The Art of the Deal," Trump said in a statement. "Together, we will take on the special interests and stand up for American jobs."
EDITOR'S NOTE: This article was originally published by The Deal, a sister publication of TheStreet that offers sophisticated insight and analysis on all types of deals, from inception to integration. Click here for a free trial.
Depending on whom you ask, Ross is either a job saver or a job killer. Since leaving Rothschild in 2000 to start his own private equity firm, WL Ross & Co., Ross has helped resuscitate flagging steel facilities that would have closed otherwise, but also drawn the ire of mine workers for using Chapter 11 to escape union contracts.
Below is a look at Ross' biggest deals:
Early 2000s: Heavy industrials
Perhaps Ross' most successful play was his decision to invest in the bankrupt LTV Steel company in 2002. Ross bought the Cleveland-based steelmaker out of Chapter 11 for $325 million, assuming $200 million in liabilities and paying $125 million in cash. Ross used the LTV base as the foundation for his International Steel Group conglomerate and snapped up the remains of Acme Steel, Weirton Steel and Bethlehem Steel.
In 2005, Ross sold the International Steel Group to Indian investor Lakshmi Mittal for $4.5 billion. The assets became part of what its now known as multinational steel giant ArcelorMittal (MT) - Get ArcelorMittal SA Report . Ross sits on the board of ArcelorMittal, a position he will need to resign from if he is confirmed.
Ross made similar plays in textiles, coal and auto parts. His coal investment ultimately made him infamous, as a blast at one of his mines in Sago, W.Va., in January 2006 killed 12 people. Subsequent media reports revealed that the mine had been hit with hundreds of safety violations. Though most of the violations predated Ross' purchase of the mine, he was pilloried by the public.
"For the rest of my life, the memory of those who died at Sago will haunt me," Ross told New York magazine at the time. "That will never go away. I know that the families will wonder whether there wasn't something more I could have done to make sure their loved ones would still be alive."
Ross promised to match donations to a fund for victims' families. Trump reportedly gave $25,000.
Mid 2000s (crisis era): Mortgage lending and financials
As the 2007-08 subprime lending crisis swept the globe, Ross moved quickly to capitalize on financial instability in the United States and Europe.
Domestically, Ross targeted mortgage lenders including Homeward Residential Holdings, which he purchased out of Chapter 11 in 2007 for about $100 million. Ross flipped homeward to Ocwen FinancialCorp. (OCN) - Get Ocwen Financial Corporation Report for about $750 million in cash and stock. Ross declined to reveal the exact profit his company made on the transaction when interviewed by The Deal at the time. Ross was also part of a consortium that took control of BankUnited (BKU) - Get BankUnited, Inc. Report from the FDIC in 2009 and injected $945 million into the bank.
Abroad, Ross took a 9% stake in the Bank of Ireland in 2011, saving it from a government takeover. He liquidated his position in 2014 for $646 million after making a nearly 300% profit. Ross also invested in Richard Branson's Virgin Money in 2010, selling his final 12% stake in the lender for about $214 million on Nov. 16 of this year.
Today: Diversified holdings
Ross has not yet entirely wrapped up his financials play. He still has a stake in the Bank of Cyprus and is currently its vice chairman -- another position he will need to depart if he is confirmed.
He has currently about an 18% stake in oil and gas explorer Exco Resources (XCO) , which is floundering amid the downturn in oil prices. Exco, which traded at $16.27 a share when Ross upped his stake in the company to about 20% in 2011, currently trades at around $1.
Ross has a large stake in Diamond S Shipping Group, an international transporter of petroleum that is battling similar headwinds. Ross suspended an initial public offering for the company that was scheduled for March 14 after calling the suggested price too low.