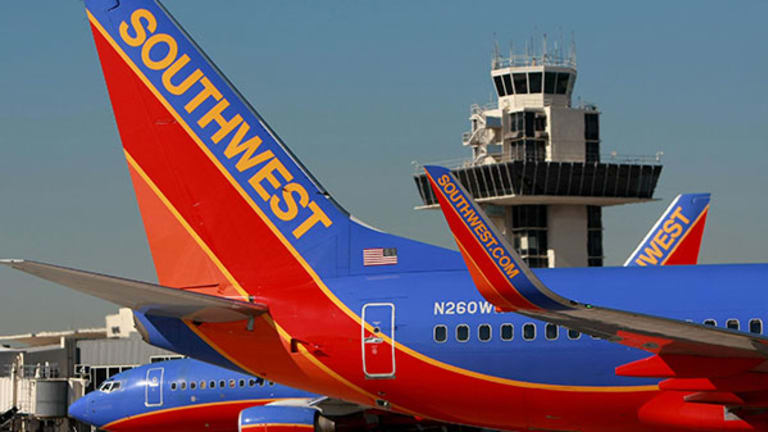 Why Turbulence May Attract Activists to Southwest's Cockpit
The one-time Wall Street darling's revenue and profit miss leads to doubts about its pilot Gary Kelly.
Southwest Airlines (LUV) - Get Report has long taken pride in its upstart culture which helped the company to rise up out of the Texas desert at the dawn of the age of airline deregulation and revolutionize domestic travel. Alas the airline, like that narrative, has grown long in the tooth. An activist investor might need to push the company to turn the page.
Dallas-based Southwest in mid-July reported second quarter profit and revenue that missed analyst expectations, results that, coupled with nonchalant guidance, caused shares to drop more than 10% that day. The stock has failed to recover in the days that followed, illustrating the significant concerns investors have with an airline that was once beloved by Wall Street for its ability to fly above the turbulence typically associated with the industry.
If the airline's third-quarter guidance is accurate, Southwest could be on its way to reporting its first quarterly year-over-year decline in earnings per share since 2012. Shares of the airline are hovering within range of 52-week lows.
The Southwest of yesteryear was famous for its ability to enter a market and control pricing, and that ability led Wall Street to allow the company to follow its own unique playbook. The airline for years managed to produce best-of-breed profits despite some of the industry's highest labor costs, using tricks like keeping aircraft operating longer than its competitors to maximize revenue and deliver outsized returns.
Alas the Southwest of yesteryear is no longer, as competitors have made adjustments to even the playing field and new discounters have flooded the market. Investors coming off that earnings call might begin to wonder whether the current management team, led by 30-year Southwest veteran Gary Kelly, has the right mix to guide the company in 2016 and beyond.
Activists have had recent success big game hunting in the airline sector. A pair of funds earlier this year succeeded in a campaign against Southwest rival United Continental (UAL) - Get Report that asked not for a breakup or a greater return of capital but rather a board overhaul and hard scrutiny of management. It is not out of the question that a large investor could wage a similar campaign here.
Southwest was hardly alone in reporting weak revenue figures and warning of softness in the quarter to come, but airline management stood out in the company's release and then in the conference call that followed with a seemingly lackadaisical response to the margin pressure. While other airlines raced to cut capacity into the winter months and pledged to seek out new ways to boost revenue, Southwest hinted that future cuts could be on the horizon but announced nothing concrete.
Wolfe Research analyst Hunter Keay in a note following earnings said that Southwest "seemed oddly unprepared for the onslaught of questions around the topic of capacity growth," saying the airline's attitude was "strange and out of touch with investor priorities."
Meanwhile Helane Becker of Cowen & Co. noted that Southwest management as recently as the airline's June investor day said that it expected the second quarter to outperform the industry in terms of unit revenue, and said management's change and tone from that June day to the earnings call is likely what caught the market by surprise.
"Investors with whom we have spoken about the earnings and guidance have admittedly been frustrated with the company's revenue performance," Becker wrote.
Restless, frustrated investors are not the only thing Southwest has in common with United; both airlines have also been plagued by labor disharmony of late. Southwest is currently at odds with its pilots, flight attendants and mechanics, with negotiations on new contracts for each group now dragging on for a number of years.
Kelly on Southwest's investor call pledged to get Southwest back on track, but at times seemed almost defiant as analysts quizzed him on specifics. Investors are also getting increasingly antsy about Southwest's position as one of the last holdouts when it comes to ancillary revenues including bag fees. Bag fees would require an abrupt shift by a management team that in recent years has built advertising campaigns around their pledge not to nickel and dime customers, another reason an activist might prefer an outsider to step in and take a fresh look at the airline's policies.
More broadly some investors are beginning to worry that Southwest has transitioned from disruptor to incumbent in the industry, and needs to recast itself before it runs into some of the same troubles that it caused for legacy airlines two decades prior. The airline still champions the so-called "Southwest Effect" of traffic going up and fares coming down when it moves into a market, but in recent years a proliferation of more recent startups have eaten into domestic margins and left fewer routes where Southwest can have an impact.
There's no easy answer. These newcomers, including Spirit Airlines (SAVE) - Get Report  and privately-held Frontier Airlines, offer fares as low as Southwest while making additional revenue off of seat assignments, bag fees and in-flight refreshments. Southwest might begrudge added fees but without them the airline will need to raise fares, perhaps above levels that others who do charge for extras offer on specific flights.
Southwest is responding in part by turning to overseas travel including tourist destinations in the Caribbean, but international flights add an extra layer of complexity and cost and the likes of Spirit and JetBlue Airways (JBLU) - Get Report are already well established in many of those beach markets.
Southwest is far from a failing company, but signs are growing that the model perfected by founder Herb Kelleher nearly four decades ago is growing less disruptive by the quarter. Change is inevitably coming to the airline's Love Field headquarters in Dallas. As with United already this year, don't be surprised if some investor demands a bigger voice in determining who leads Southwest into the next chapter of its history.
- This article was originally published by The Deal, a sister publication of TheStreet that offers sophisticated insight and analysis on all types of deals, from inception to integration. Click here for a free trial.