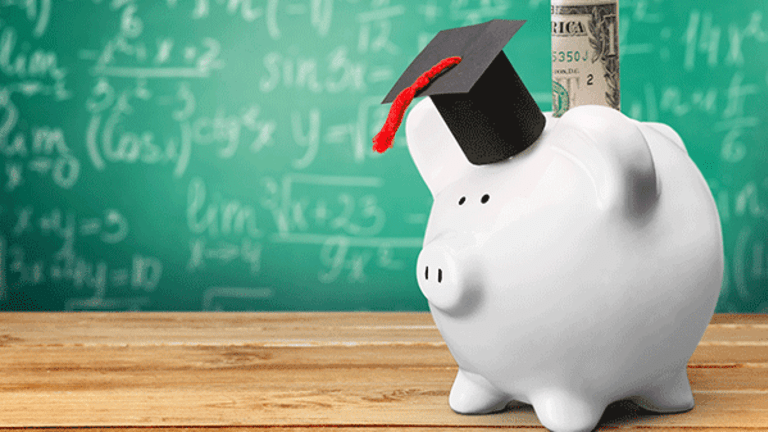 Why the Boardroom Doesn't Need Ivy League Degrees
Dozens of directors make their journey to the boardroom via community college.
This is part of a series of stories that comprise TheStreet's Blue Chip Studio, which will illuminate issues related to corporate board performance, activism, dealmakers and personalities revealed by analysis of data generated by BoardEx, a business unit of TheStreet.
Sure, people who are talented and lucky enough to go to Harvard and interested in business may well wind up on the board of directors of a publicly traded company. After all, more than 1,500 Harvard men and women sit on such boards, including Goldman Sachs (GS) chief Lloyd Blankfein (Harvard College '75 and Harvard Law '78) and Boeing Co. (BA) director Caroline Kennedy (Harvard College '80).
As does Duke Energy Corp. (DUK) board member Carlos Saladrigas, who got his M.B.A. from Harvard in 1975 and went on to a career as an accountant and eventually as head of the largest Hispanic-owned company in America. But the educational journey that led Saladrigas to Cambridge, Mass., and beyond, began far away from Harvard's ivy-covered walls: at Miami Dade Community College in Florida.
Saladrigas's experience shows that though corporate boardrooms are often filled with graduates of the nation's most famous and exclusive schools, an Ivy League degree isn't a necessity to get a seat at the table. In fact, there at least 35 directors across the three main S&P indices that found their way to the boardroom via a community college, according to BoardEx, a relationship mapping service of TheStreet Inc.
The community college population has "so much potential," said Chanda Gibson, executive director at the Council of Urban Professionals, which works to advance social justice issues like diversity and inclusion.
People often "underestimate the grit and tenacity" that is required for a community college student to take advantage of every opportunity, Gibson said. Because of this life experience, community college students "provide a depth to perception, experience and have that relatability to a lot of different types of people," she said.
Miami Dade College leads the list of community colleges whose graduates went on to become directors at public companies, with five. City College of San Francisco is next with three graduates, including HMS Holdings Corp. (HMSY) CEO and Chairman William Lucia as well as Target Corp. (TGT) and Bank of America Corp. (BAC) director Monica Lozano. Neither Lucia nor Lozano consented to be interviewed for this story.
Palm Beach State College, formerly known as Palm Beach Community College, and the Community College of Allegheny County, Pennsylvania, are tied for third with two graduates. Bob Miller, director at Apartment Investment and Management Co. (AIV) , and Clarence Anthony, who serves on the board of the GEO Group Inc. (GEO) , attended Palm Beach State College, according to BoardEx. Miller and Anthony did not respond to multiple requests for comment.
Meanwhile, Denny's Corp. (DENN) Chairman Brenda Lauderback and David Morehouse, CEO of the Pittsburgh Penguins hockey team and a director at Allegheny Technologies Inc. (ATI) , attended the Community College of Allegheny, according to BoardEx.
While the California- and Florida-based community colleges have the most public company directors, there are several that hailed from schools in the Midwest and Northeast. Damon Hininger, CEO and board member at private-prison operator Corecivic Inc. (CXW) , studied at Pratt Community College in Kansas; Diana Bonta, a director at American States Water Co. (AWR) , is an alumna of Bronx Community College in New York; Major General Augustus Collins, a director at the military shipbuilding company, Huntington Ingalls Industries (HII) , started his college education at Northeast Mississippi Community College.
More of What's Trending on TheStreet:
The 30 Nastiest Storms in Recent U.S. History Have Caused Mind-Blowing Damage
Finding one's way to the boardroom from a community college represents a different sort of journey than that experienced by Ivy League alumni.
"When you go to an Ivy League school, you get the connections," said Cesar Alvarez, a senior chairman at law firm Greenberg Traurig LLP and a graduate of Miami Dade Community College. "It's a lot easier than coming out of a junior college, which forces you to network at a much higher level."
Alvarez, who attended Miami Dade Community College between 1965 and 1967, said the institution was the only one that would have him. His family came to America as Cuban refugees who left the Caribbean island because of the communist regime. Alvarez said he spent his high school years improving his social skills, so when he went to Miami Dade he had to refocus on academic skills.
"What I remember was that the professors were very motivating," Alvarez, 70, told TheStreet. "Guess they thought I had some potential."
Indeed. Alvarez went on to study at the University of Florida, where he received a bachelor of science degree, a master of business administration and a law degree with honors. Over the course of his career, he has served as a director at nine different publicly-traded companies, including health solutions partner Mednax Inc. (MD) and retailer Sears Holdings Corp. (SHLD) , according to BoardEx.
"The ultimate thing is that Miami Dade showed me that I can succeed," Alvarez said.
To be sure, Ivy League alumni fill thousands of board seats. After Harvard, the University of Pennsylvania is the Ivy League school with the second-most alumni who serve as directors at companies listed on S&P's three indices, with 630, according to BoardEx. Columbia is third among the Ivies and Cornell is fourth, with only Brown University alumni not cracking the top 20 of the most popular schools. In all, there are more than 3,500 Ivy League alumni with directorships across the three S&P indices.
Despite his Harvard MBA, Saladrigas said he received a "fantastic" education at Miami Dade. In addition to his general education classes, he also took an accounting class. Due to his work schedule at the time, he dove into accounting and business, as accounting was one of the few majors that he could take at night.
"The classes that I enjoyed the most, and really made a difference, were not in accounting, but in philosophy, sociology and history," Saladrigas said. He called those classes the "pillars of education" because students learn the processes and tools to think critically through life, which he believes to be one of the most valuable skills.
More of What's Trending on TheStreet:
The 30 Nastiest Storms in Recent U.S. History Have Caused Mind-Blowing Damage