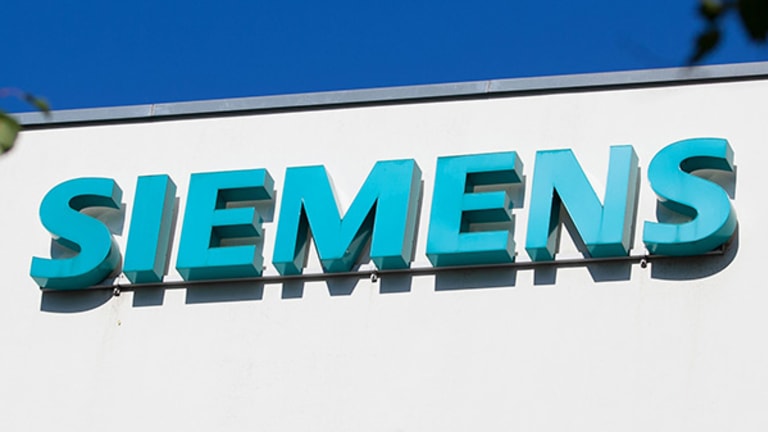 Why Siemens Is Betting $7.6 Billion on the Global Fracking Business
Siemens is buying Dresser Rand because it envisions a decentralized energy industry as the industry look to hydraulic fracturing around the world.
NEW YORK (TheStreet) -- Siemens' (SIEGY) purchase of Dresser Rand (DRC) will give the German conglomerate exposure to the North American hydraulic fracturing market and allow it to capitalize on the growing interest in "fracking" in Europe, Asia, Africa and Latin America to boost oil and gas production.
Dresser Rand is a major manufacturer of the equipment that drillers need as they tap shale rock formations through hydraulic fracturing or "fracking." The company had $3 billion in revenue last year, vs. Siemens oil and gas revenue of $6.55 billion. Siemens as a whole had revenue of $100 billion.
With the $7.6 billion cash purchase, Siemens is at once building a large presence in the established North American market and also buying the Dresser Rand brand, one that the company believes will resonate with oil industry customers as fracking is adopted globally. Half of Dresser Rand's revenue comes from services contracts with drillers and midstream companies. Siemens hopes to exploit that customer base as the fracking market expands outwards from North America.
The deal is expected to close in the summer of 2015.
Industrial giants such as Siemens and competitor General Electric (GE) - Get General Electric Company Report  are spending heavily on acquisitions of oil and gas equipment manufacturers to diversify from their traditional expertise in utility and power grid machinery. With Dresser, Siemens sees a changing energy landscape.
Giant deep and shallow-water oilfields have been the focus of giants like BP (BP) - Get BP Plc Report , Exxon-Mobil (XOM) - Get Exxon Mobil Corporation Report and Shell for a generation. As that activity peaks, Siemens hopes to fill the void with a growing portfolio of smaller, less centralized fields in onshore rock formations. "The acquisition of Dresser Rand allows us to push our concept of decentralized energy," Siemens CEO Joe Kaeser said of Monday's acquisition on a call with analysts.
A Bet on Global Fracking
Siemens has focused on oil and gas in North America to drive growth in its struggling energy division. Large shale discoveries and a renaissance in drilling activity have benefited pipeline players like Kinder Morgan (KMI) - Get Kinder Morgan Inc Class P Report and Energy Transfer Equity (ETE) , which are building the infrastructure to transport oil and gas production across the country. Bountiful natural gas supplies in North America are also creating optimism surrounding the export of liquefied natural gas (LNG) to Europe and Asia, in coming years. With Dresser Rand and other acquisitions, Siemens is angling to be an equipment supplier across those markets.
"Through the transaction, it seems clear that a wise and informed grand investment in fracking is being made," David Tawil, president of hedge fund Maglan Capital, said in an e-mail to TheStreet. Through its investments, Maglan has exposure to large shale deposits in Argentina, a region of particular interest to Siemens that is increasingly becoming the focus of international drillers as the country opens its doors to foreign investment.
Value Matters More Than Price
Monday's $7.6 billion deal amounts to a high valuation for Dresser Rand, but the price wasn't a sticking point for Siemens, given the positive return the investment can have for the company.
"Price matters," Kaeser said on Monday. "But, at the end, value is more important," he added. In a presentation to investors, it appears that Siemens may be counting on Argentina, Brazil, Venezuela, West Africa and some parts of the Asia Pacific region as areas where the combined company has particularly strong growth prospects.
On Monday, Siemens forecast Dresser Rand will allow the combined business to achieve growth of 6%-to-8% annually. The combined oil and gas business will likely be headquartered in Houston, where Siemens now believes it will be a major player and will count on Dresser Rand's existing executive team for direction.
"We believe the crown jewel is the premium brand of Dresser Rand as we go to market," Siemens CEO Kaeser said on Monday.
While Siemens forecast modest annual cost synergies of 150 million euros ($193 million) as part of Monday's deal, CEO Kaeser indicated those estimates may be revised higher. While the company expects the acquisition to be immediately accretive to earnings per share, a slow integration may mean several years before the value pays off for investors.
Morgan Stanley analysts said on Monday the positive effect of the Dresser Rand purchase will spill over to other companies, put a spotlight on the under-performing oilfield equipment sector in particular. Oceaneering International (OII) - Get Oceaneering International, Inc. Report , Forum Energy (FET) - Get Forum Energy Technologies, Inc. Report , Cameron International (CAM) , FMC Technologies (FTI) - Get TechnipFMC Plc Report , Dril-Quip (DRQ) - Get Dril-Quip, Inc. Report and Chart Industries have the most upside in the oilfield equipment sector as a result of the deal, the analysts said.
-- Written by Antoine Gara in New York