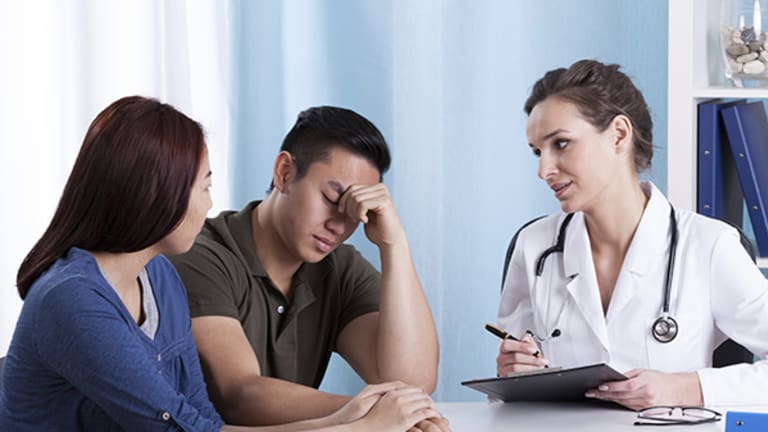 Publish date:
Why Private Equity Firms Are Having Trouble Winning Health Care Deals
For private equity firms, formal sale processes represent a normal part of the business. Recently, though, higher multiples and aggressive strategic bidders have transformed once-routine events into exercises in frustration.
For private equity firms, formal sale processes represent a normal part of the business. Recently, though, higher multiples and aggressive strategic bidders have transformed once-routine events into exercises in frustration.
NEW YORK (The Deal) -- In March on the shores of Miami's South Beach, Fla., private equity players from across the country trooped into the McDermott Will & Emery 2015 Healthcare Services Private Equity Symposium. While the mood was jovial and the meeting served as a great way to foster relationships between buyout brethren, one theme was prevalent: it's a bit tougher for firms to close the deals that used to be their forte.
Higher valuations, coupled with motivated strategic buyers means ever-more competitive auctions. Winning, some industry players warned, is becoming a rare occurrence.
"The cost of capital is low," said one sponsor speaking on a panel at the event, of the surge in strategic buyers. "Strategics aren't always the best buyers. But getting through a process is not the easiest [for private equity when they're involved] it's wasted time and money."
Sponsors noted that in the past, private equity firms focused on the middle market faced few well-heeled rivals in auctions of companies with earnings before interest, taxes, depreciation and amortization in the neighborhood of $20 million to $50 million. Now those firms are facing competition from $4 billion to $6 billion funds, where executives are looking to get in on the action after being pushed out of their own end of the market by strategic buyers.
Sponsors have noted that businesses that would otherwise be considered average are often seeing multiples that any blue-chip company would envy. "A business with $50 million EBTIDA, everyone thinks should be trading at 13 times," explained one banker. These multiples make it harder for middle-market private equity firms to bid.
"It's hard to find an A-plus company," said another industry banker, noting that often many of these broad processes end up with one party at the end and management deciding to shelve the sales process for another year because of missed expectations or interest that dwindled as strategic buyers bid up multiples.
And for private equity, if you don't bid the book, you may not make it to the next round.
"Deals are not getting done," said one private equity player, speaking on panel in Miami. "Final bids are ending up lower than first-round bids."
A couple of years ago, one private equity player explained, an auction process meant you could really get to know the company. But now, he said that walking into processes has been tough. And winning has been a problem for some middle-market firms.
To counter this fate, some private equity houses are coming in with a strategic partner, according to one banker. Humana (HUM) - Get Humana Inc. (HUM) Report announced in March that it was divesting its urgent care division Concentra to a joint venture of Select Medical Holdings (SEM) - Get Select Medical Holdings Corporation Report and sponsor Welsh, Carson, Anderson & Stowe for $1.05 billion. Welsh, Carson had previously sold Concentra to Humana, which decided it did not fit in with its strategy after all.
Bankers and buyout players also pointed to the sale of Encompass Home Health and Hospice's holding company EHHI as a deal that was ripe for private equity, but went to a strategic because HealthSouth (HLS) was able to create a private equity-like vehicle for Encompass's management, and offer a hefty multiple.
And the multiples certainly have been hefty. Some health care IT deals are coming in at 15 times EBITDA, while areas that are not as hot, such as the hospice sector, trade around 10 times -- still a high multiple.
According to Bain & Co.'s Global Healthcare Private Equity Report 2015, because of the dearth of large $1 billion-plus deals and the crowds gathering at auctions, large funds such as Carlyle Group (CG) - Get Carlyle Group L.P. Report, General Atlantic and TPG have invested down-market, acquiring early-stage and middle-market assets.
"There are changes in corporate buyers looking at how they can participate to reposition," said Nirad Jain, a partner at Bain & Co. and author of the report. "We have seen auction processes for assets where you've had corporates involved and it makes it more competitive."
And private equity players say that strategic interest drives sellers' expectations sky high. As the buyout firms drop out -- and the strategics come to their senses -- those expectations are disappointed, and the sellers either call off their auctions or decide to take their companies to the public market.
In addition, Bain points out that many venture-backed companies have decided to opt out of private equity ownership altogether and go it alone, such as Castlight Health (CSLT) - Get Castlight Health, Inc. Class B Report and Everyday Health (EVDY) , both of which made their IPO debuts last year.
Bain noted that of 2014's 134 private equity exits, 38 buyout-backed health care companies decided to try their hand in the public markets, as opposed to 31 during the same period last year. Castlight garnered a market cap of almost $700 million as a result of its IPO while Everyday Health has a market cap of $411.45 million.
Recently, New Enterprise Associates and Frazier Healthcare-backed addiction provider Elements Behavioral Health decided that it would shelve it Jefferies & Co.-run sales process, after failing to reach a high enough multiple. The auction process for Elements was pared down to a handful of sponsors, according to industry sources, who noted that the company was looking for a multiple between thirteen and fourteen times Ebitda, placing the price between $390 million and $420 million.
The Affordable Care Act is also a factor in the U.S., Jain said. The health care law encouraged some sectors -- hospitals, most notably -- to begin buying up physician practices. Where buyout firms could once carry out fairly thorough rollups, big operators are now grabbing many of the best targets. And the ACA's emphasis on improved data collection and maintenance prompted large companies to go shopping for health care IT companies.
There is one upside to the increased involvement of strategic buyers: They are restocking the supply of targets as they carve out assets that no longer fit with their core businesses. "This will create an attractive pool of asset for PE firms to take on the complexities of a carve out," Bain notes its report.
Consider, for example, Madison Dearborn Partners' purchase of a majority interest in Walgreen's Infusion Services, which Walgreens Boots Alliance (WBA) - Get Walgreens Boots Alliance Inc Report shed earlier this year. Though the carve-out is held mostly by Madison Dearborn, the company also noted that the sponsor worked with the strategic to allow the parent company to continue as a significant majority investor in the company, which provides alternative infusion care. Similarly, Water Street Healthcare Partners merged CHS Health Services with Take Care Employer Solutions LLC -- which had been a subsidiary of Walgreens -- in 2014.
As health care becomes even more attractive to investors, the push and pull between private equity sponsors and strategics is likely to remain. For now, at least, the buyout firms are struggling against the strong pull exerted by the strategics.
Read more from: