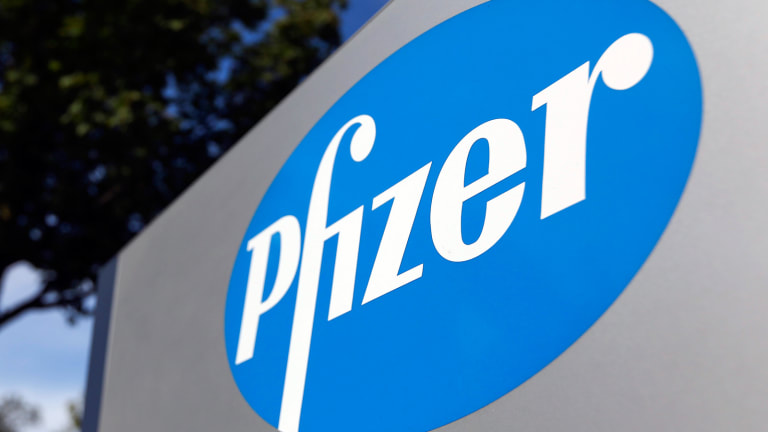 Why Pfizer's Latest Deal Could Send Its Shares Soaring
The acquisition of Medivation gives the pharma giant a top-selling oncology drug and an immediate profit boost.
Successfully investing in drug stocks is all about what's in the pipeline, and Pfizer (PFE) - Get Pfizer Inc. Report bolstered its pipeline in a big way Monday, when it announced that it would buy Medivation (MDVN) in a $14-billion deal.
Pfizer, the world's No. 3 drug maker by market capitalization, reportedly fended off a deep-pocketed field of potential suitors, including Celgene, Merck & Co. and Gilead Sciences.
Adding Medivation gives Pfizer three promising drugs in the oncology market, which is expected to grow 7.5% to 10.5% annually through 2020. The deal -- and Pfizer's potential to make more like it -- is just one reason why the stock should be high on investors' radar.
Pfizer shares rose slightly in Tuesday trading, while Medivation shares sank slightly
When the purchase closes in the third or fourth quarter of 2016, Pfizer will pay Medivation investors $81.50 per share in cash, a 21% premium to the stock's closing price on Friday, before the purchase was announced.
At the deal's heart is prostate-cancer treatment Xtandi, which has posted 2.2 billion in sales in the past year, a figure that could eventually double, according to analysts cited byThe Wall Street Journal.
Medivation also has a breast-cancer treatment, called talazoparib, in late-stage testing that should mesh nicely with Ibrance, Pfizer's own drug in the space, whose sales soared 267% year-over-year in the second quarter. That performance paced Pfizer's oncology unit to a strong 54% revenue increase.
A stage behind in testing is pidilizumab, a drug Medivation is testing for diffuse large B-cell lymphoma, the most common form of non-Hodgkin lymphoma, accounting for up to 30% of newly diagnosed cases in the U.S.
In all, Pfizer says Medivation will add $0.05 a share to its adjusted earnings in the first year. In addition to acquisitions, Pfizer is bulking up its portfolio through homegrown R&D, devoting a high 16% of its revenue to drug development in 2015.
It can easily afford to keep that up, make more acquisitions and continue hiking its dividend, thanks to its strong free cash flow, which came in at $13.8 billion over the last four quarters, easily covering the $7.1 billion the company paid out in dividends.
Another potential catalyst could be the breakup of the company, which management has said it will decide on by the end of this year. Under the plan, Pfizer would split into one firm developing new drugs and another focused on Pfizer's older treatments, as well as generics and biosimilars, which resemble generics but have more complex molecular structures.
Such a move, if it happens, could pay off handsomely for investors. A 2012 study by Credit Suisse, for example, showed that both new spinoffs and their parent companies tend to outperform the S&P 500 in the first 12 months.
Meantime, Pfizer's forward price-to-earnings ratio clocks in at 13.1, a discount to other big drug makers like Johnson & Johnson, at 16.8, and Novartis AG, at 16.1. The average 12-month price target from analysts covering Pfizer shares is $39.47, implying roughly 12% upside from today's level.
Which brings us back to the dividend: In the past five years, Pfizer has increased the payout by 67%, and the stock currently yields 3.4%, well above the S&P 500 average of 2.1%.
So next time you're on the hunt for a reliable dividend stock, consider Pfizer. With a bargain valuation, attractive dividend yield and strong growth prospects, it could be just the prescription for your portfolio.
---
Pfizer is a great buy for growth and rising income, but I've found a way you can pocket even bigger returns with far greater safety. I'm talking about a guaranteed $67,548 a year! One trader used this simple strategy to build a $5-million fortune-starting with a mere $5,000! Go right here to discover this hugely profitable system for yourself and start collecting thousands of dollars in "free money" every month.
This article is commentary by an independent contributor. At the time of publication, the author held no positions in the stocks mentioned.