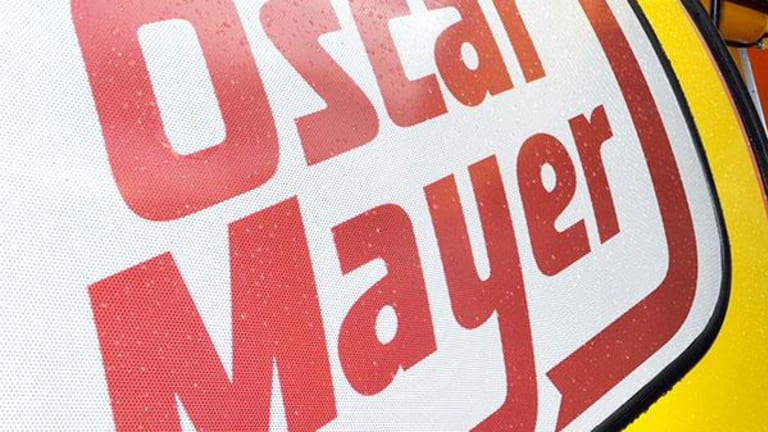 Why Oscar Mayer May Be on the Slicer at Heinz After Kraft Merger
Could Kraft's most prized business -- its Oscar Mayer refrigerated-meats business -- be set for the auction block?
NEW YORK (The Deal) -- Once H.J. Heinz, the ketchup maker owned by Berkshire Hathaway (BRK.A) - Get Free Report and private-equity firm 3G Capital, completes its $55 billion cash and stock merger with Kraft Foods Group (KRFT) , don't be surprised if divestitures are on the menu.
Before the deal announcement, Chicago-based Kraft was contemplating a number of moves, including jettisoning the more challenged brands within its struggling food empire. Industry watchers have thought for months that Kraft was inclined to sell brands such as A.1. Steak Sauce, Grey Poupon mustard, Shake 'n Bake coatings and Stove Top stuffing.
And Kraft's problems with consumers' palates extend to other products, including its eponymous macaroni and cheese dinner products, Baker's chocolate and baking ingredients, Cool Whip dessert topping, Jell-O gelatin and pudding, Jet-Puffed marshmallows, and Velveeta cheesy skillets meal kits.
But one person familiar with the situation who asked not to be identified said that potential divestitures aren't limited to just those brands. This person went so far as to suggest that Kraft's most prized business -- its Oscar Mayer refrigerated-meats business -- isn't safe from the auction block.
Although the notion might sound far-fetched, it does make a certain amount of sense, especially given the premium that the meats operation would likely fetch.
Tyson Foods (TSN) - Get Free Report, for example, paid a rich price to buy Hillshire Brands, Oscar Mayer's chief competitor.
The price came in at about $8.5 billion or about 16.9 times earnings before income, taxes, depreciation and amortization. Even at that valuation -- originally derided as too dear -- the transaction proved to be a smart move for the Springdale, Ark.-based meat producer, as the buyer spent less on integration than it anticipated while generating plenty of free cash flow.
Austin, Minn.-based Hormel Foods (HRL) - Get Free Report also recently increased its presence in the prepared-meats segment, buying organic and natural-food company Applegate Farms for $775 million, or well above two times the $340 million in revenue it is estimated to generate this year.
The potential bidders for Oscar Mayer -- such as Greeley, Colo.-based Pilgrim's Pride (PPC) - Get Free Report, an affiliate of Brazil-based JBS -- are still hungry for deals. Pilgrim's Pride, seeing the success of Tyson's deal for of Hillshire, may now decide that the premium is worth the risk.
Proceeds from such a deal, stock or cash, could be used either to further enrich Omaha-based Berkshire Hathaway and 3G Capital or pay down the new company's $28 billion debt pile, depending on the transaction's structure. And a lofty valuation for Oscar Mayer would make the pricey deal for the whole of Kraft more digestible.

But Heinz wouldn't really sell such an iconic American brand, would it? Well, when Pittsburgh-based Heinz announced its agreement to add Kraft, executives talked a great deal about the opportunity to take the Kraft brand global using Heinz's marketing and distribution platform.
Conspicuously absent was any discussion of similar plans for Oscar Mayer.
Finally, the merger will create a food conglomerate with $28 billion in revenue. After every mammoth combination closes, the focus shifts to portfolio management, meaning divestitures are on the table.
In fact, Kraft's Chief Executive John T. Cahill, who will become vice chairman of the new entity, was asked during a conference call whether any brands would be sold, and he responded by acknowledging that the company's entire portfolio would be under review.
If that is really true, there won't be any sacred hot dogs.

Read more from: