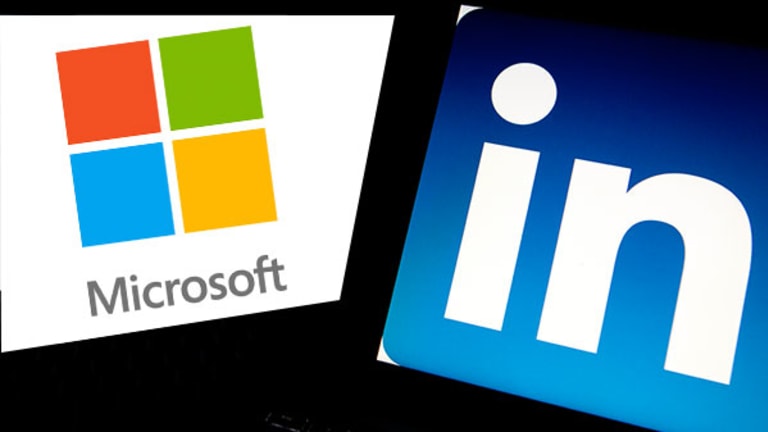 Cramer Says Bet on Microsoft a Day After LinkedIn Deal
Microsoft CEO Satya Nadella's restructuring effort could get a big boost from the addition of the networking site.
Microsoft (MSFT) - Get Free Report 's purchase of career networking site LinkedIn (LNKD) for about $26.2 billion is one of the biggest tech transactions of the year and a major bet by the industry behemoth on productivity.
Microsoft announced Monday that it has agreed to acquire LinkedIn for approximately $26.2 billion, or $196 per share, in cash. The transaction is expected to close this calendar year. Post-transaction, Jeff Weiner will remain chief executive of LinkedIn and report to Microsoft CEO Satya Nadella.
The transaction has been unanimously approved by the boards of directors of LinkedIn and Microsoft. LinkedIn chairman, co-founder and controlling shareholder Reid Hoffman and Weiner both support the transaction.
For Nadella, who was named as CEO of the Redmond, Wash.-based tech behemoth in 2014, LinkedIn marks his first major deal as the chief executive.
"I've been talking with Reid and Jeff for a while. And the fact that it came together now is fantastic. But believe me, I've been thinking about this for a long time," Nadella said in a video posted on Monday.
Noting that he's a LinkedIn user and publisher, he explained, "I'm a deep believer in productivity tools and communication tools because that's what empowers people to be able to be great at their job."
Analysts largely applauded the move, saying it will help the company shift its focus to mobile applications and the cloud. "Microsoft got a good deal," said Cramer, Monday, adding that LinkedIn is "uniquely social, mobile, cloud" and will be a terrific jump starter for all the platforms that the software giant needs.
LinkedIn was trading at $192 before the stock dropped to $100 largely due to weak guidance during the third quarter, he further said, noting that the decline turned out to be "an opportunistic time to kick the tires."
"This says point blank, Satya is committed, and now he's gotten there," Cramer said. Following the announcement, he said that on "day two, I would buy Microsoft."
More specifically, LinkedIn will enable Microsoft to leverage Microsoft Office, an application suite that produces strong revenue growth for the tech company, Tigress Financial Partners analyst Ivan Feinseth said via phone. Together, Microsoft and LinkedIn have the potential to emerge as a single, comprehensive productivity platform, he added. For example, users can merge LinkedIn's contact list with their Microsoft Outlook address book, then connect with others on video conferencing and messaging unit Skype.
Yet Feinseth observed that $26 billion isn't a huge purchase for a buyer with $25 billion in annual free cash flow and $105 billion of cash and short-term investments.
In a note Monday, Monness Crespi Hardt & Co. analyst James Cakmak agreed, though Microsoft is paying a multiple of about 20 times 2017 estimated Ebitda, which is at the top of an industry range that runs as low as half that amount.
"Although the move can perhaps be perceived as somewhat defensive in nature, we believe Microsoft as the acquirer is best positioned to realize synergies from the deal," Cakmak wrote, adding that Salesforce.com (CRM) - Get Free Report had also been seen as a potential buyer of LinkedIn in the past.
Microsoft has been restructuring under Nadella.
Last month, Microsoft agreed to sell its feature phone assets for $350 million and also said it would largely exit its mobile phone business by eliminating up to 1,850 jobs. Industry observers have said that such moves illustrate Nadella's willingness to exit unsuccessful investments and that he is slowly but surely reinvigorating the tech incumbent though an emphasis on divisions like cloud computing business Azure.
Still, the success of the LinkedIn transaction will depend heavily on how well Microsoft can integrate the purchase, First Analysis Corp. analyst Corey Greendale said via phone, adding that the premium is "hard to argue with."
In any case, Greendale sees Microsoft making further deals in such segments of the recruiting sector as learning and development.
Microsoft CFO Amy Hood, chief legal officer Bradford L. Smith and deputy general counsel Keith Dolliver offered in-house counsel. Morgan Stanley's Mike Wyatt offered financial advice to Microsoft, which received legal counsel from a Simpson Thacher & Bartlett team of Alan Klein, Anthony Versace, Greg Grogan, Bill Brentani, Lori Lesser, Jonathan Goldstein and Joyce Xu.
LinkedIn general counsel Michael Callahan and Laura Blum provided in-house counsel. Qatalyst Partners' George Boutros, Jonathan Turner and Marcie Vu and Allen & Co.'s Ian Smith offered financial advice to LinkedIn. A Wilson Sonsini Goodrich & Rosati team of Martin W. Korman, Bradley L. Finkelstein and Douglas K. Schnell offered legal counsel to the target.
-- David Marcus contributed to this report.