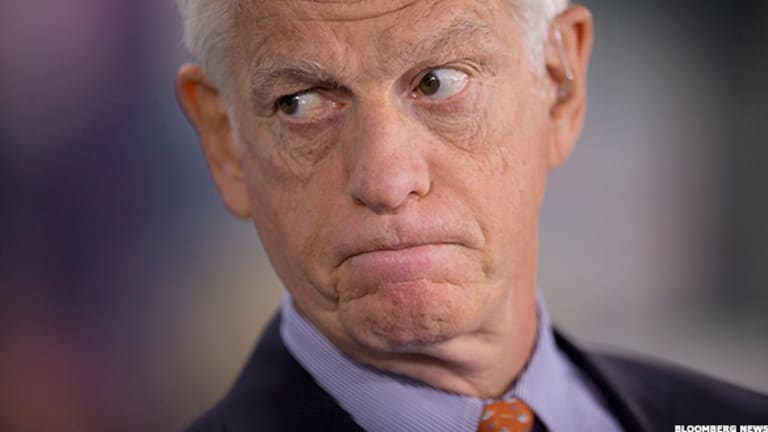 Why Mario Gabelli Doesn't Love iHeart Media's Debt Antics
The activist investor claims iHeart Media (IHRT) is taking advantage of its publicly traded advertising subsidiary's outside investors to fix its balance sheet, generate cash and manage its debt load.
The activist investor claims iHeart Media (IHRT) is taking advantage of its publicly traded advertising subsidiary's outside investors to fix its balance sheet, generate cash and manage its debt load.
In late 2015, Mario Gabelli's Gamco Investors (GBL) - Get Report filed a 13D form with the Securities and Exchange Commission that, on its face, runs contrary to the shareholder activist playbook.
Gamco questioned a $225 million note offering by Clear Channel Outdoor (CCO) - Get Report to fund a dividend. More commonly, an activist will encourage a company to use its balance sheet to fund payouts to shareholders.
In the case of Clear Channel Outdoor, however, Gabelli's fund suggested the dividend was for the benefit of iHeartMedia (IHRT) - Get Report , which controls 90% of the outdoor advertising company, and to the disadvantage of minority investors.
"The debt was issued with the express purpose of continuing to provide capital to the issuer's parent, iHeart Radio, to the detriment of the issuer's shareholders," Gamco stated. The Rye, N.Y., firm noted that iHeartRadio owes close to $1 billion to Clear Channel Outdoor, and raised the prospect of "an anticipated restructuring." A few weeks earlier, the New York Post reported bondholders of Clear Channel Outdoor were agitating for the company to use the debt proceeds to repay their debts rather than fund a dividend.
The dispute illustrates the tensions between classes of debt and equity between the subsidiary and parent, heightened by the debt from iHeartMedia's $24 billion leveraged buyout in 2008. Gamco's campaign also draws attention to the dynamics between minority and controlling shareholders in two-tiered stock structures that mark companies like Clear Channel Outdoor, Madison Square Garden (MSG) - Get Report , 21st Century Fox (FOXA) - Get Report , Telephone and Data Systems (TDS) - Get Report and other communications groups.
Just a few years ago, the schedule of debt maturities in 2016 seemed insurmountable for iHeartMedia. The portfolio company of Bain Capital Partners and and Thomas H. Lee Partners had $10 billion in debt coming due. By tapping the capital markets and at times drawing on resources of Clear ChannelOutdoor, iHeartMedia has pushed out maturities. The company and its backers declined to comment on Gabelli's filing or the possibility of a restructuring. A representative of Gamco did not respond to queries.
"We're getting more comfortable with the concept iHeart has runway at least for the next few years. It had a $10 billion secured maturity wall this year and now its gone," said analyst Lance Vitanza of Capital Group.  The company pushed maturities to 2019 and beyond.
"We think there is very little probability that they are forced to restructure before, say, 2018 and really more likely 2019," he said. "Fears that the company will be forced to restructure over the next 12 to 24 months are in our opinion misguided. I understand them but I just think that they are wrong."
iHeartMedia is the largest U.S. radio group, generating $6.2 billion in sales from about  800 radio stations and the Clear Channel Outdoor business. While iHeartMedia has been able to delay the maturities, they haven't gone away. Consolidating the debts at iHeartMedia and Clear Channel Outdoor, the company has $20 billion in debt. In a recent credit opinion, Moody's Investors Service estimated that the debt exceeds iHeartMedia's enterprise value by about $3.5 billion.
"It's fair to question the ability of this company to grow into its balance sheet," Vitanza said. "For all of the success it has had pushing out debt maturities, net debt remains as high as ever."

At times, iHeartMedia has leaned on Clear Channel Outdoor.
The outdoor company sold $225 million in notes in late December that funded a $217.8 million dividend payment in early January. The pro-rata share due to iHeart was $196.3 million, with minority holders pocketing about $21.5 million.
The outdoor unit announced it would sell assets in five markets to Lamar Advertising for $458.5 million on Jan. 7, and agreed to sell Lamar another three markets for $107.5 million. Clear Channel Outdoor notified the parent that it will demand a $300 million payment on a revolving promissory note. However, Clear Channel also declared another dividend of $540 million payable in February. The parent is due $486.7 million, and minority investors will collect $53.3 million.
After the deals with Lamar, Standard & Poor's downgraded iHeartMedia from CCC+ to CCC, suggesting that the company would use the cash to buy some of its debt at a discount.
"We would view a subpar debt tender if it were consummated to be tantamount to default, because the lenders are essentially in a position where they feel there is no better option than to do that, and they would be accepting less than they originally set out to receive from the company," S&P analyst Jeanne Shoesmith said.
Other PE-backed outfits have done distressed debt purchases or exchanges in recent months. Late last year, Carlyle Group (CG) - Get Report -backed Getty Images Inc. and marketing services provider Affinion Group Holdings, which is a portfolio company of Apollo Global Management (APO) - Get Report  and General Atlantic, conducted distressed debt exchanges.
For iHeartMedia and its investors, 2019 is looking the way that 2016 did. The company has $8.3 billion in maturities in 2019. There are a number of tools the company can use to generate cash and manage the debt load, such as issuing new debt, selling radio stations or billboards or tapping dividends from the outdoor subsidiary. While iHeartMedia has navigated towering maturities before, the company's prior moves could complicate future efforts.  
"They have been successful in moving maturities, but we view it as a mixed blessing because it came with substantially higher interest expense," said Scott Van den Bosch of Moody's Investors Service. "That's one of the things that has contributed to their negative free cash flow."
Delaying the maturities while increasing the interest rates has changed the type of risk that iHeartMedia and its investors face. "It's really a shift of default risk to a missed interest payment during a time of economic weakness from a default at maturity," Van den Bosch said.
Further refinancings may be tricky. "It's not something that is likely to be repeatable, where you are constantly extending debt at higher interest rates," Van den Bosch said.
CEO Bob Pittman gets high marks for running the radio business and developing the company's online operations. While radio is in decline, the company has been able to grow revenue. "They have done everything right in my opinion," Vitanza said. "Forget about the balance sheet, they have operated the business much better than anyone would have expected."

As 2019 approaches, however, there is much to do.
"For lenders to give them the benefit of the doubt and refi those 2019's they only really have a few years to try to grow into their capital structure," S&P's Shoesmith said. "There is a lot that needs to be done in call it three years before that debt needs to be refinanced."
Shoesmith called iHeartMedia's leverage of 9 to 10 times Ebitda "unsustainable for the business." While the radio business has plenty of challenges, she noted that iHeartMedia's operations are not a concern.
"The problem with iHeart is not the business. The underlying assets are market leading. They perform in line with the industry or better," she said. "The problem with iHeart is not the underlying business, it's really the debt load."
Matching the business to the debt load will be a tall order.
"We don't think iHeart can grow into its capital structure," Moody's analst Van den Bosch said.
There is value for the company's iHeartRadio online platform. "There are probably further opportunities to better monetize that, better Ebitda potential over time as they are able to increase ad sales," Van den Bosch said. The terrestrial radio business faces pressure, but has done better than its peers.
"It would have to grow exceptionally strong," Van den Bosch said, to support its balance sheet. "They would have to grow significantly and there would probably have to be some kind of deleveraging event, which could be some kind of asset sale or equity raise."
Mario Gabelli or anyone else investing in Clear Channel Outdoor stock did so knowing they would have no say in governance. Clear Channel Communications, the predecessor to iHeartMedia, sold 10% of the company to the public in 2005.
Dual-class stock structures are a hallmark of the media industry. Such classifications cement Rupert Murdoch's hold on 21st Century Fox and News Corp. (NWSA) - Get Report ; give the family of Brian Roberts control of Comcast (CMCSA) - Get Report ; and tighten Sumner Redstone's grip on Viacom (VIA) - Get Report and CBS (CBS) - Get Report . The lack of a controlling shareholder has made Time Warner (TWX) and Time Warner Cable vulnerable to takeover efforts.
A controlling shareholder doesn't preclude activism. JAT Capital Management pushed the family of James and Charles Dolan to make changes to Madison Square Garden. Gamco has agitated at Chicago telecom Telephone & Data Systems.
The relationship with iHeartMedia weighs on Clear Channel Outdoor's valuation. Wedbush Securities analyst James Dix suggested in a January note that Clear Channel Outdoor should trade at a 15% discount to its peers. Debts owed to the company by iHeartMedia account for about half of Clear Channel Outdoor's roughly $1.8 billion market cap he noted, and the likelihood that it will take a haircut merits a lower stock price.
Minority equity holders like Gabelli aren't the only investor faction with concerns about iHeartMedia's use of Clear Channel Outdoor's cash.   
CRT's Vitanza said that first-lien bondholders of iHeartMedia have their own issues. "The fear there is that the company is going to essentially monetize the outdoor asset value that they have to the detriment to the overall enterprise and they are going to use the proceeds to pay out junior debt as it matures over the coming years," Vitanza said.
On its own, none of the debt issuances or asset sales are particularly concerning. If iHeartMedia spends too much to take out junior debt, however, it could become a greater concern to secured debt holders. "If the company were to do that enough maybe they sell enough value to take out enough of these unsecured maturities," he said of the first-lien noteholders' concerns, "if they ultimately wind up hitting the wall anyway now there's not enough value left for me as a secured creditor."
Exactly what steps iHeartMedia will take to address its balance sheet are not clear.  As 2019 approaches, however, the debate among the various classes of equity and debt holders will surely continue.