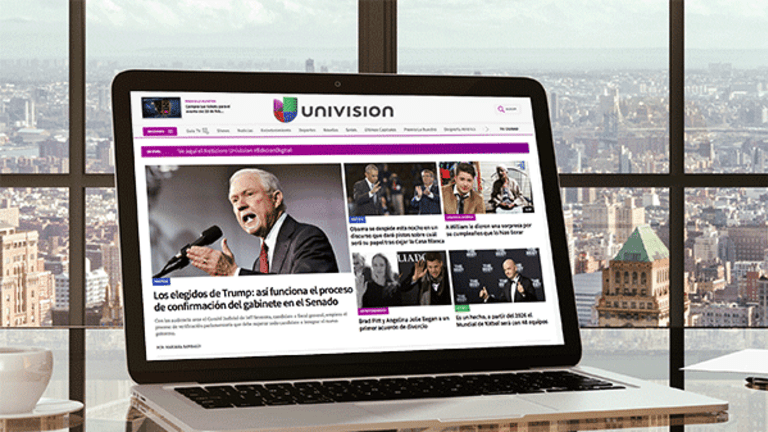 Why John Malone Covets Univision Even as Growth Has Slowed and Debt Exceeds $8 Billion
The billionaire media mogul may have interest in the Spanish-language broadcaster but only if he can get the right price.
If billionaire media mogul John Malone is to take a "significant stake" in Univision Communications Inc., as The Wall Street Journal reported this week, an investment likely runs through Grupo Televisa SAB  (TV) - Get Free Report , Mexico's long-dominant media powerhouse with deep financial and programming ties to the Spanish-language broadcaster.
Malone is hardly new to the topic of Spanish-language media. His Liberty Global plc  (LBTYA) - Get Free Report , the world's largest cable TV operator, owns services in Chile and Panama. Televisa carries programming from Discovery Communications Inc.  (DISCA) - Get Free Report , in which he owns a 28.7% stake, and has programming and distribution agreements with Lions Gate Entertainment Corp. (LGF.A) - Get Free Report , the Hollywood studio in which Malone is a minority investor and board member.
In April 2015, Televisa added Discovery CEO David Zaslav and Lions Gate CEO Jon Feltheirmer to its board along with Liberty Global CEO Michael Fries.
For Univision, Televisa is not simply a 10% equity holder. The Mexican media conglomerate also supplies much of its Spanish-language programming. Yet, in Wall Street parlance, Univision Communications is facing a lot of headwinds, and Televisa is a steadying force behind the broadcaster.
The television broadcaster carries more than $8 billion in debt, a product of being taken private just months before the 2008 recession buried equity markets and sent millions of people to unemployment lines. At Univision's TV stations, its core Spanish-language audience is aging. While ratings have improved in 2017, it no longer overshadows its longtime rival Telemundo, a unit of Comcast Corp.'s (CMCSA) - Get Free Report NBCUniversal.
Univision isn't immune from the overarching trend toward fewer pay-TV subscribers and lower TV consumption viewing among Millennials, the demographic most prized by marketers.
As for digital, Univision's efforts to reach younger viewers, both bilingual or English-only, means that its Fusion Media Group must face off against everything from Buzzfeed Inc. and Vice Media Inc. to Netflix Inc. (NFLX) - Get Free Report and Alphabet Inc.'s (GOOGL) - Get Free Report YouTube. Univision no longer has a captive audience that once fueled meteoric growth.
"Univision still has a strong hold on the Spanish-language Hispanic market, but it's not a growth market in the U.S. like it once was," Marcos Baer, publisher of Portada, a New York publication focused on multicultural media and marketing. "It's doing a lot in digital, but digital is very competitive. It's probably going to be difficult to get high growth reflected in its valuation."
Despite a more fractured market for U.S. Latinos, Univision's TV stations in Los Angeles, New York and Dallas, among others, remain powerhouses, routinely posting higher ratings than English-language broadcasters in their respective markets. In total, Univision owns 59 local TV stations across the U.S. in addition to 67 radio stations.
Univision's programming, largely produced in conjunction with Televisa TV, Mexico's dominant broadcaster, continues to get wide carriage throughout Latin America. And the company has made a string of digital investments to offset slowing growth at its broadcast stations.
Leveraging the 2016 acquisition of Gizmodo Media Group, formerly known for his its Gawker website, Univision is investing in e-commerce, a venture assiduously explained by my colleague Ken Doctor. In short, Univision is selling products and services to enthusiast audiences whether in tech/science/design (Gizmodo), software (Lifehacker), cars (Jalopnik) or gaming (Kotaku), among others topics.
Of course, it's impossible to talk about Univision without talking about its debt. 
In 2007, Univision was taken private in a $13.7 billion transaction by private equity giants Madison Dearborn Partners LLC, Providence Equity Partners LLC, TPG Capital LP, Thomas H. Lee Partners LP and Israeli billionaire Haim Saban. Months later, markets tumbled in the mortgage-backed securities crisis of 2008.
Through the sale of spectrum earlier this year, Univision was able in part to lower its long-term debt to $8.3 billion as of March 31, getting some relief from where it stood two years ago at $10.7 billion. Nonetheless, the debt load remains burdensome and likely has emerged as the No. 1 sticking point in whether the company's PE owners and Malone can put a value on the company that would move him to acquire a stake.
For 10 years, though, those big-money PE firms have been waiting and waiting and waiting for the right time to exit. Originally, that meant going public through an equity offering. But investors have grown more wary about media companies built around TV networks, so the IPO option, while still there, has yet to emerge as the preferred exit strategy.
With growth at Univision slower than it was in 2007, the company's path to lowering its debt remains arduous. The wild card here is whether Televisa will choose to increase its Univision holdings from the current stake of 10% by exercising warrants equal to another 26% of the company's equity.  
"At some point, these guys need to do something," Baer added. "It's not really Univision as much as it is the investors in Univision. They need to find an exit, or at least a partial exit."
Two things we do know about Malone is that he is patient and that he doesn't overpay. (Oh, and he does all he can to avoid paying taxes.) We saw this play out in recent deals involving Lions Gate and Pandora Media Inc. (P) . Malone helped engineer Lions Gate's June 2016 acquisition of Starz LLC by leveraging minority stakes in both companies and last month agreed to invest $480 million in Pandora through Sirius XM Holdings Inc.  (SIRI) - Get Free Report , the satellite radio operator controlled by Malone's Liberty Media Corp. (FWONA) - Get Free Report .
Malone looks ripe for an investment, which means it might very well happen, as soon as he's ready. 
Univision and Liberty Media declined comment.
More of What's Trending on TheStreet:
From Catalogs to Catastrophe: A Sears Timeline