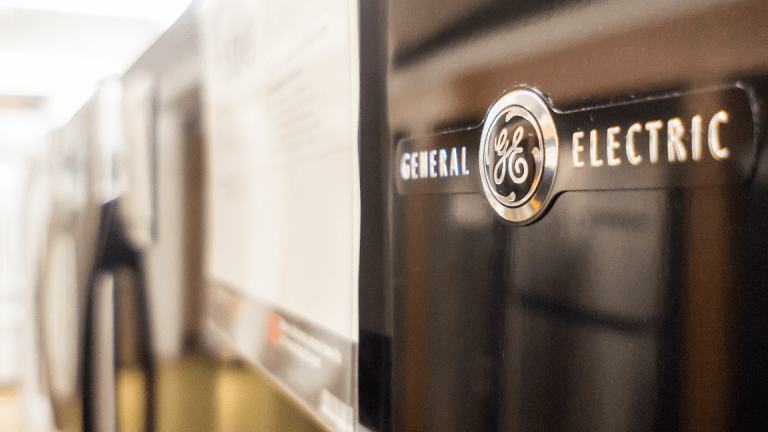 Here's Why General Electric Should Hold Onto Baker Hughes
With Baker Hughes, General Electric is stuck between a rock and a hard place. The company may miss out by shopping its majority stake when compared to selling off pieces of the business, but the most attractive assets are also the most valuable at this point in the cycle.
General Electric Co. (GE) - Get General Electric Company (GE) Report , under pressure from investors to slim down to boost cash flow and profitability, has said it would consider shedding Baker Hughes (BHGE) - Get Baker Hughes, a GE Company Class A Report , the oil services company in which it acquired a controlling stake last year.
That would probably be a mistake, TheStreet's analysis shows. Selling Boston-based GE's majority stake in Baker Hughes on a whole would be difficult, if not impossible, and may not provide the same value of breaking it up in pieces. But selling the various businesses separately would likely force GE to shed the most attractive and technologically advanced parts and leave it with legacy enterprises whose outlooks are stagnant or flat.
It's not an easy call. Investors including activist Trian Fund Management LP have been stung by the company's poor performance this year -- GE is one of the worst performing stocks in 2017, down 44% year-to-date -- and its decision to cut its dividend in half. In response, last month new CEO John Flannery said the conglomerate would shed $20 billion worth of operations, including its locomotives and industrial lighting businesses. 
On Thursday, GE also said it would cut 12,000 positions at its global power division as part of its effort to reduce costs by $3.5 billion between now and the end of 2018. The 18% staff reduction at GE Power will save the company about $1 billion and brings the company's job cuts in 2017 up to more than 19,000, making it the top U.S. job cutter, just ahead of General Motors Co. (GM) - Get General Motors Company (GM) Report and Macy's Inc. (M) - Get Macy's Inc Report . The stock responded well to Thursday's news, closing the day in the green at $17.71 a share.
But judging by the pricing of almost $4 billion in new debt by a Baker Hughes' subsidiary on Wednesday, it doesn't appear a breakup of Baker Hughes is in the cards at the moment. The company will use the new notes, due in 2022, 2027 and 2047, to pay off various notes and debentures due between 2018 and 2029, and the remaining proceeds will go to general corporate purposes, including possible share buybacks by the subsidiary from Baker Hughes and General Electric.
Given that there is no natural buyer for the whole of Baker Hughes, and breaking it up would certainly diminish the value of the remaining business, it seems General Electric's best option may be the only option: reducing its stake without walking away.
In GE's deal with Baker Hughes, announced in October 2016, the companies merged their oil and gas businesses, with GE taking a 62.5% stake in the combined company, and paying $7.5 billion as a cash dividend to Baker Hughes shareholders.
It's worked out fairly well. After adjusting for the Baker Hughes transaction, oil and gas contributed $2.8 billion of General Electric's $29 billion consolidated third quarter revenue in 2017. The segment had an operating loss of $36 million in the third quarter, but recorded a $231 million operating profit after adjusting for restructuring and other charges.
Analysts have said that the sale of GE's stake in Baker Hughes may not create value mathematically, but some have asserted it would remove volatility, such as the oil-price fluctuations that have hammered the business since 2015. GE's stake was worth more than $8.2 billion at Wednesday's close, based on outstanding shares, but a sale of all or part of Baker Hughes would likely yield far more than that.
In fact, TheStreet's founder Jim Cramer suggests GE could bring in close to double the $20 billion or so it would in a stake sale should the company decide to breakup Baker Hughes and sell it in pieces.
"Have you ever seen a more motivated seller than GE, which is frantically trying to rebuild cash after foolishly and recklessly returning $30 billion in cash to shareholders last year," Cramer said recently at The Deal's Economy Conference in New York. "It needs every penny of it."
For example, Baker Hughes' upstream mapping and science of finding oil business could find a buyer in CORE Laboratories NV, according to Cramer.
Baker Hughes does not breakout each individual business' financials, but the upstream evaluation business, as it's called by the company, in part falls under its digital solutions division, which produced $1.6 billion of revenue and $226 million of operating income during the nine months ended Sept. 30, according to its latest financial statements filed with Securities and Exchange Commission.
Meanwhile, Baker Hughes' midstream business, which provides equipment and services to the pipeline and petroleum storage industries, as well as the liquefied natural gas industry, could entice either Fluor Corp. (FLR) - Get Fluor Corporation Report or Chicago Bridge & Iron Company N.V. CBI, Cramer said.
Honeywell International Inc. (HON) - Get Honeywell International Inc. (HON) Report could pick up Baker Hughes' process chemicals unit, which addresses processing, water treatment and finished product quality challenges in petroleum refining. Such a move would provide Honeywell's refining division with enough critical mass for CEO Darius Adamczyk to spin the unit off into a separate publicly traded company, Cramer said.
But the downstream chemicals applications fall under one of Baker Hughes' crowned jewels, the turbomachinery and process solutions division, which brought it $4.8 billion in revenue and $707 million in operating income during the nine months ended Sept. 30. The turbomachinery and process solutions division also provides equipment and related services for mechanical-drive, compression and power-generation applications across the oil and gas industry.
Eaton Corp. (ETN) - Get Eaton Corp. Plc Report could be a buyer of Baker Hughes' turnkey power solutions, which also fall under the company's prized turbomachinery and process solutions division, while Baker Hughes' Predix technology could easily be integrated into National Oilwell Varco Inc.'s (NOV) - Get National Oilwell Varco, Inc. (NOV) Report portfolio. Predix is part of Baker Hughes' digital solutions division.
Were GE to carry out the breakup that Cramer proposed, it would leave Baker Hughes largely focused on legacy oilfield services and offshore oilfield equipment divisions, an about-face move for the industry, which has seen competitors like Schlumberger Ltd. (SLB) - Get Schlumberger NV Report and Halliburton do various bolt-on deals to diversify and increase their technology and chemicals products offerings in recent years.
Baker Hughes' oilfield services segment produced $3 billion in revenue in the first nine months of the year, but recorded an operating loss of $42 million, while the oilfield equipment business earned just $9 million of operating income on nearly $2 billion in revenue.
That's why it is probably better for Baker Hughes, like competitors Schlumberger and Halliburton, to remain all-in-one diversified services and equipment providers as oilfield services companies face pricing pressures due to lower demand from oil and natural gas producers. 
More of What's Trending on TheStreet:
This article was originally published by The Deal, a sister publication of TheStreet that offers sophisticated insight and analysis on all types of deals, from inception to integration. Click here for a free trial. GE and Sclumberger are holdings in Jim Cramer's Action Alerts PLUS charitable trust portfolio. Click here to learn more.