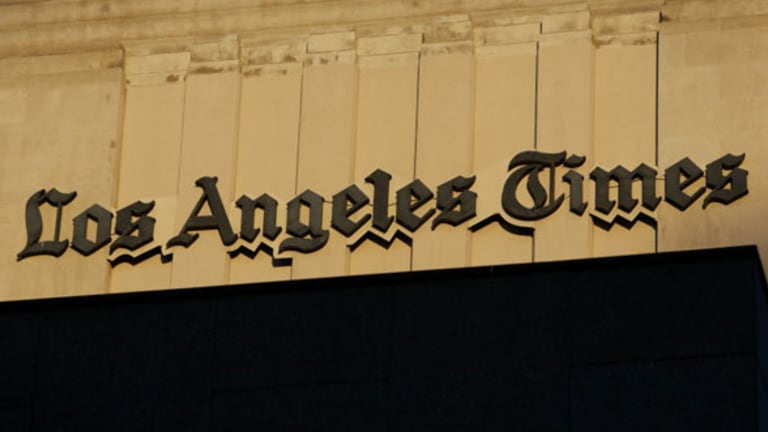 Why Gannett Should Take Another Stab at Tronc
Shares in the former Tribune Publishing have slumped, and its chairman has tried and failed to twice to acquire new properties. Might this be time to restart talks with Gannett?
Newspaper publisher Tronc Inc.  (TRNC) is trading at a deep discount to its peers, revenue is mired in a persistent decline, and the company's stock has slumped even as shares in New York Times Co. (NYT) - Get New York Times Company Class A Report and News Corp. (NWSA) - Get News Corporation Class A Report , owner of The Wall Street Journal, have surged. 
Meanwhile, Michael Ferro, Tronc's chairman and its largest shareholder, has sought to expand the company's digital businesses through acquisitions. Yet in the case of US Weekly, a Tronc spokesman said the company backed away from the celebrity magazine in March after a process of "due diligence," while its pursuit of the Chicago Sun-Times was thwarted by a Department of Justice decision to prevent the owner of the Chicago Tribune from also owning the city's second-largest daily newspaper.
Ferro, a brash venture-capital investor turned media owner, was eager to aggregate a larger metro audience by pairing the two newspapers. But the DOJ, citing media consolidation concerns, intervened on behalf of a rival bidder.
So what's next for Tronc, the company formerly known as Tribune Publishing that also owns the Los Angeles Times, the Baltimore Sun and the Orlando Sentinel?
Back in November, Gannett Co. (GCI) - Get Gannett Co., Inc. Report , publisher of USA Today and some 100 daily newspapers, ended a nearly six-month quest to acquire Tronc, offering as much as $18.75 per share. Since late October, when Gannett's banks pulled out of that proposed transaction, valued at about $673 million, Tronc shares have fallen 25%.
Despite months of Ferro exclaiming that Tronc wasn't for sale, a deal with Gannett appeared close. Both companies seemingly had found common ground on the strategy that a merged company would have more leverage with national advertisers seeking large digital audiences.
"You had a strong-willed CEO at Tronc, who was not exactly embracing of that deal," Paul S. Scrivano, global head of Ropes & Gray LLP's mergers & acquisitions practice, said. "I thought there was a deal to be done there; Gannett was certainly telegraphing that. From the Tronc side of things, it was basically 'go away.'"
Gannett viewed Tronc's Florida newspapers -- the Orlando Sentinel and the Sun-Sentinel (Fort Lauderdale) -- as perfect fits for its publications in Fort Myers and Naples, among others. Same thing for the Midwest, where Tronc's Chicago Tribune would fit with Gannett's Milwaukee Journal Sentinel and a string of other Wisconsin dailies.
"Gannett's strategy with Tronc was around aggregating audiences," Nobel Capital Markets edia analyst Michael Kupinski said. "They still want to be in major markets where they can aggregate a large digital audience to support USA Today and for going after national advertising."
Investors haven't been kind to Tronc since their talks dissolved last fall.
Tronc shares trade at 10.1 times earnings, compared with 21.8 times earnings for the benchmark S&P 500 index and 25.6 times earnings for the Bloomberg Global Publishing Media index, which includes New York Times and News Corp. Tronc revenue has dropped in each of the past four quarters compared with the same period a year earlier as its digital businesses have struggled to attain the reach of the Times or the Journal.
Like Tronc, Gannett also has struggled to increase revenue. Sales at publications owned for more than a year have declined in recent quarters, one reason CEO Robert Dickey has sought to enlarge the company through acquisitions. In 2016, Gannet acquired Milwaukee Journal Sentinel publisher Journal Media Group Inc. and paid $156 million for North Jersey Media Group Inc., the owner of the Record of Bergen County, N.J.
Digital-only subscriptions at USA Today have increased, providing a bright spot for the company, yet shares have fallen 37% over the past 12 months, a victim of the secular declines in advertising and circulation sales pressuring all legacy print publishers.
So, might Gannett, the largest U.S. newspaper publisher, restart talks aimed at acquiring Tronc? 
One way to jump-start merger talks would be if an activist such as Jana Partners LLC, which all but forced Time Inc. (TIME) to consider a deal with Meredith Corp. (MDP) - Get Meredith Corporation Report , entered the picture. The same could be said for Corvex Management LP's Keith Meister, who pushed Pandora Media Inc. (P)  for more than a year to consider selling itself. Last month, Pandora replaced its CEO as it agreed to sell a minority stake in the company to Sirius XM Holdings Inc. (SIRI) - Get Sirius XM Holdings, Inc. Report , the satellite TV operator controlled by billionaire media mogul John Malone.
A Gannett spokeswoman called any speculation about renewed talks with Tronc "completely groundless." A Tronc spokeswoman didn't have an immediate comment.