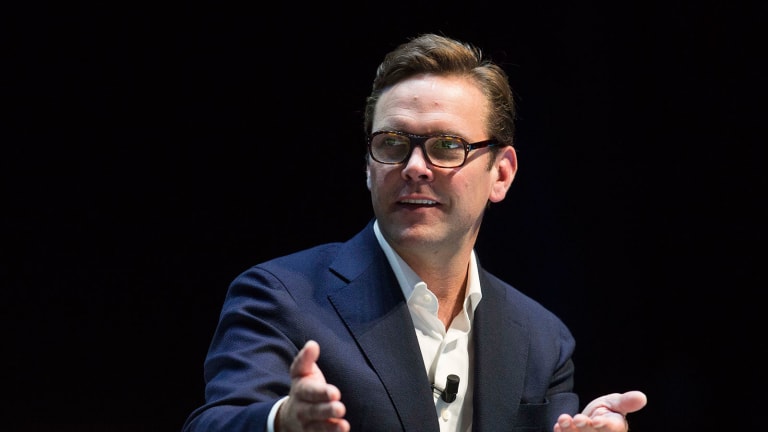 Why Fox Investors Don't Seem Keen on a Tribune Media Purchase
Fox is in talks to buy the TV station owner in a partnership with private equity giant Blackstone, begging the question, Will the Murdochs ever stop buying things?
Fox is in talks to buy the TV station owner in a partnership with private equity giant Blackstone, begging the question, Will the Murdochs ever stop buying things?
Left to their own devices, the Murdochs -- who control and run the global media conglomerate 21st Century Fox (FOXA) - Get Report -- love to make acquisitions.
Despite all that is going on at the company, Fox has joined with Blackstone Group (BX) - Get Report , one of the world's largest private equity firms, in a bid to acquire TV station owner Tribune Media (TRCO) - Get Report , according to a source familiar with the matter.
If the deal goes through, Fox would get equity in a joint-venture with Blackstone, which would house Fox's 28 owned-and-operated stations along with Tribune's 42 TV-stations, the source said. Fox would also receive a substantial amount of cash from Blackstone as part of deal. The talks are ongoing, and it's possible no deal will be finalized, the source emphasized.
Fox and Tribune declined to comment on the matter.
Tribune Media of Chicago owns 14 Fox affiliates among its 42 TV station as well as the WGN America network, Tribune Studios and various websites. The best-performing media stock in the first 100 days of the Trump presidency, Tribune's shares spike an additional 5.5% on Monday to $38.58 while Fox was off 1.1% to $30.21 and Blackstone had gained 0.7% to $31.06.
The notion of Fox making a large media asset acquisition comes at an already busy time for CEO James Murdoch as well as his brother Lachlan and father, Rupert, who share the title of executive chairman.
At present, the Murdochs are in negotiations with U.K. regulators about their proposed $14.6 billion acquisition of the remaining shares in European cable TV and internet services provider Sky that Fox doesn't already own. Regulators are said to be looking at how Fox has handled the recent spate of sexual harassment charges at Fox News, an ongoing issue that has sparked speculation of executive changes atop the conservative network.
A deal for Tribune Media would seem to be out of place.
Speaking in February on the company's quarterly investor conference call, James Murdoch appeared to indicate Fox wasn't interested in buying more local TV stations. Asked whether the company would pursue such deals were President Trump's Federal Communications Commission to ease ownership rules, Murdoch said he didn't see a need.
"With respect to potentially the FCC relaxing ownership caps on terrestrial TV stations in the U.S., no, I guess is the most straightforward way to answer the question," Murdoch said on a Feb. 6 investor call, according to a Bloomberg transcript. "I hate [to comment] on future speculation and hypotheticals, but I think you can rest easy there. We really like the shape of our station business right now."
Yet the Murdochs love to do deals.
Under the proposed deal, Blackstone would buy Tribune Media with cash and debt, and create a separate company to which Fox would contribute its 28 large-market local TV stations a;; affiliated with its broadcast network. By creating a separate entity owned by Blackstone, Fox would skirt current FCC rules that no single company can own local TV stations that collectively reach more than 39% of U.S. households.
That 39% cap, however, could be raised or even removed now that the FCC is controlled by Republicans and headed by Ajit Pai, a former Verizon (VZ) - Get Report attorney who has long criticized the cap for restricting corporate investment.
By partnering with Blackstone, Fox would ease some concerns about its balance sheet given the size of the proposed Sky deal. If the deal closed, Fox's debt-to-equity ratio would stand at a little over 4 times. Some investors have cautioned that Fox is assuming too much debt to finance the Sky transaction. 
Initially, Wells Fargo media analyst Marci Ryvicker argued in an investor note on Monday that Fox appears to be playing defense rather than offense. A deal for Tribune could prevent Sinclair Broadcasting (SBGI) - Get Report or Nexstar Media (NXST) - Get Report from acquiring Tribune's 14 Fox affiliates.
After some introspection, and conversations with those rather familiar with a proposed deal. Ryvicker later emphasized that Fox wouldn't actually be buying the Tribune stations but would own equity in a larger station group. It's also likely, she said, that a 50-50 joint-venture with
Blackstone wouldn't have direct effect on the company's balance sheet.
Nonetheless, Ryvicker was right to point out that Fox's TV station unit contributes just 13% of annual earnings, tabulated after some expenses. Growing that business seems like a diversion given that operating profits would go to Blackstone. Alliance Bernstein media analyst Todd Juenger added that Fox would simply be "trading one third-party affiliate group with another," i.e. Blackstone for Tribune.
Ryvicker also questioned the purpose of acquiring a TV station company that also owns 28 non-Fox affiliates.
One answer might be Fox's eagerness to gain a larger share of so-called retransmission fees, money that cable TV and online pay-TV operators pay broadcast stations to carry their signal, in light of declines in advertising spending.
Increasing retransmission fees has become a high priority for media companies given declines in cable TV subscribers. Fox also would like to own more of its TV stations to retain a larger percentage of money that local affiliates are required to pay broadcast station owners.
Additionally, Fox is eager to forestall the ambitions of rival Sinclair, which has made clear its desire to acquire TV stations in larger markets having historically focused almost entirely of small cities and rural areas. Sinclair owns more local TV stations that any other U.S. company.
Fox, Juenger said, may be choosing to sacrifice little short-term benefit for a longer-term picture where it could buy out Blackstone's stake in a separately held Tribune Media, Juenger said.
"In the meantime, they have to complicate their structure and bring in a new (aggressive) joint venture partner," he wrote. "The ultimate strategic rationale would likely be looking past the joint venture, to a situation where Fox buys out Blackstone and consolidates its control -- but that could be many years away."