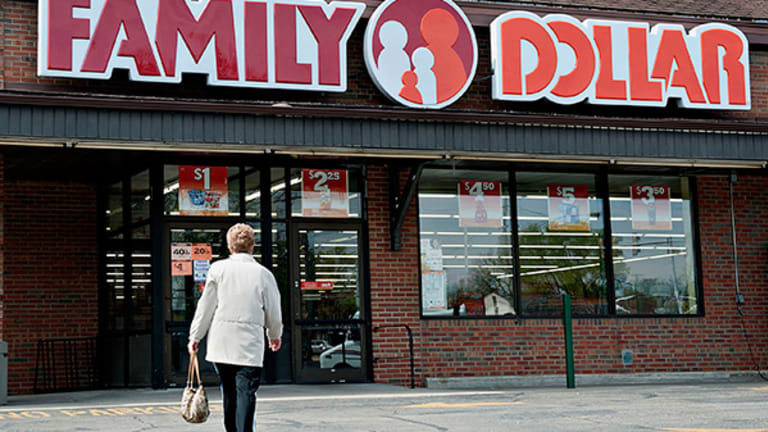 Why Family Dollar Is Avoiding the Wrath Of Carl Icahn With $8.5B Dollar Tree Deal
Monday's deal comes amid widespread underperformance across Family Dollar's operations.
Updated from 9:55 a.m. ET to include opening share prices and analyst commentary in the tenth paragraph.

NEW YORK (TheStreet) -- After more than a half-century under family management, Family Dollar (FDO) CEO Howard Levine, son of company founder Leon Levine, will turn over the company's reins to Dollar Tree (DLTR) - Get Dollar Tree, Inc. Report through a $8.5 billion cash and stock merger of the two discount store chains. Perhaps, Monday's deal allows Levine to gracefully exit Family Dollar without the public wrath of Carl Icahn, who became the company's largest shareholder in July 2014 and called for its sale.
Once considered a savvy manager, Wall Street soured on Levine as same-store sales at Family Dollar flat lined and the company's profit margins dramatically underperformed peers. Icahn took his stake in Family Dollar as it appeared Levine was looking for a last shot at saving the company.
Family Dollar's brand will continue to exist after its merger with Dollar Tree. Levine will remain as CEO of Family Dollar's branded operations and he will be given a seat on the company's board of directors. However, the deal comes amid a tumultuous few years for Levine, who successfully expanded Family Dollar through two recessions since taking the company's reins from his father in 1998.
Family Dollar's Lost Way Leads to Peltz and Icahn
Walgreen's US Fate Could Be Sealed By Labor Day
Hedge Funder Sees KKR's Next Deal In Washington Mutual's Shell
In April, Levine told Wall Street analysts Family Dollar had "lost its way" amid management departures, over-expansion and a misfired change to the company's pricing strategy. Levine then began telling investors he still had the support of the company's board and he began selling a plan to return Family Dollar to succes through operational improvements. Ultimately, however, Levine and Family Dollar's board decided to sell the company to Dollar Tree.
Levine hiredMorgan Stanley last winter to review Family Dollar options and after fielding many takeover offers, he said Dollar Tree was best suited to push forward the company planned operational improvements. It is too be seen whether other discount store competitors like WalMart (WMT) - Get Walmart Inc. Report and Dollar General (DG) - Get Dollar General Corporation Report or private equity buyers attempt a competing bid.
Hedge fund Trian Management, a long-time shareholder in Family Dollar that gained a seat on the company's board in 2011, and Levine both said they would vote their shares in support of Monday's merger. Combined they own 16% of Family Dollar's stock.
Icahn, who owns roughly 9% of Family Dollar's shares wasn't acknowledged in a Monday press release. However, it is unlikely he would argue with the strategic merits or financial rewards Family Dollar's tie-up with Dollar Tree. The activist appears to have made paper gains in the neighborhood of $200 million since making his investment in Family Dollar in June.
Dollar Tree will pay Family Dollar shareholders $59.60 in cash and $14.90 equivalent in Dollar Tree stock. Family Dollar's overall $74.50 price tag represents approximately a 22% premium from its Friday closing price, and will give existing shareholders an up to 15% stake in the combined company.
Family Dollar shares were gaining over 21% at $73.71 in early Monday trading. Dollar Tree shares initially surged nearly 10% in pre-market trading, however, shares lost most of their gains and were trading about 2% higher at $55.41 on Monday morning.
While analysts characterized Dollar Tree's acquisition as "bold" on a conference call, they appeared credulous about Family Dollar's performance in recent years and potential synergies in the deal. Analysts at Credit Suisse and Bank of America both questioned whether there was much overlap between the two companies given their disparate pricing strategies and the apparent decision to keep the Family Dollar brand going.
Credit Suisse downgraded Dollar Tree on the announcement of Monday's deal analysts at the firm said they believe Dollar General would be a better buyer of Family Dollar and could even make a competing bid.
Activists Take Onto Dollar Stores
Hedge fund investors piled into Family Dollar shares in the wake of the Great Recession and amid private equity giant KKR's (KKR) - Get KKR & Co. Inc. Report hugely successful buyout of the company's closest competitor, Dollar General. In recent years, Trian Management, Paulson & Co., Pershing Square Capital Management and Carl Icahn all, at times, were large Family Dollar shareholders.
It was Nelson Peltz-run Trian Management, however, that appears to have had the biggest impact on Family Dollar and its announced sale on Monday. The fund took a large stake in Family Dollar in 2011 and initiated calls for the company to seek operational change or a possible strategic merger.
Ed Garden, a top executive at Trian, was given the seat on Family Dollar's board of directors in the fall of 2011, just as the company began to shake up its management ranks and strategy. At the time, Trian Management publicly supported Family Dollar's dramatic expansion plans, which were launched in late 2011.
Nevertheless, Family Dollar struggled amid a backfired change to the company's price strategy and long-standing issues such as infrastructure bottlenecks, poor inventory management and over-expansion.
In late 2013, Levine said Family Dollar would close stores and curtail expansion its plans, while investing in infrastructure efficiency and returning the company to better price competitiveness in the discount market. Monday's transaction, according to Levine, will allow Family Dollar to continue its improvements.
Family Dollar will retain its brand after the transaction closes and Levine will remain with Family Dollar, reporting directly to Dollar Tree CEO Bob Sasser in what he said is an executive role among Family Dollar's stores.
"This combination will enable Family Dollar to accelerate efforts to improve the business and will benefit our dedicated Team Members who will now be part of a larger, more diverse organization," Levine said on Monday.
"I am excited about our future with Dollar Tree, and I look forward to working with the Dollar Tree team to complete the combination as quickly as possible to realize the compelling benefits for all our stakeholders," he added.
Trian Management also was supportive of Monday's deal.
"Since Trian's Chief Investment Officer and a Founding Partner, Ed Garden, joined the Family Dollar board in 2011, Trian has been working constructively with management and the Board to create value for shareholders," Trian Management said in an e-mail to TheStreet.
"Trian strongly believe that the combination with Dollar Tree represents the best path forward for Family Dollar and is a great outcome for all of the Company's shareholders," the fund added.
Synergy, Synergy, Synergy
Dollar Tree said that with Family Dollar the combined company will have 13,000 stores in the U.S. and Canada and sales of over $18 billion. While Dollar Tree is a true dollar store, only offering items for $1 or less, Family Dollar stores have multiple price points at the low-end of the retail market.
When combined, both companies expect synergies in their merchandising efforts and operating efficiencies throughout both companies' distribution and logistics networks. Overall, Dollar Tree forecasts it will achieve $300 million in annual operating synergy within three years of buying Family Dollar. Dollar Tree CEO Sasser also indicated on a conference call with analysts that the combined company could re-brand some stores in certain geographies.
At a price of $74.50 a share, Dollar Tree paid about 11.3 times trailing 12-month earnings before interest, taxes, depreciation and amortization for Family Dollar. The company said it will use cash on hand, bank debt and bonds to finance Monday's transaction.
J.P. Morgan advised Dollar Tree and committed bridge financing for the transaction for Monday's deal. Wachtell, Lipton, Rosen & Katz and Williams Mullen acted as legal counsel to Dollar Tree. Morgan Stanley advised Family Dollar, while Cleary Gottlieb Steen & Hamilton acted as legal counsel.
-- Written by Antoine Gara in New York