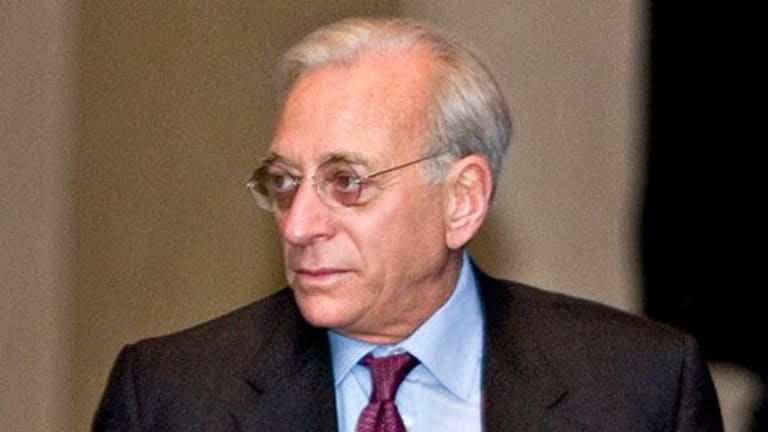 Why DuPont Beat Nelson Peltz in the Biggest Proxy Fight in Years
Peltz's history counted for little, and big investors were generally happy with DuPont CEO Ellen Kullman. Trian's small stake didn't help, nor did Peltz's lack of experience in proxy fights.
NEW YORK (The Deal) -- The pieces seemed to be falling into place for activist Nelson Peltz and his Trian Fund Management late last month after the two main proxy advisory firms recommended that shareholders back his candidacy for the board of E.I. du Pont de Nemours and Co. (DD) - Get DuPont de Nemours, Inc. Report. Endorsements from the two firms, Institutional Shareholder Services and Glass, Lewis, can sway votes and in a close contest might make the difference between winning and losing.
But not this time. In the highest-profile proxy contest of 2015, Peltz failed to get a seat at the chemical giant for himself or for three other dissident candidates.
The loss reverberated throughout the activist fund world, partly because Peltz is considered by many to be the premier insurgent. His operational background has traditionally set him apart from other insurgent fund managers in the views of institutional investors. At DuPont, though, Peltz apparently failed to obtain the backing of a sufficient number of both institutional investors and the chemical giant's generally promanagement retail investors, who represent roughly 33% of the company.
Activist Investor Nelson Peltz
So what happened? The consensus among a handful of interested observers as well as several people involved in the campaign is that big index funds and other passive investors did their own research and came to the conclusion that DuPont CEO Ellen Kullman was already making the kind of proshareholder moves that activists try when they get on a board. These moves included stock buybacks and a decision to spin off a performance chemical business.
Big investors are more likely to pay attention to high-profile fights at large companies such as DuPont and, consequently, are less likely to follow proxy firm recommendations. Institutions are more likely to follow proxy advice in director-election battles at smaller companies.
"If an institution has 50 companies that have equally contentious situations they will only focus on the biggest ones," said one corporate adviser. "They are triaging."
And when it comes to proxy battles, DuPont was huge. In fact, according to FactSet, DuPont is the largest U.S. corporation to have a proxy fight with an activist fund go to a vote. Only five corporations with market capitalizations greater than $50 billion have ever faced a proxy fight with an insurgent fund manager, and only one other of those, Target (TGT) - Get Target Corporation Report, (which was fighting Pershing Square Capital Management in 2009) saw its battle go to a vote, FactSet said. Like Trian at DuPont, Pershing lost at Target. (See table below.)
Ethan Klingsberg, partner at Cleary Gottlieb Steen & Hamilton, in New York, said the DuPont result demonstrates that index funds are becoming more thoughtful in how they vote. And a proxy solicitor suggested that there are "fewer larger institutions" that rely solely on the advice of proxy advisory firms.
In addition, observers argued that Peltz didn't receive much deferential treatment from investors when it came to his operational background. "He is considered a great operator, but chemical companies like DuPont were outside of his core competency," said another corporate adviser.
In addition, breaking the remaining company into two units, as sought by Peltz, was perceived as a step too far, especially as it was considered a move that would erode DuPont's debt credit rating.
"Everyone agreed that it wasn't a broken company," said one proxy solicitor. "DuPont didn't have glaring issues."
Francis Byrd, who runs Byrd Governance Advisory, said that many investment portfolio managers and analysts "got everything they needed."
Big institutions, including BlackRock (BLK) - Get BlackRock, Inc. Report, Vanguard, and State Street (STT) - Get State Street Corporation Report, all voted with DuPont, according to people familiar with the situation. The official tally is not out, but according to person familiar with the situation, the election was close for Peltz but not so much for the other three dissident candidates nominated by the activist fund to the 12-person DuPont board, suggesting that Trian overall lost in a bigger way than generally is perceived. (Glass, Lewis only recommended Peltz, while ISS backed both Peltz and another dissident, John Myers). Officials at DuPont and the three large institutions didn't return calls. Trian officials declined to comment.
"It was looking very close two weeks out from the meeting and then it widened a bit," said one person familiar with the vote tally.
It wasn't just passive institutional investors that refused to back Peltz. According to one proxy solicitor, Trian failed to convince event-driven hedge funds or other activists to pile into DuPont's stock in any meaningful way. Without those new investors, Peltz didn't have a base of support and instead needed to convince an existing long-term institutional investor and promanagement retail base to back his thesis. One adviser noted that DuPont and other big blue-chip companies generally have more long-term investors, including exchange-traded funds and some quant funds that have index-type qualities, so they are harder to influence.
In addition, Trian's own small 2.7% stake meant Peltz didn't have enough skin in the game to make a significant difference. "If Peltz had owned 8% he might have won," said one adviser.
DuPont's large retail investor base also didn't help Trian. Bruce Goldfarb, CEO of proxy solicitor Okapi Partners, said retail investors tend to be more supportive of management and they aren't likely to be swayed by proxy advisory firms. The biggest issue with retail investors is to overcome their indifference. However, Goldfarb notes that there was a "heightened level of awareness" about the contest, through articles, Web sites and advertisements, suggesting that many retail owners turned out.
"My sense is that management gained a significant portion of the retail shares that voted, possibly a real factor in the decision," he said.
Anne Simpson, the director of corporate governance at the California Public Employees' Retirement System, dealt another blow to Trian when she came out publicly criticizing the activist's thesis as "relatively short term."
"She is well-known and that may have had an impact on other institutional investors and their voting decisions," Byrd said.
Moreover, Trian doesn't have a history of conducting proxy contests, which means Peltz may not have had much experience reaching out to investors. Peltz tends to get on boards via private settlements and by working with management, as he has at Mondelez International (MDLZ) - Get Mondelez International, Inc. Class A (MDLZ) Report and Legg Mason (LM) - Get Legg Mason, Inc. Report. Other than DuPont, only his contest at H.J. Heinz Co. in 2006 went all the way to a vote, where Trian won two of five seats Peltz was seeking, including one for himself.
Ultimately, DuPont succeeded at making the contest a referendum about the long-term strategic plan for the mega-chemical company. Klingsberg cited a Standard & Poor's report, which put DuPont on a credit negative outlook before the contest partly because of the rating agency's concerns that a breakup of the company would "erode" its strengths by weakening its business diversity and operating scale.
"Those debt rating considerations are certainly more relevant to the long-term value of the business than just saying it can't hurt to add another person to the board," Klingsberg said. "It is part of what is driving concerns by index funds. They want to keep a somewhat healthy balance sheet."
Nevertheless, some observers aren't convinced Peltz is through with DuPont, especially after the activist manager said he's taking a "watch and wait" approach now that the fight is over. Paul Kurias, an S&P analyst, said the rating service isn't changing its negative outlook for DuPont debt, at least not yet. "We are still focused on whether the business is going to be split or not," Kurias said.
Read more from: