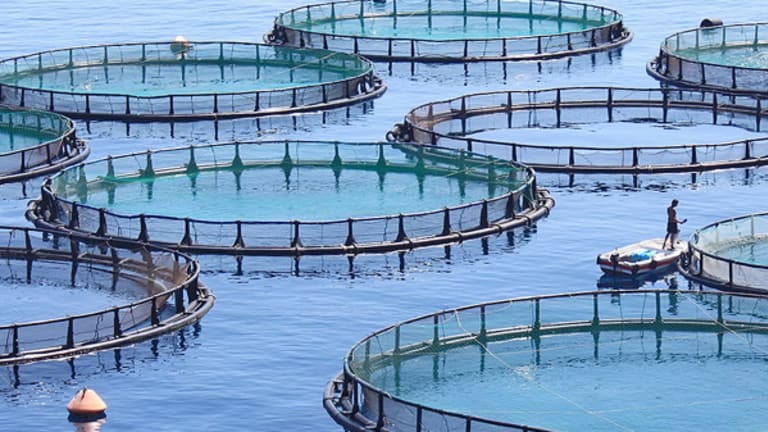 Why Dealmakers Are Getting Hooked on Aquaculture
Fish farm operators -- and suppliers of the technology that is helping them grow -- are becoming sought-after targets of industry titans and financial investors alike.
A small fish swallowed a bigger fish when the U.K.'s Benchmark Holdings bought Belgium's Inve Aquaculture from Coöperatieve Rabobank and Royal Bank of Scotland in December for about £227 million ($321.8 million).
Before making its move, the Sheffield, England-based buyer spent four years studying Inve, during which time Benchmark went public with a listing on London's small-cap exchange, added salmon breeding and genetics through acquisitions in Norway and Iceland, and tilapia genetics and breeding through another Norwegian purchase. It watched as Inve's creditors took full control in a 2012 debt-for-equity swap and reshaped the entity into a business with 20% of the world market for shrimp and fish hatcheries and nurseries. Benchmark approached Inve long before an auction was ever in the cards.
"It was a complicated deal, but sometimes the way you structure a transaction can improve the outcome for both parties," said Benchmark CEO and co-founder Malcolm Pye. "To do that, you have to really get inside the business you're seeking to acquire. This was a long piece of work for us and we were really excited to get over the finish line."
Benchmark raised £185.7 million from investors to finance the deal.
"It's clearly more challenging for a small issuer to raise large sums," said Travers Smith's Anthony Foster, Benchmark's legal adviser, "but it definitely can be done, especially if they operate in a hot sector that reflects a robust long-term trend rather than just a fad."
That's certainly true of aquaculture -- the farming of fish, crustaceans, molluscs and plants -- for human consumption. It's a $140 billion-plus industry projected in a 2015 study by Grand View Research to surpass $200 billion by 2020.
By 2022, annual per capita consumption of fish is projected by the United Nations' Food and Agriculture Organization to rise to 20.7 kilograms, or 45 pounds, up from 18.9 kg in 2010 and 9.9 kg in the 1960s meat-and-potatoes-heavy era.
Today on every continent except Africa, people are eating more fish amid an expanding, more prosperous, urban population favoring healthier lifestyles and more sophisticated tastes. The main growth comes from China, which is also the biggest fish producer.
Global supply chains make it possible to get Canadian lobster in Brussels, sushi in landlocked Hungary, and Dover sole far from the famous white cliffs of the English Channel port town. But nature is overstretched.
"There is a growing awareness that the ocean is not going to provide all of our seafood needs going forward, which definitely means we need to think of alternatives," said Monica Jain, founder and director of Manta Consulting, of Carmel, Calif., and also of the bi-annual Fish 2.0 convention connecting sustainable seafood businesses with investors.
As of 2014, more than half the world's seafood was sourced from aquaculture. It's now the fastest-growing agriculture sector, with 5% compound annual growth and far better feed-to-output conversion rates than all other livestock production. That's luring dealmakers from Norway's salmon country to Silicon Valley hoping to cash in on the so-called blue revolution.
Recent big transactions include Cargill's €1.35 billion ($1.47 billion) purchase in October of Norwegian salmon-feed supplier Ewos Holding; the €3 billion takeover of Dutch animal feed specialist Nutreco last March by shareholder SHV Holdings, an Utrecht family-backed investment firm; and Mitsubishi's 8.88 billion Norwegian kroner ($1.4 billion) acquisition of Norwegian salmon farmer Cermaq in November 2014.
As soon as attractive targets become available, rivals duke it out like famished fish at feeding time. Cermaq hooked up with Mitsubishi after fending off a hostile bid from Norway's Marine Harvest (MHG) and put Ewos up for sale as part of that defense; Cargill reeled in Ewos after trying in vain to get Nutreco, initially together with Permira and then on its own; and SHV nabbed Nutreco after two holdouts forced it to twice raise its bid. Cargill and Nutreco were also considered to be suitors for Inve, but fortunately for Benchmark they were too busy with bigger deals to pose a threat.
"Until now it has been very difficult for large long-term investors to enter this sector because there were not enough large companies," said Rabobank analyst Gorjan Nikolik. As of recently, though, "several have become big enough, diversified and have enough of a good profile for some of the big investors coming from outside the sector to start investing."
Aquaculture is a relatively young investment sector with ancient roots.
Carp breeding, for example, reached its Golden Age in 5th Century B.C. China, as detailed in the world's first known published work on fish farming, penned by one Fan Li. And Roman philosopher and naturist Pliny the Elder wrote about fish and oyster farming techniques in the 1st Century A.D.
In North America, ancient Hawaiians harvested fish commercially in shallow, lava rock-protected ponds called loko i'a. Although few ancient ponds are left, some have been restored and elevated to protected status as national historic monuments, notably on Molokai's southern shore.
Today around the world, small family operations and multinationals alike are raising fish in inland lakes and ponds as well as in coastal waters. Though the process varies by species, it can be very complex and involve multiple locales.
Atlantic salmon, for example, has a production cycle of about three years, from the fertilization of eggs kept in freshwater incubation tanks to the final harvesting, processing and distribution. About 70% of the global supply is farmed, mostly in Norway, Chile, Scotland and Canada, though Chile's salmon industry has yet to recover from an infectious anemia outbreak in 2007 that hit just before the financial crisis.
The U.N. predicts rapid aquaculture growth in South Asia, Southeast Asia and Latin America, with tilapia, carp and catfish leading species growth. Fish are being farmed for both human consumption and for feed, since more aquaculture requires more feed.
Besides taking pressure off wild supplies, aquaculture offers other benefits including optimal egg selection and control over feed diets. The downsides include the fact that diseases spread more quickly within fish farms than in nature, and that in some countries aquaculture has hurt the environment. But such environmental concerns in turn are sparking investment in areas such as disease prevention and sustainable feed and waste systems, as the sector becomes more professionalized.
Strategic buyers are leading the buying spree.
Cargill, the Minnesota-based agriculture giant, hopes to make a big splash in salmon feed through its purchase of Ewos from Altor Equity Partners and Bain Capital -- just two years after the buyout shops bought the business from Cermaq as part of its defense against Marine Harvest.
The deal gives Cargill seven feed manufacturing plants in five countries producing more than 1.2 million metric tons of salmon feed for the world's biggest producers. By 2017, Cargill also plans to have a new shrimp factory ready in Ecuador, through a $30 million joint venture agreement signed in July 2015 with Naturisa, of Guayaquil.
Meanwhile in Norway, Marine Harvest -- the world's top producer of farmed Atlantic salmon -- is also still expanding.
The company has been an acquirer for much of its 50 years in existence. Previously known as Pan Fish, it changed its name in 2007 following a three-way merger combining Norway's Pan Fish Holding with the Dutch Marine Harvest (originally part of Unilever in the early days of Atlantic salmon farming) and Fjord Seafood, also of Norway.
Today's Marine Harvest, whose largest shareholder is a company indirectly controlled by oil and shipping magnate John Fredriksen, hasn't publicly attempted any major M&A since its failed hostile $1.7 billion bid to take over Cermaq in 2013. But in 2014 it opened its first feed factory in Norway and snapped up assets of bankrupt Acuinova Chile for $120 million. It plans to spend around £80 million ($113 million) on building a new feed factory in Scotland by 2018.
Marine Harvest spokesman Eivind Naevdal-Bolstad said: "We focus on greenfield in our feed division and value-added division, and our company will always look at opportunities."
For private equity, the growing appetite for aquaculture expansion has produced some decent exits.
As well as Bain Capital and Altor's super-speedy exit from Ewos after two years, Permira's sale of Norway's aquatic health group Pharmaq to Zoetis (ZTS) - Get Zoetis, Inc. Class A Report for $756 million last December made a splash.
Permira garnered more than three times its return on invested capital in local currency terms. Zoetis had actually wanted to buy Pharmaq two years earlier but lost out to Permira, which picked it up for about €250 million from Norwegian conglomerate Orkla and marine-focused investment firm Kverva.
Permira expanded Pharmaq geographically, built its salmon farming business, and launched products for new species in emerging markets. Zoetis CEO Juan Ramón Alaix admitted in a November earnings call, "We would've loved to have owned this company back in 2013 [but] the company is worth a heck of a lot more today."
Even after the Pharmaq disposal, Permira -- whose portfolio includes leading Japanese sushi chain Sushiro -- is still open to aquaculture-related buying opportunities, according to Ola Nordquist, head of the Nordic region.
"There is a meaningful role for investors like us going forward to partner with successful companies to support their journey," he said.
Another PE buyer on the prowl is Longship, a new Oslo-based firm-named for the vessels used by Viking Norsemen for trade, exploration and warfare -- whose sweet spots include aquaculture and sustainability. Longship, which is raising its first buyout fund, is seeking small and medium-sized companies of Norwegian heritage which are profitable, and with sales of about Nkr150 million to Nkr1 billion ($17.5 million to $116 million).
Managing director Kai Jordahl, previously with CapMan, predicts that aquaculture will become a "lot bigger" in his home country than oil amid the current crude price slump. As the industry matures, he sees growing investment opportunities in areas like emerging technologies and sustainable farming.
"All of these aspects are still in the very early entrepreneurial stage, and there's huge potential to develop the whole methodology," he said.
But he added: "It's still a fairly high-risk type of investment environment and difficult to pick the clear winners."
And then there's the world's first -- and still probably the only -- aquaculture venture capital firm, Aquacopia Venture Partners. David Tze, who founded the New York investor a decade ago, takes a long-term approach to investment.
"At any one time we're looking at quite a few [potential targets] but since it's not a heavily trafficked space by professionally managed money, we can take our time with the valuations," said Tze. He added that while there are no fixed investment criteria, it seeks well-managed companies that get more than half their profits from aquaculture.
The firm has backed companies such as Litchfield, Conn.-based Community Catch, an online marketplace matching seafood buyers with local fishermen and suppliers and Nutrinsic, a Denver-based maker of sustainable fish meal made from food and beverage factory wastewater.
More recently in the space, Aqua-Spark is an Utrecht-based investment fund founded in 2013 that targets sustainable aquaculture SMEs. It says it has a pipeline of close to 500 companies it's keeping tabs on at any one time. It raises new funding every six months and has so far backed three companies, with two on the way very soon. Its investments include a Menlo Park, Calif.-based biotech start-up called Calysta that's pioneered a protein alternative for fishmeal and eFishery, an Indonesia-based company that's developed an automated fish and shrimp feed system.
"We invest in long-term partnerships with aquaculture companies across the globe, from feed ingredient to feed manufacturers to farming operations [and] technology that supports the alternatives to battle disease, all the way to supermarkets," said Aqua-Spark co-founder and managing partner Mike Velings, who said the investor would like up to 60 to 80 companies in its portfolio over the next 10 years.
"What we're trying to build is an ecosystem that can stand on its own two feet, something that will stand for the next 30 years," he added.
And in Silicon Valley, aquaculture has lured Palo Alto, Calif.-based Firelake Capital.
It provides early-stage funding to companies like BluWrap, a San Francisco startup that's pioneered a way to extend the shelf life of fresh fish and other perishables using a patented oxygen-management technology.
"We're not set up to do investments in aquaculture operations themselves, so we're looking for companies based on technology that can grow a commercial footprint very quickly, and create value without requiring massive amounts of capital," said Firelake managing director Peter Shannon. "As a provider of technology rather than equipment, BluWrap makes money regardless of whether aquaculture is in a down or an up cycle. That's what we find so exciting about them."
Firelake teamed up with Wheatsheaf Investments, of the U.K., and Rabobank affiliates Anterra Capital and Rabo Ventures to provide $8 million of funding to BlueWrap in 2011 and $12.6 million in late 2014.
BluWrap put the last money to use by running tests in Norway, Iceland and China.
"Our main focus today is salmon, but we're doing a lot of research and development in other species," said BluWrap CEO Mark Barnekow. In the next five or 10 years, he hopes to make BluWrap "transformational for the seafood industry so that basically nobody uses an airplane to ship protein any longer."
For other startups looking for outside capital, there are other options for hooking up with investors, like the Fish 2.0 event, which was held last November and in 2013 at Stanford University.
Described as a real-life "Shark Tank," entrepreneurs give a rapid-fire business presentation to a roomful of investors and experts to compete for cash prizes and -- new last year -- services including training, consultations with large retail buyers and meetings with analysts and investors.
SabrTech, one of last year's winners, is a Halifax, Nova Scotia-based startup that has developed a system for converting fish waste into feed. It calls this the RiverBox, "the world's first modular, scalable and rapidly deployable algae farm," as founder Mather Carscallen describes it. The company plans to use its $5,000 prize towards one of its technician's graduate degrees. It's also busy raising $3.2 million to commercialize its technology, and seeking an ideal strategic partner "that has a long-term, sustainability vision and understands the need to invest in algae-based protein production."
Given the interest in sustainable aquaculture, he's likely to find an ocean of opportunities.