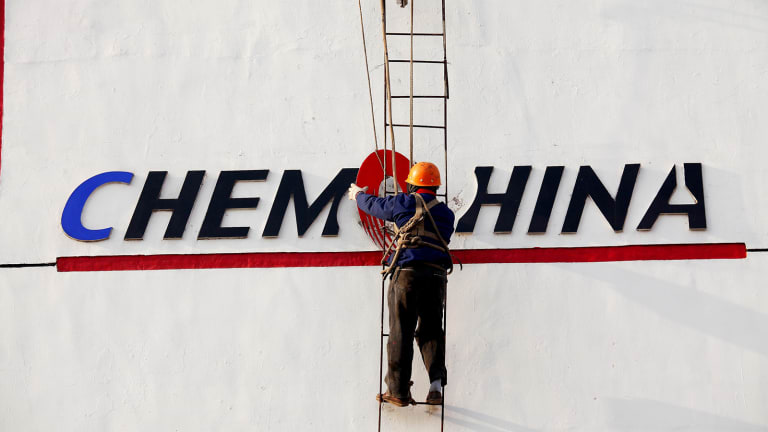 Why China Is an M&A Machine
Credit worries may lurk in the shadows for the world's second-largest economy, but the Communist nation appears headed for another record year of cross-border dealmaking.
When General Electric (GE) abruptly tore up its $3.3 billion deal to sell its appliances unit to Electrolux (ELUXY) midway through a court fight with the Department of Justice in December, few doubted that the conglomerate would find a buyer. But most people expected the process -- at least its third attempt to offload the business -- would take time.
Just over a month later, however, GE stunned the market when it agreed to a $5.4 billion bid from China's Qingdao Haier, which had beatem off multiple strategic bidders and private equity firms to put together a fully funded offer pitched at a generous 10 times earnings before interest, taxes, depreciation and amortization.
Overseas acquisitions by the Chinese aren't new, of course. Back in 2005, Lenovo (LNVGY) made headlines with the $1.75 billion purchase of the PC business of IBM (IBM) , and that same year Cnooc (CEO) sparked a firestorm in the U.S. with its ultimately unsuccessful $16.5 billion bid for Los Angeles power company Unocal.
But the pace of outbound dealmaking has accelerated, the external impetuses and range of protagonists have expanded, and, as the GE appliances deal showed, bidders are getting more sophisticated.
In other words, China isn't just asserting itself in dealmaking, it's become a Big Red M&A Machine.
"Chinese companies are able to survive a very competitive auction process by being able to compete on speed, debt lines, price and financing capability to a Western standard," said UBS Asia M&A head Samson Lo.
Dealogic figures show Chinese buyers struck a record $112.1 billion of cross-border deals last year, up 57% from 2014. And already this year Chinese companies have notched deals worth $81.5 billion, according to the M&A data provider.
The largest of those transactions this year is China National Chemical's Sfr44.6 billion ($44.9 billion) record-setting deal to buy Swiss agricultural chemicals and seeds producer Syngenta (SYT) . The Feb. 3 agreement is more than double the size of the previous biggest outbound Chinese acquisition, the $19.4 billion purchase in 2013 of Canadian energy company Nexen by Cnooc.
Other huge deals so far this year also include an agreement on Feb. 17 by Tianjin Tianhai Investment, a division of conglomerate HNA, to pay $6 billion for Irvine, Calif., electronics distributor Ingram Micro (IM) .
And earlier in February, Beijing Enterprises Holdings (BJINY) set a record for Chinese investment in Germany with its agreement to buy EEW Energy from Waste from Sweden's EQT Partners for €1.44 billion ($1.6 billion).
Both ChemChina and Beijing Enterprises are state-owned enterprises, or SOEs, while HNA, based on the island of Hainan, is something of a hybrid. But privately owned Chinese companies are increasingly crossing borders, too, notably Wang Jianlin's huge property and services conglomerate Dalian Wanda (DWNDF) , which in January agreed to buy Burbank, Calif., film studio Legendary Entertainment for up to about $3.5 billion. Adding the U.S. content producer comes after Dalian Wanda spent $2.6 billion in 2013 to purchase Leawood, Kan., cinema chain AMC Entertainment Holdings.
Slowing Chinese growth and higher margins overseas provide part of the explanation, as does, in the case of SOEs, a government plan to foster "national champions" by encouraging them to snare foreign targets.
But newer factors are at play, too.
The equity market losses of the first weeks of the year are fueling Chinese companies' outbound appetite rather than suppressing it. In part, that's because stock markets have fallen outside China, too, crimping company valuations, including in Europe, which was the biggest target of Chinese M&A last year. And recent renminbi devaluations have spurred companies to strike before the Chinese currency falls further and makes overseas purchases costlier.
Such market volatility and associated macroeconomic worries have also made diversification out of China more pressing for all types of companies and individuals, raising concerns about capital outflows.
Chinese bidders historically have focused on acquiring resources during the commodities boom and have also snapped up infrastructure, makers of components or, as in the Haier/GE deal or with Fosun International's (FOSUF) purchase last year of Club Méditeranée, consumer brands and associated distribution networks. Now Chinese suitors are increasingly seeking the proprietary technology and know-how that will take their country beyond a mammoth manufacturing hub.
"China can't be 'Made in China' for ever. We have to be 'Create in China,' 'Innovate in China,'" said John Zai, founder and CEO of Cocoon Networks, a recently launched London-based investor and startup services provider which has Chinese backers. "We don't have that kind of advantage any more, so we have to look at the next stage, which is upgrading our manufacturing, upgrading our intellectual property."
Andre Loesekrug-Pietri, founder of Euro-Asian private equity firm A Capital, added: "A lot of Chinese firms are now hit by huge competition but they have very little added value because perhaps they don't own brands or have technology."
Howard Yu, a professor at the International Institute for Management Development in Lausanne, said ChemChina's purchase of Syngenta is fundamentally different from the Chinese acquisitions that came before it.
"Syngenta is very much in the upstream, R&D environment so this is the type of domain that Chinese players tended to avoid in the past," he said. "It is almost a new-to-the-world phenomenon to have a latecomer acquiring a company upstream in the value chain."
In a similar vein to ChemChina with Syngenta, Yu predicts that China's numerous contract research companies, which provide services to the pharmaceutical industry, or even Chinese newcomers to health care, could in five years' time "move up the value chain" into drug discovery.
Other impetuses for Chinese dealmaking include the fact that certain regulatory hurdles have fallen for Chinese companies. They often have an innate antitrust advantage anyway -- as Haier will inevitably have over Electrolux in the GE Appliances bidding, and as ChemChina had over thwarted Syngenta bidder Monsanto (MON) -- simply because they're moving into a new geography or new sector.
But most types of outbound acquirers received a huge fillip when the Chinese Ministry of Commerce relaxed approval requirements for cross-border deals in January 2014.
That created a virtuous circle, in which target companies could see other Chinese deals getting completed, advisers note.
"Western targets are becoming more and more open to receiving an offer from a Chinese bidder," asserted UBS' Lo. "The risk will always be there, but the Chinese are now understanding that there is always some discussion around regulatory risk, so they are able to consider a break fee, deposit or other assurances."
The increasing use of international advisers has helped Chinese companies compete effectively in auctions. Vanguard acquirer ChemChina used Standard Chartered and Freshfields Bruckhaus Deringer for its January purchase of German machinery maker KraussMaffei, and HSBC Holdings and Simpson Thacher & Bartlett for Syngenta.
Bank financing, for now at least, remains abundant, and Hengeler Mueller Shanghai-based partner Changfeng Tu said acquirers are getting more adventurous.
"The first step is to try to get normal M&A bank loans, but once they get familiar with the process, they will not deny other financing possibilities, provided it is safe and the interest rate is reasonable," he said.
Another boon for Chinese companies is that they have steadily gained a reputation for helping Western targets expand, something that Zhejiang Geely Holding did with Volvo Cars after buying it from Ford Motor (F) for $1.5 billion in 2010.
ChemChina with its deal to purchase Syngenta and its €925 million takeover of KraussMaffei emphasized the growth opportunities it could provide -- and its willingness to keep incumbent management.
"Chinese companies would deliberately keep the Western company autonomous, for the particular reason that they are there to learn. Once they integrate they are going to destroy the very thing that they wanted to acquire," said IMD's Yu.
Bob Partridge, Ernst & Young's head of transaction advisory services for Greater China, added: "They are less likely to cut the workforce," he explained. "They really aren't going in there with a vulture mindset."
That said, Chinese companies are becoming more aggressive.
China's Zoomlion Heavy Industry Science and Technology (ZLIOY) in January crashed into cranes and construction equipment maker Terex's (TEX) merger agreement with Finland's Konecranes (KNCRF) , with an unsolicited $3.3 billion bid for the Westport, Conn., company.
And earlier that month, China Resources (Holdings) briefly turned Fairchild Semiconductor International'sundefined head when it tried to disrupt a deal with ON Semiconductor (ON) with a higher, $2.46 billion bid, sweetened with a $200 million breakup fee.
So what's in store for the rest of the year?
Observers predict cross-border Chinese activity in sectors related to urbanization and the environment. Witness Chengdu Techcent Environment's €200 million in February to buy the water technology unit of Germany's Bilfinger (BFLBY) . Renewable energy will be a big theme as China seeks to meet commitments made at the United Nations climate change conference in Paris in December.
Ernst & Young's Partridge noted that oil, gas, power and utilities companies, when combined, formed the largest sector in outbound dealmaking in 2015, with 18% of total deals. He sees that Chinese interest in outward M&A thinking to continue.
Consumer-sector targets are likely to remain popular as bidders seek brands that can command a premium over local equivalents, as will health care.
Automotive and heavy machinery targets are tipped to lure interest, particularly the mid-sized companies that form the backbone of German industry known as the Mittelstand and helped make Germany China's top European destination last year.
"The Mittlestand companies possess great R&D. They are the natural partners for Chinese companies when they want to go abroad," said the IMD's Yu. "At the same time, the size of a mid-sized company fits much better with the risk appetite."
Resources deals look unlikely to pick up this year after falling off a cliff last year as commodity prices plunged.
And although technology targets will remain popular, as with Fairchild Semiconductor, which on Feb. 16 spurned China Resources and Hua Capital Management's $2.46 billion offer, citing concerns over the U.S. approval process, semiconductor acquisitions in the U.S. look likely to remain problematic.
IMD professor Yu also predicted that any technology that touches on defense or government surveillance will remain out of bounds.
In terms of geographies, Europe looks likely to win over the U.S., especially since the deal tally is now inflated by Syngenta. Europe was the target of 45% of outbound Chinese acquisitions last year, according to A Capital's Dragon Index.
One big reason for that is because Chinese companies still fret the regulatory obstacles they will face in the U.S., particularly from the Committee on Foreign Investments in the U.S., or CFIUS, even though some advisers say that fear is receding.
It was only Feb. 23, for example, that Chinese investment group Unisplendour terminated the nearly $3.8 billion purchase of a 15% stake in storage provider Western Digital (WDC) after CFIUS notified the parties that it would investigate the deal.
Other Chinese victims of CFIUS include GO Scale Capital's $3.3 billion consortium purchase of the lighting components business of Royal Philips, while, as with Fairchild Resources, the mere specter of CFIUS intervention last year stopped a fledgling -- and never confirmed -- $23 billion bid for chipmaker Micron Technology (MU) from Tsinghua Unigroup in its tracks.
So it hardly comes as a surpirse that, on Feb. 17, electronics distributor Ingram Micro built in a $400 million CFIUS-related termination fee into its $6 billion takeover deal with Tianjin Tianhai.
"Because of the political issue, I don't believe China and the U.S. are going to be really close," Cocoon Networks' Zai predicted.
Instead, he interprets President Xi Jinping's high-profile visit to the U.K. last fall as heralding "a high degree of cooperation between the U.K. and China."
In addition to the obvious risk of regulatory snarl-ups, Hengeler Mueller's Tu has observed a lingering propensity among Chinese buyers to attempt to go back to the drawing board with the share purchase agreement if issues arise, long after the Western counterparty has cleared away the champagne bottles.
"This is changing because more and more Chinse buyers are getting aware of Western-style dealmaking," he said. "But if you have a very local, very traditional business man, this could still be the case."
Another risk is the Chinese government's anti-corruption clampdown which, in December, may have contributed to the collapse of Fosun International's bid for Belgian financial services holding company BHF Kleinwort Benson. It fell apart after Fosun Chairman Guo Guangchang's brief and unexplained arrest and detention. The incident looks even more likely, judging from Israeli reports, to have derailed Fosun's deal for 1.8 billion shekels ($460 million) for a controlling stake in Delek (DGRLY) insurer Phoenix Holdings.
The repercussions of Guangchang's arrest may have been so profound as to decelerate dealmaking by SOEs last year as they sought to avoid additional scrutiny amid what some saw as a politically motivated crackdown on certain powerful company executives.
A Capital's Dragon Index found that private Chinese companies' outbound investments grew by 51% last year while SOEs' actually fell by 9%.
In terms of macro risks, even if companies are taking a lower renminbi on the chin, credit worries look more serious and may bite later this year.
Chinese companies are laden with debt, with some of the SOEs having debt-to-Ebitda multiples that would be unthinkable in the private sector. In fact, total Chinese debt, including household and company borrowing, stands at an estimated 250% of GDP.
Non-performing loans at the end of 2015 were already at a 10-year high of Rmb1.27 trillion ($194.7 billion), though the China Banking Regulatory Commission recently insisted that credit quality "was generally under control." But lenders are on alert. For example, Hong Kong-based Bank of East Asia on Feb. 16 noted that it's reining in lending because of Chinese credit worries. (It is being attacked by Elliott Management for its continuous lackluster performance).
Consortium bids, such as Beijing Kunlun Tech and Qihoo 360 Technology's (QIHU) 10.5 billion Norwegian kroner ($1.2 billion) purchase of Opera Software with Golden Brick Silk Road Fund Management (Shenzhen) and an affiliate, are seen likely to accelerate to reduce the financing burden on buyers. And even the mighty ChemChina is reportedly assembling partners for its Syngenta bid, including China Reform Holdings, according to Bloomberg.
Still, some observers warn that the credit bubble could explode later this year.
The IMD's Yu points out that much hinges on the property market, given that one-fifth of the economy is tied to real estate yet there is an massive oversupply of recently built housing and entire urban areas, known as ghost cities, lying vacant.
Even though the government, starting from last year, began a concerted policy of allowing struggling companies to fail, to do so in the real estate sector would be catastrophic.
"The Chinese government can really ill afford not to prop up the property market," Yu said. "Otherwise the whole thing comes down."
Whatever lies ahead, Chinese companies are showing no signs of stepping off the M&A escalator.
M&A protagonists remain generally optimistic, though A Capital's Loesekrug-Pietri advises observers to look beyond a handful of high-profile deals.
"Yes, it's accelerating but we are still a fifth of what other huge blocks [namely the U.S. and Europe] are doing," he said.
Hengeler Mueller's Changfeng Tu predicted that Chinese outbound expansion will survive current macro uncertainties.
"If you talk to clients and try to understand their logic, this is something that will continue for the next five to 10 years," he said.