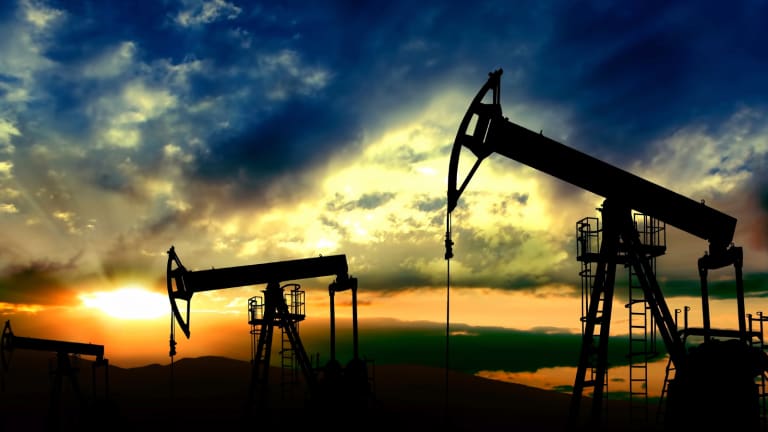 Why Chesapeake Energy Continues to Struggle Long After McClendon's Departure
The oil and gas company successfully detangled its financial rat's nest and shed $6 billion in assets, but production cuts and debt stand in the way of a full recovery.
NEW YORK (The Deal) -- Chesapeake Energy (CHK) - Get Chesapeake Energy Corporation Report has been through a lot. The Oklahoma City-based oil and gas explorer ousted former CEO Aubrey McClendon in 2013 under a cloud of self-dealing accusations and has waged a very public war with him ever since.
Under CEO Doug Lawler, the company worked last year to detangle McClendon's financial rat's nest and shed $6 billion in assets to raise cash and better balance its portfolio. Then came the slide in oil prices last summer, which has hammered its stock. Earlier this year it was dubbed one of the worst performing S&P 500 stocks and has been one of the most heavily shorted stocks on the New York Stock Exchange as well.
Must Read:Warren Buffett's 7 Secrets to Dividend Investing Revealed
Conditions have been getting better for Chesapeake recently. Its stock price has inched up to $14.55 since its low of $13.38 in March. It settled with McClendon's new backers, the Energy & Minerals Group, which paid the company $25 million in cash and gave it 6,000 acres in Ohio.
Chesapeake then turned around last week and created a $25 million compensation fund as part of a settlement with the Michigan attorney general's office, which alleged that that company had colluded with Canada's Encana (ECA) - Get Encana Corporation Report to keep the price of natural gas leases in the state artificially low.
Legendary activist investor Carl Icahn, who helped get McClendon booted and repopulate Chesapeake's board, boosted his position in March by 6.6 million shares to 13 million, or around 11% of the company.
Mike Kelly, an analyst at Global Hunter Securities, still has his worries and has a sell rating on Chesapeake stock. Despite the company's plans to cut its capital expenditures by a sizable $500 million to $3.5 billion to $4 billion to preserve liquidity while still expanding its production slightly, the company's debt-to-EBITDA ratio is likely to remain at elevated levels (five times through the end of the year), "which we believe will likely continue to weigh on the stock for the foreseeable future," he wrote in a report last month.
Must Read: Investors Should Get Ready to Pounce on Oil Stocks
This week Global Hunter published its first-quarter earnings preview for oil and gas exploration and production companies. The firm has Chesapeake on its "potentially at risk" list -- companies that are generally expected to have production declines, hedges starting to fall off or high debt loads to service.
Others on the list included Apache (APA) - Get APA Corp. Report, Approach Resources (AREX) - Get Approach Resources Inc. Report, Bill Barrett (BBG) , Goodrich Petroleum (GDP) - Get Goodrich Petroleum Corporation Report, Halcon Resources (HK) , Laredo Petroleum (LPI) - Get Laredo Petroleum, Inc. Report, SandRidge Resources (SD) - Get SandRidge Energy, Inc. Report and Cimarex Energy (XEC) - Get Cimarex Energy Co. Report. (Chesapeake reports earnings on May 6.)
David Kistler, an analyst at Simmons & Co. International, is also concerned about Chesapeake, even though he has an overweight rating on the company's stock. While he noted in an April 15 report that the company's capital preservation is a positive and its $8.1 billion in liquidity easily funds its expected $2.6 billion overspending of cash flow this year, he said he was also increasingly worried about Chesapeake's expanding leverage metrics that he estimates will be at 6.1 times net debt-to-EBITDAX by year-end. He said wouldn't be surprised if the company cut its expected rig count to 9 to 19 vs. its prior guidance of 25 to 30. He also said the company appears expensive on an enterprise-to-EBITDAX basis vs. its peers. "We are increasingly finding it difficult to remain overweight," he said.
And what of McClendon? This month news came that he was looking to take newly organized blank-check company Avondale Acquisition public with the hopes of raising $200 million to pick up oil and gas properties on the cheap. But even that hit a snag, with Citigroup (C) - Get Citigroup Inc. Report backing out of the underwriting and Deutsche Bank (DB) - Get Deutsche Bank AG Report taking its place, according to a source. Avondale CFO Curt Launer used to work there as an analyst and investment banker.
Chesapeake may be better off without McClendon, but it still has a long way to go to dig itself out.
Must Read:11 Safe High-Yield Dividend Stocks for Times of Volatility and Uncertainty
Read more from: