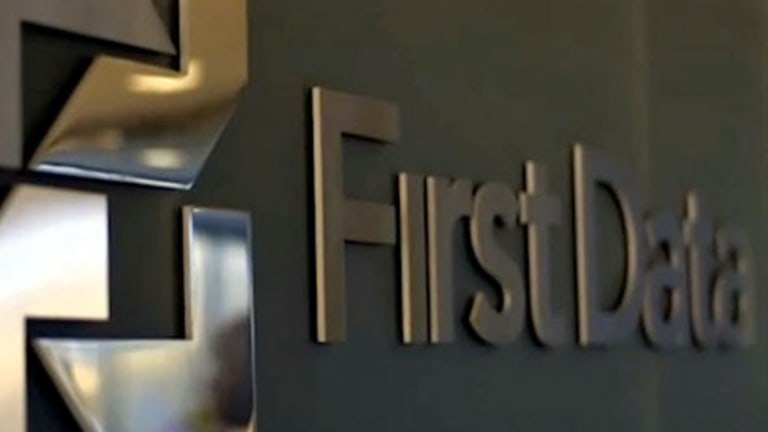 Why CardConnect Purchase Doesn't Mean More Deals for First Data
'There is an active M&A market in the payments industry,' First Data CFO says. 'We look at nearly everything in the space but we don't execute on many of them.'
Don't expect payment processor First Data (FDC) - Get First Data Corporation Class A Report to make any more acquisitions as large as its $750 million purchase of CardConnect (CCN) in the near future.
While CFO Himanshu Patel says the New York-based company regularly evaluates potential targets, its top priority for now is continuing to reduce leverage from a buyout by private equity firm Kohlberg Kravis Roberts & Co. in 2007.
"There is an active M&A market in the payments industry," Patel said in a telephone interview. "We look at nearly everything in the space but we don't execute on many of them. This was a very deliberate thoughtful transaction that was really in the works because of a longstanding relationship." 
The deal, terms of which call for First Data to pay $15 a share for the King of Prussia, Pa.-based target, comes as vendors and merchants are increasingly reliant on digital technology. It also brings one of First Data's largest distribution partners into its own network.
CardConnect, a provider of technology-oriented commerce solutions, went public in March 2016 via a merger with public shell company FinTech Acquisition Corp. The company offers full-service payment platforms for both small and midsize business and enterprises through its CardPointe platform for tracking payments and its CardSecure platform, which uses Oracle (ORCL) - Get Oracle Corporation Report and SAP (SAP) - Get SAP SE Report systems to store transaction data.
"CardConnecthasan innovativeapproachusingtechnologytoenablecommerce,withassetsthatspanpartner management,aswellassomeofthefast-growingsectorsofthemarket," CEO Frank Bisignano told investors on a call. "These toolshelpdistributionpartnersruntheirbusinessbetter."
For the year ended Dec. 31, CardConnect had $156 million revenue and $38 million in earnings before interest, taxes, depreciation and amortization, a measure of financial performance known as Ebitda. The company had debt of about $127.9 million as of March 31.
First Data will pay off CardConnect's outstanding debt upon completion of the deal, which is expected in the third quarter. About 40% of CardConnect shareholders have already agreed to support the transaction, according a statement from the companies.
KKR, which took First Data private in 2007, now holds about 75% of its voting class and common shares through a subsidiary, New Omaha Holdings. 
For the quarter ended March 31, First Data had about $12.3 billion in senior secured debt with a covenant that the company must keep its debt-to-Ebitda ratio below 6. The ratio stood at about 3.6 at the time.
First Data has climbed 1.6% to $16.90 since announcing the transaction, while Card Connect has risen 10.3% to $15.05. The S&P 500 declined less than 1% in the same period.